Review: Same Time, Next Year by Georgetown Palace Theatre
by Michael Meigs
Yes, I would be delighted to enjoy a guilt-free assignation once a year with the energetic, sweet and affectionate Virginia Keeley.
Fellow actor Bill Barry has had that privilege this month at the Georgetown Palace, at least in our imaginations. Since the six scenes in Bernard Slade's play span the twenty-four years between 1951 and 1975, Barry's averaging just about one imaginary assignation a day. (And by his exuberant count in the final scene, 116 acts of marital infidelity over that period.)
Posters from the Palace caution potential clientele that Same Time, Next Year "is intended for ADULT audiences," but they probably needn't have worried. As the appreciative audience made its way out afterwards, I saw a woman look around and heard her comment, "It doesn't look as if there's anyone under 40 in here."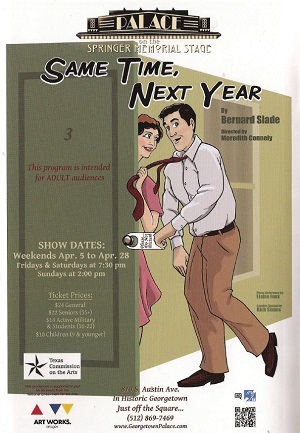 This piece is not adult in the XXX sense; it's adult in that it's pitched at those who have reached the age of consent. It's not a sex farce à la Feydeau, for such pieces provoke our laughter by suggesting how foolish and mindlessly lustful the characters are, implying that they're essentially still children in their emotions. And it's not a play about adultery, for it never seriously examines that issue.
Bernard Slade's light comedy was a success in New York almost 40 years ago, and received Tony award nominations for best actress, best actor and best direction, and in fact Ellen Burstyn walked away from that year's ceremony with the statuette. Three years later she got the Academy award for the same role in the filmed version.
This script has two distinguishing characteristics: first, by situating his six scenes at intervals of about five years, the playwright evokes some of the changes in American popular culture during that time. Some of them he misses -- the contraceptive pill, for example, prompting us to wonder if one or the other of these good parents of families already had tubes tied -- but others he celebrates. Spunky Doris embraces the freedom of the Age of Aquarius, and she becomes a self-made businesswoman by the final scenes. George is a quivering, nervous mess when this first gets started, but once he gets used to it, he thrives. Unlike Doris, he gets more conservative as he ages, creating what might be derided by some today as a Republican paradox. The Vietnam War is there, as well, and inflicts a deep-felt catastrophe on one of the illicit partners.
Second, Same Time, Next Year is pure wish fulfillment, the equivalent of meeting in real life that 'imaginary friend' you may have had in your childhood. The casually confident acceptance of a regular extra-marital sex partner, one who poses absolutely no danger to your own agreeably settled life, was an enchanting one to the hopefuls of the mid-1970's. And may still be an enchanting one for the now somewhat creaky public for this play that has probably become a staple of community theatres. The strong support given the Palace by the retirement communities of the area made it a feasible programming choice.
The world of the play is pretty much irrelevant to the contemporary world of instant messaging, hooking up, friends with benefits, living together without sanction of marriage and easy divorces. And to anyone born since the play was first staged in 1975.
This serial wish fulfillment cannot go on forever, of course, even in the world of the play. The uncomfortable dénouement in the final scene touches upon the infringed vow "till death do us part," although the death in question isn't that of either of the characters on stage. One engages in a bit of grandstanding, and -- for apparently the first time -- some outright duplicity, betraying their comfortable compact of betrayals for the first time in 24 years. That's weakly resolved, but we're supposed to feel happy about it.
The Georgetown Palace does its usual accomplished job in putting the piece on stage. The set's a solid and convincing depiction of the hideaway on the California coast, costuming by Ismael Soto III is appropriate, Rich Simms provides the video transitions, and both actors are fully into the characters. Bill Barry as George visibly gains confidence and ages, principally by shifts of expression, attitude and posture; Virginia Keeley's an unaffected sweetheart, a doll who grows in experience and perhaps in wisdom over the course of the action. That Southern accent of hers is never explained, but it just made her that much more attractive to me. One gentle chiding, however: we in the audience who are applauding at the curtain call would like to be met by smiling actors. Keeley the acknowledging actor appeared suddenly tired or distracted.
And why, Palace folks, is it necessary to mic up your actors for a stage play in the comfortable space of your theatre? Body mics are appropriate for the Palace's many musicals, but in this conventionally delivered dialogue piece, neither actor lacks lung power. When the script called for them to raise their voices, the sound system went a bit bonkers. I speculate that the technical decision was taken because the Palace has installed that special system for the hard of hearing. Perhaps the on-stage action could be gathered for that clientele by microphones suspended above the stage rather than held on stalks extending from the sides of the actor's heads.
EXTRA
Click to view excerpts from the program of Same Time, Next Year at the Georgetown Palace
Hits as of 2015 03 01: 1309
---
Same Time, Next Year
by Bernard Slade
Georgetown Palace Theatre
Fridays-Sundays,
April 05 - April 28, 2013