Review: Poor Herman by Paper Chairs
by David Glen Robinson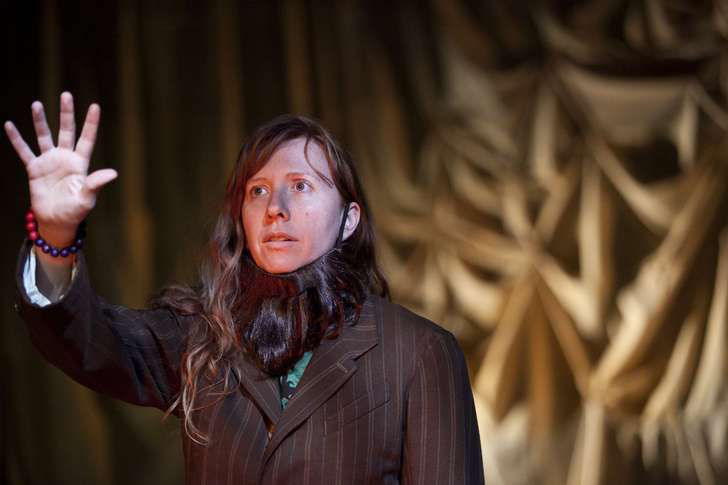 Poor Herman is a beautiful, fresh theatrical experience from paper chairs theatre company. This group is more than a little committed to experiment, and its artists are surefooted in giving us new thoughts, new stagings, new feelings and, perhaps, some originality. Last year's Mast and this year's Art/Model Show: Subject are evidence for this bold statement. In Austin only a few can claim the turf of the new. Among them are paper chairs, the Rude Mechanicals, Physical Plant Theatre, Trouble Puppet Theatre Company, Bottle Alley and only a few others.
Poor Herman refers to Herman Melville, author of Moby Dick and lineal ancestor of playwright Elizabeth Doss. Most people other than English grad students have no idea that Melville suffered failure with Moby Dick and his following novel Pierre, or, the Ambiguities. His domestic life was stressed and his family was essentially broken until the end of his life.
paper chairs' approach to Melville's life is as historical fiction. This specification is explicitly expressed by the cast in a sung chorus early in the first act. Biographical fact is picked up selectively, and some historical strands are not picked up at all. The well-written script treats all its material with artistic license, as is every playwright's right. These sweetly sung notices are the only clues or guides to the audience for the staging to come.
Poor Herman is transgressive. It pushes on the audience's expectations of Melville, gender and racial roles in the nineteenth century, character identification in contemporary theatre, what it means to be a literary artist in any time or place, and, ultimately, lineality. The cast is entirely female, for starters, and this single casting design choice is liberating for our view of Melville. They take turns playing all the characters, the changes signaled by adroit changes of costume pieces and other elements of character at their disposal.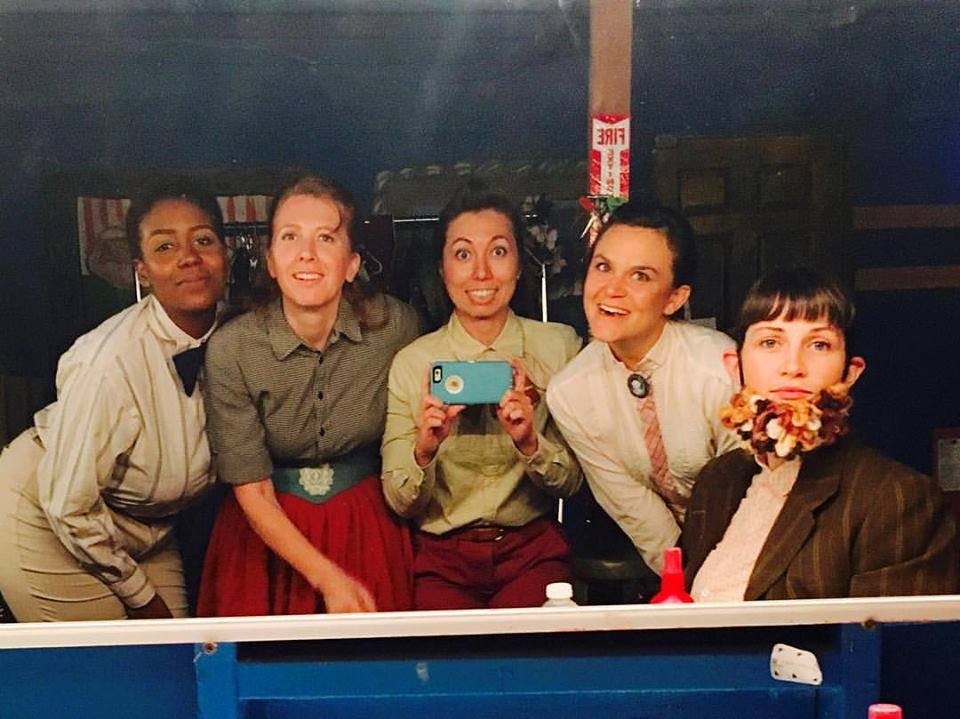 Nathaniel Hawthorne is something of an exception to this process, as he is played throughout by Rama Tchuente, an African-American woman. Melville existed in a state of slavish adoration of Hawthorne, going so far as to relocate his home and family within walking distance of Hawthorne's estate in western Massachusetts. Melville sought meetings and collegiality with Hawthorne, who had praised Moby Dick in print and in literary circles. The play suggests a degree of homoerotic attraction between them, at least on the part of Melville. The female cast conveys this atmosphere distinctly yet subtly and chillingly in their scenes. The two writers shared a priceless artistic belief, quoted by Melville to Hawthorne: "Only true genius deserves the privilege of misunderstanding." Everything between them came undone when Hawthorne told Melville what he really thought of Moby Dick.
Act Two changes every damn character and thing on stage and overturns all the audience's expectations, none of which are to be revealed unfairly in this writing. It's a wild, satisfying ride for the audience. Playwright Doss's text ends the play with a gently beautiful, humanistic tribute to the misunderstood, the suffering, and the lost.
If none of this is of interest to you, see Poor Herman for the spectacular design work. Set, lighting, sound, and costume designs all came together via different esthetic pathways and meld into a brilliant, distinctive, and memorable performance design. The imaginative will find multiple inspirations for their own artistic endeavors. Especially the costume designs by E. L. Hohn, abundant and various, precisely period or ambiguous as served the multiple characters using them.The costumes formed a parade of fabric art adorning a large set of vibrant characters. Hohn's costumes deserve award nominations.
Kate Ducey, a relative newcomer to the scene, lit the production with sensitivity and skill, nowhere better than on the large fabric backdrop. The backdrop was static and very complex, yet Ducey found ways to create or suggest new imagery on it throughout the play. And more than that: the lighting and backdrop were just plain beautiful on a large scale, an ever-changing mural.
The backdrop and huge Off-Center floor were the responsibilities of set designer Lisa Laratta. She had sewing and logistical assistance from Kelli Bland and the multi-talented Mark Stewart for the backdrop The layers pinned and sewed into it created patterns that provided the set-up for Ducey's lighting, so that the backdrop became a magical entity. The floor was completely different, a huge abstract painting with uncountable layers of paint in hues to make any colorist proud. The result offered the world a palette of images ranging from undersea beds of sea growth to lava fields with cracks of fluorescent magma about to flow out. Changes in lighting sets became decision nodes for changes in mental imagery. Somehow all this never overwhelmed the acting and characterizations. This is the culminating element of design skill attributable to Lisa Laratta. Bravo: very, very well done.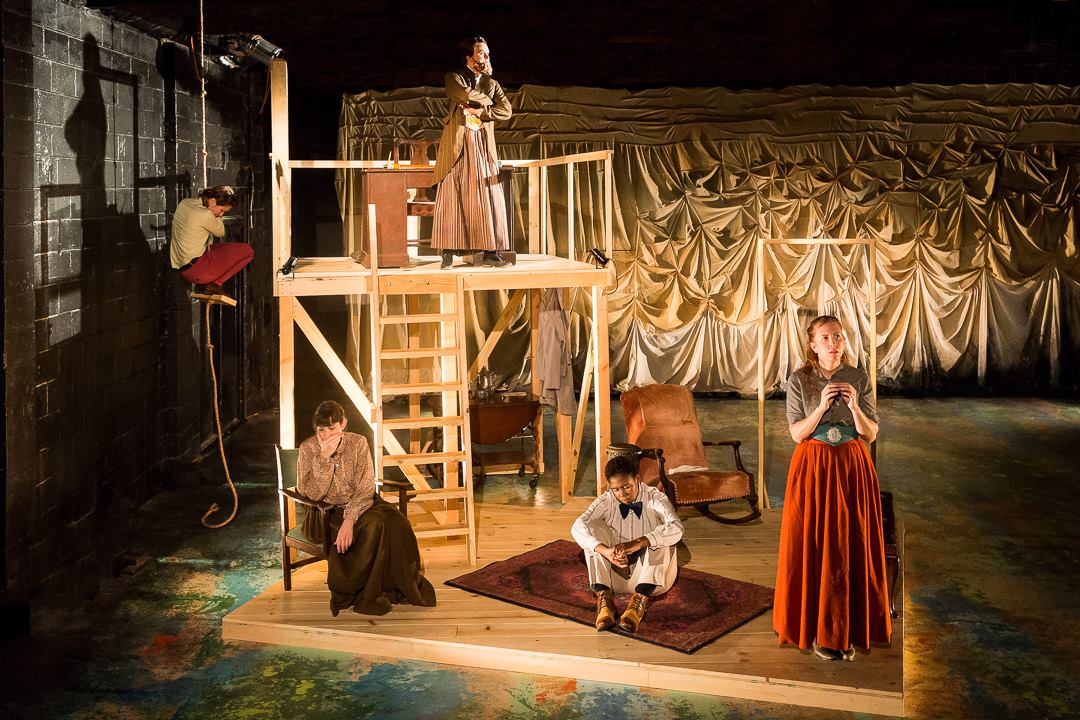 Layering over it all was Henna Chou's music. It is a combination of music composed and recorded by her, presented with live accompaniment by Chou on additional instruments, notably the cello. She anchors the mood in several otherwise chaotic scenes. Like Graham Reynolds, Chou the composer for theatre gets it.
Actor and dramaturg Diana Lynn Small leads the talented cast (Courtney Hopkin, Alexis Scott, Megan Tabaque, and Rama Tchuente), all of whom meet the challenges of multiple character roles. Small, in particular, uses her wide vocal range, including operatic singing, to change and establish character in concert with the superb costumes and direction. Voice as character is fundamental, and Small gives us an example of how it can achieve richness of character and story. Kudos. Note, however, that her standout performance creates a looming contrast, as some others in the cast seem to rely mostly on their costumes to define their characters. Their voices remain the same across their characters.
That is a minute issue indeed. Poor Herman offers much to those attracted to plays with narrative texts and the inherent flexibilities. The play has strong contemporary transgressiveness and more metatheatricality than Thornton Wilder's Our Town. Aficionados of design --lighting, set, sound, and costumes -- will be thrilled. The show throws out nuggets of brilliance all around. The production lead team of Elizabeth Doss, Spring Karlo, and Lisa Laratta have every right to be very proud of their artistic brainchild now onstage alive and growing at the Off-Center.
Poor Herman by Elizabeth Doss, produced by paper chairs, is recommended for anyone interested, however remotely, in theatre. For my money, people on a theatre budget will find Poor Herman the best single choice among several good shows in Austin in May.
---
Poor Herman
by Elizabeth Doss
Paper Chairs
Thursdays-Saturdays,
May 12 - May 28, 2016
Off Center
2211-A Hidalgo Street
near Robert Martinez and E. 7th Street, behind Joe's Bakery
Austin, TX, 78702
May 12-28, 2016:

Thurs, Fri, & Sat performances at 8 pm (Doors open at 7:30 pm.)
at the Off Center, 2211-A Hidalgo Street (near E. 7th St. and Roberto Martinez)
$15-25 Sliding Scale General Admission & $10 Thursdays!
Info: www.paperchairs.com Or: info@paperchairs.com Or call: 512-686-662