Review: Other Desert Cities by Wimberley Players
by Michael Meigs
Sharp, contemporary and merciless, Jon Robin Baitz's Other Desert Cities has a lot to say. Just like protagonist Brooke Wyeth the young novelist who flamed out after an early success and suffered six years of writer's block and desperate depression. Brooke is visiting her parents in Palm Springs, that odd lush oasis in the California desert along I-10 east of Los Angeles. It's Christmastime, 2004, in the never-winter to which her parents have withdrawn in their retirement from long careers in film acting and PR work.
The elaborately decorated artificial Christmas tree, the desert hills in the distance, the lush open-plan set of the Wyeths' living room with the fireplace that's probably never lit -- all these suggest a clinging to the artificialities of the American dream in a barren landscape of the spirit.
Brooke has come home with a tell-all novelization of her youth. She wants her parents and her brother Trip to read it and approve of it before she releases an excerpt to the New Yorker magazine and sees the full text published. Her exploration of painful family crises involving her famous and well-connected parents looks likely to be a best-seller and a psychological bomb set to blow the family apart.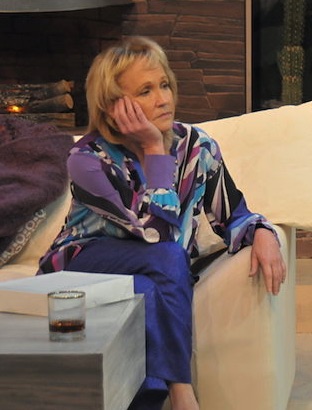 In deciding to stage this play director Tracy Arnold and the Wimberley Players venture well out of the comfort zone of the ordinary community theatre. Some may squirm to see solid Republican parents, first-name intimates of Ron and Nancy, confronted like Lear with the serpent's tooth of a thankless child. There's a lot of 'failure to launch' in the Wyeth family: Brooke's absent elder brother, Brooke herself and her aunt Silda the alcoholic. Cinda Donovan is the disabused Aunt Silda, now precariously on the wagon, a milder, perhaps more pickled version of Polly the matriarch; casual and phlegmatic, she expects little from others and less from herself.
Others in the Wimberley public may object to the candor of Baitz's language or to the sight of the kids and the aunt sharing a joint of marijuana, even though these authenticate the place, time and society he's depicting.
On opening weekend the acerbic quips of Whitney Marlett as Polly, Brooke's mother, regularly provoked delighted murmurs of laughter in the first half of the work. Polly's style is anything but Californian: she's an in-your-face New Yorker ready to complain, confront and challenge. Marlett inhabits the character with unblinking ease, exercising her function as protector for her husband the household-name film actor. Polly is the power in the household. José Shenkner as her husband Lyman Wyeth is quietly unhappy and befuddled by comparison. He's reluctant to engage the issue of Brooke's text. Shenkner's portrayal appears deeply felt and perhaps that inner tension feeds the very noticeable tic of perpetually chopping and waving his hands before him. It's a mannerism entirely out of place in a character said to have featured in more than fifty films and then to have served as spokesman for the California Wine Institute.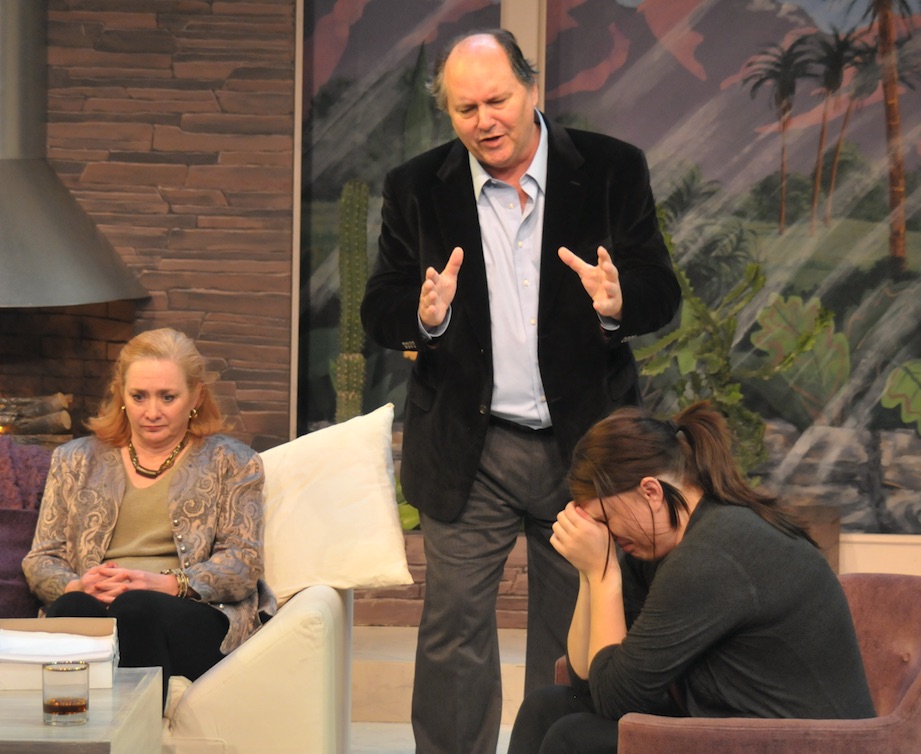 The details of the family scandal come out gradually and in gripping fashion in the wrangle over Brooke's novelization. Eventually this piece, presenting itself as a drama of contemporary squabble, will reveal and solve a mystery that gives a good solid yank to your expectations and shows all the members of this wounded family in a different and entirely unexpected light.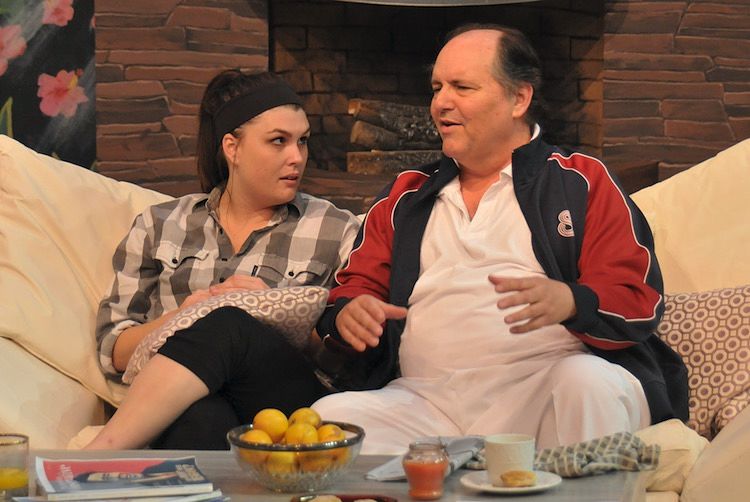 In the exchanges concerning Brooke's book and the past events at its core the parents recur to an insistent appeal to postpone, arguing, "We won't be here much longer." This is 2004, remember -- the year Ronald Reagan died at the age of 93 after ten years of debilitating Alzheimer's disease. The argument makes sense in the plot of Other Desert Cities, aside from the welcome but relatively inconvenient fact that both Marlett and Shenker appear hale enough to have at least another 30 years ahead of them.
Shelby Miller is agitated and somewhat unkempt throughout as the agonizing Brooke; she transforms notably in the brief coda, set in 2010 when she's discussing the book that resulted from the struggles with her past and her family.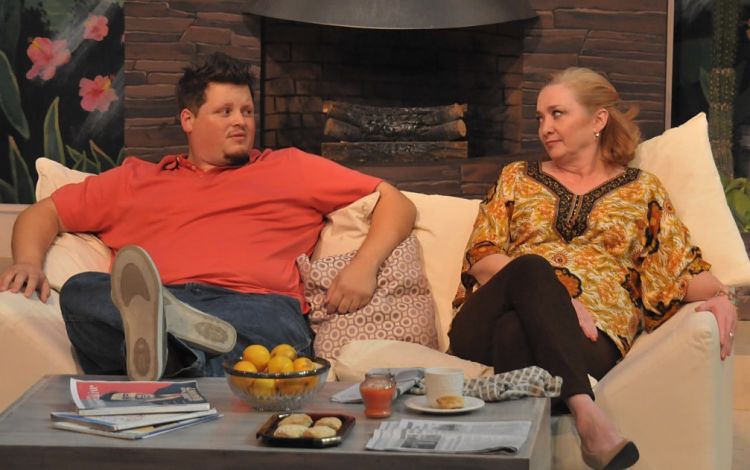 James Springer is her brother Trip, the only one of the Wyeth crowd who seems to have made his peace with an unhappy world. Springer shows his familiar energy in this appealing role. Trip is disengaged but concerned-- he laughs at his own profession as a producer of mediocre television drama, and he appeals to the quarreling parties for calm and accomodation.
A word of appreciation, yet again, to Executive Producer Adam Witko and to set designer Carroll Dolezal, plus all the folks who labored on this impressive California cool set. The distant mural representing the mountains initially jars against the strict naturalism of the set itself, but the initial incongruity drops away immediately as these characters engage our attention. Director Tracy Arnold uses the wide reach of the Wyeth's living space to good advantage.
Other Desert Cities, though set at Christmastime, is not a holiday play; but it does allow us to unwrap a mystery that turns out to be a gift to all concerned.
EXTRAS
Click to view the Wimberley Players program of Other Desert Cities by Jon Robin Baitz
Click for audio feature 'Arts Eclectic' by Michael Lee at KUT-FM (2 min.)
---
Other Desert Cities
by Jon Robin Baitz
Wimberley Players
Fridays-Sundays,
November 13 - December 06, 2015
November 13 to December 6, 2015
Fridays & Saturdays at 7:30 pm and Sundays at 2:30 pm
With performances through the Thanksgiving weekend
Tickets $19 (opening night $21); students with ID, $12.