Review: Once There Were Six Seasons by Glass Half Full Theatre
by David Glen Robinson
Glass Half Full Theatre presents the premiere production of what may be its most ambitious production to date, Once There Were Six Seasons. Productions of alt-puppetry, such as this one, have been called 3-D animation. That particular term may be conflated, however, with 3-D animated movies marketed by many Hollywood studios. Theatrical productions of alt-puppetry are much closer to 3-D art, or sculpture and installation art, animated by clever manipulation. Typically, the productions tell adult and, oh, so very human stories. And such is the story we have on our hands here.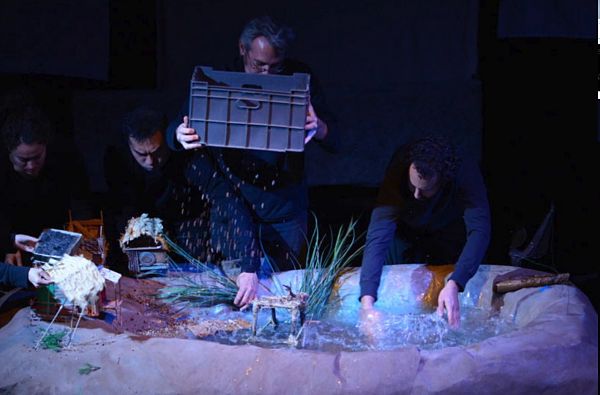 Once There Were Six Seasons (OTWSS) is not, as may be suggested by its title, merely a story about global warming. It is so much more. Even though climate change is complex, abstract, and uncertain in its vectors, this puppet story steps right past those considerations to take on the globalization of human culture in a darkening natural world. Writer-Director Caroline Reck, her collaborators, and the puppeteers give us a primer of world anthropology under advanced globalization. Along the way we see melting ice caps, sinking coastlines, typhoons, crops lost to drought, wage-slavery brought on by free trade agreements, south Texas fracked to death, cultureless cities, and the Monsanto-ization of world agriculture—all expressed in puppet visual idiom with an accompanying live-action play.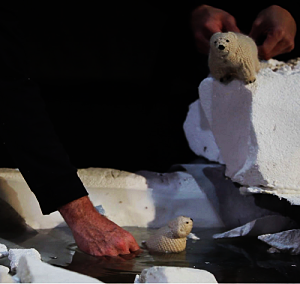 The image of the fishing canoe struggling in a typhoon on the ocean was the most arresting image of the performance for this reviewer, but other scenes may be equally as powerful to others. Glass Half Full Theatre has the seductive ability to coax the viewer's imagination into flying away on a magic carpet ridewith the storytellers. The ride has a very clear point and purpose.
Global warming, climate change, and cultural and natural decay would seem like very large topics to take on and remain coherent, but Reck and the intent crew succeed by staying on theme in tight focus. The artists workshopped the OTWSS at the Salvage Vanguard Theatre last year.
This live-action play uses the puppet chapters to connect a larger story. A telephone voice named Kate Cooper (spoken by Kim Turner) calls in for repairs of some digital device. As he explains the breakdown, her customer service agent Ferdinand (Rommel Sulit) describes their globalized future earth. The planet is divided vaguely in the fashion of George Orwell's novel 1984. Great blocs of nations and territories are termed zones, contributing variously or not at all to the world economy. And clearly, the future world is nearing collapse.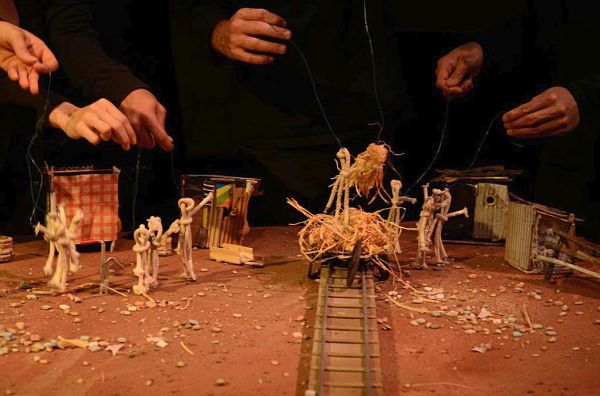 As customer and agent relate stories to each other, their scenes dissolve into the puppet chapters. Once again, the intrepid puppeteers literally create the world. They build scenes on wheeled puppet tables, planting crops and forests and then scything them down. The puppets at play on the tables are of a very small scale, but they create their seductive charm in hauling water, kicking soccer balls, harvesting, fishing tiny puppet fish, and pursuing other activities. The puppeteers voice their meta-stories. Noel Gaulin is the man of a thousand voices. Each chapter also has its own soundtrack, based on world music and designed by K. Eliot Haynes. The wide-ranging but clearly linked stories play out, their chapters grim or beautiful, but always full of hope.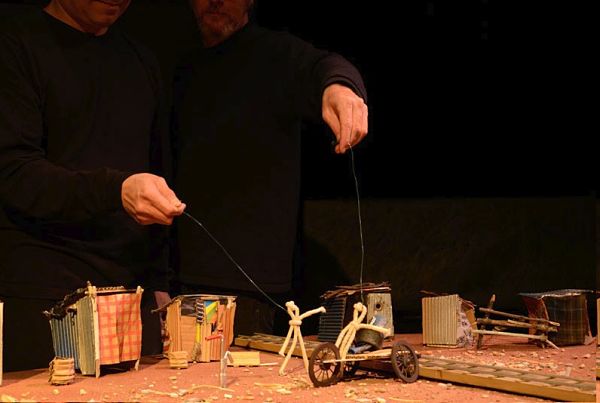 Glass Half Full Theatre unfailingly surprises and exercises its craft along the edges of the puppet artistic ethos. This time around the puppeteers are fully black-garbed but their faces are exposed. Their intent faces and voices enliven the puppet scenes and become integral parts of the imagery. The human presence undisguised comes at no loss to the puppet magic created.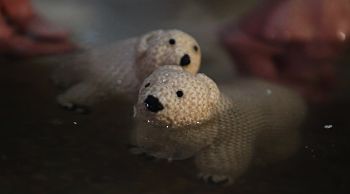 ---
Once There Were Six Seasons
by Caroline Reck
Glass Half Full Theatre
May 22nd – June 7th, Thursdays-Saturdays @ 8 p.m., Sundays @ 6 p.m.
Tickets: Sliding scale $12-$20. Pay-what-you-can: Sunday, May 25th