Review: Nursery Crimes by Last Act Theatre Company
by Michael Meigs
David Boss with his resonant baritone and weary dead-pan styling makes a fine Philip Marlowe, or, in acknowledgment of the film noir inspiration for playwright Greg Klein and the company, a good Bogey. Klein's play is an homage to that very distinctive style, so much so that the first half of the Kickstarter promo video was a 1940s-style dramatization with first-person narration, video-recorded in stark black and white by director Will Hollis Snider.
You could write a straight film noir play script and make it work; you could even do a parody version that could amuse both film buffs and the casual public. Klein's choice is different. He's soberly respectful of the genre as he mines his Mother Goose for characters. The protagonist sleuth is Jack Horner, and he's certainly sitting in his corner while his good-natured seen-it-all secretary Donna (presumably Mother) Hubbard (Peggy Schott) laboriously types his reports and answers his phone.
Sara Cormier is the attractive bad news that comes his way, asking for help. She's Bo Peep, and her sheep have disappeared. Her father's the farmer Old MacDonald (Travs Bedard). We run across some baddies, Jack (D. Heath Thompson) and Jill (Elena Weinberg), who use the cheerful dolt Humphrey aka Humpty (Bobby DiPasquale) for some of their bad business. Peggy Schott checks in also as Marjorie Daw; Bedard as the gruff avuncular cop Guy Blue; DiPasquale as Peter Piper; and Mary quite contrary (Weinberg) is hopelessly dependent upon her drug dealer boyfriend King Cole (Thompson). While the sleuth's nosing around through the underworld he runs across the three blind mice (DiPasquale, Thompson and Bedard). Double crosses, bad temper, murder, the big shadowy metropolis. You know. The city that never sleeps and kept hick middle-class America on the edge of its cinema seats.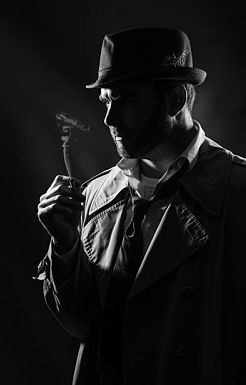 The company paid a lot of attention to style in this styling, and it shows. Beyond the tawdry, dimly lit office of Horner and Hubbard loom impressionistic renderings of cityscapes. The Dougherty playing area is supplemented on stage left with a city structure including a police call box at audience level and a balcony accessible via stairs that suggest recall sturdy fire escapes.
Costuming of the principals, particularly of the women, is superb. Cormier's plaintive, doleful looks are decorated with a 40s hat with feather, appropriate dress and a brown cascade of hair. She's sweet and apparently naive. Weinberg as the diabolic Jill has got a 40s hairstyled wig and a jacket that would do the Andrews sisters proud. Boss as the detective is suitably rumpled and trench-coated. I would have preferred to see him in a detective's fedora rather than wearing the stubby brown pork pie hat of a jazz musician.
The question for me, eventually, was where the playwright was going with this. His plausible and clever idea #1 was to mix the universe of the tired, too adult, burned out gumshoe with that of quaint amusing tales for children. His clever idea #2 doesn't happen. Klein and director Will Hollis Snider play the film noir leads straight; they and the cast romp up the antics of most of the secondary nursery world characters to frenetic levels more appropriate to gag-driven children's theatre. None of the characters surprises us with depth, back story, exceptional language or revelations.
B-movie film noir was about fatigue, betrayal, existentialism, loneliness and the alien world of urban anonymity. It worked because the audience identified with the protagonist. The rhymes of Mother Goose, which I relived with delight as my own children were growing up, are silly, pedagogic, lighthearted and often nonsensical. Those genres are headed in different directions. Klein and the company enjoy the absurdity of trying to create a hybrid from them, and they elicited some laughter. As the story grew progressively less credible, for me Nursery Crimes eventually became more tedious than comic, however much I wanted to like the happily brash efforts of this exceptionally energetic and productive company.
EXTRA
Click to view the program leaflet for Nursery Crimes by Last Act Theatre Company
Hits as of 2015 03 01: 120
---
Nursery Crimes
by Greg Klein
Last Act Theater Company
November 08 - November 24, 2013