Review: Now Then Again by Penfold Theatre Company
by Michael Meigs
We all like 'What if?'
That's really the essence of theatrical art, isn't it? In simplest terms, we gather to witness the presentation of a story. No, it's not real. . . but what if it were?
A romantic comedy, say — where the protagonist is a brilliant theoretical physicist who's incredibly shy and socially inept, and he meets this incredibly gifted woman, an undergraduate intern who somehow has gotten a summer assignment to this cutting-edge lab, recognizes him, has read his brook, and has this brilliant idea that can win both of them an international physics prize?
Um, and say she has a fiancé, a well meaning but patronizing lawyer from the South Carolina gentility who has no idea how off-the-charts smart she is? And like a good little Southern woman, she has accepted the inevitability of marrying that childhood sweetheart and giving up quantum physics for tea-parties, domesticity, motherhood and supporting her golf-playing hubby?
What's she going to do?
And what if we use quantum theory and Heidiger's cat to show the theoretical world of multiple possible states of being and suggest alternate universes and outcomes? So there's this kindly old janitor with a brain tumor who can see beyond this universe and is doing his best to help our protagonists. . . .
Penny Penniston's Now Then Again offers a parlor trick of a plot, but once we suspend our disbelief and just go with it, Penfold delivers the rom com with style.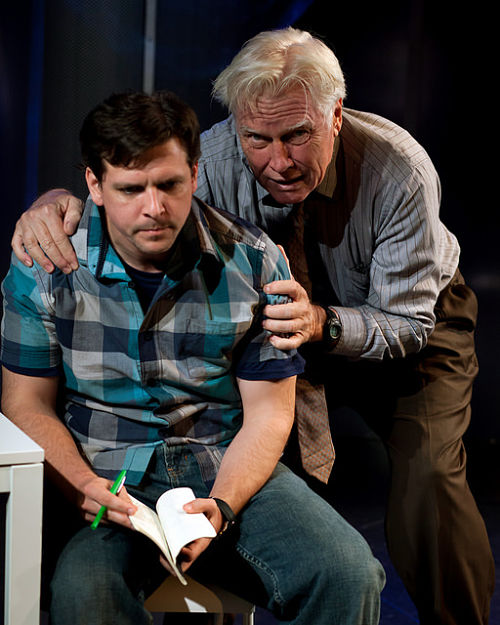 It's a treat to see Nathan Jerkins, usually well-spoken, brash and confident on stage, build the character of Henry, who's exactly the opposite of that. Jerkins deserves praise for not overdoing it, considering that the playwright has Henry regularly hiding under furniture to avoid delivering lectures even to friendly audiences. Megan Rabuse as Ginny the intern is wholesome and attractive, just the type you want to root for. Though she's said to be a native of South Carolina, her accent is emphatically middle American — entirely plausible, by the way, in our media-saturated world (ask director Ryan Crowder, from TCU, or me, from Alabama). But in this context that detail carries an implied message — our girl has left her region and regionalism behind. But her childhood sweetheart Chris is so eager to marry her that he breaks away from his law practice back home and goes North, turning up with an abashed priest in tow. He wants to elope, sort of, six months before their scheduled nuptials.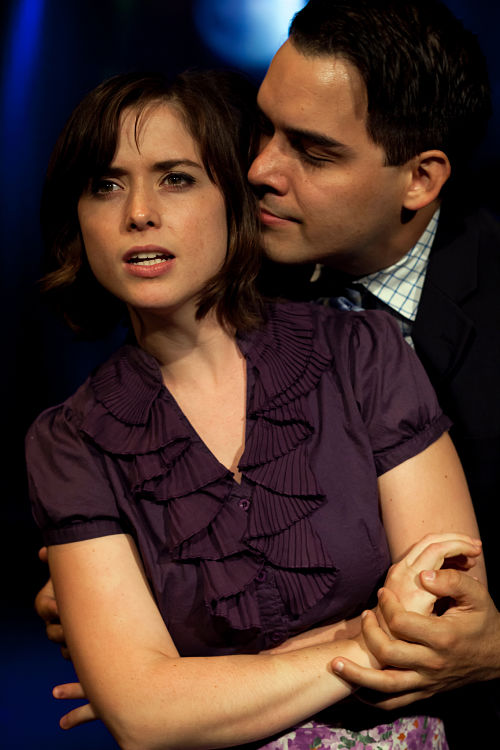 The South Carolina boyfriend is written as a terrible caricature, a slam on a culture that Penniston doesn't understand. Matthew Worthington crafts him with a seriousness and rich accent that almost, almost make him a wronged man — presumably because our heroine Ginny has deliberately concealed her IQ and academic success from him all these years. The cast is rounded out by Dennis Pratt as Felix the kindly fumbly grumbly janitorial seer, Michael Ferstenfeld as the general factotum actor/singer/clergyman/rabbi and Gary Peters as the perpetually exasperated senior scientist (Peters, an actor of considerable subtlety, deserves better than this one-trick character).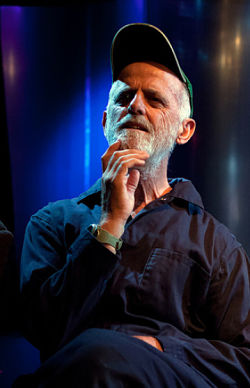 The cast and director Ryan Crowder set up one action and outcome in the first act, and then in the second act, undo it with the happy device of alternate reality — in reverse chronological order. This is an intriguing concept, mirrored with neat tricks of staging. The variant scenes are played with precisely reversed blocking — left to right, right to left — that emphasizes the alt-nature of the revised history. We're treated to a rich menu of what ifs: suppose that they. . . what if he had been less. . . what if she'd just said. . . . each leading backward in time to posit a richness of possibilities. Characters reveal sharply different traits and perceptions, transformations that remain unexplained because inexplicable in terms of scenario #1.
Sound design by Blake Addison, sci-fi video projections by Stephanie Busing and an intriguingly minimalist metallic set by David Utley help us swallow this, for they suggest a Matrix-like elusiveness.
The fundamental aim of the second-act story is the fulfillment of wishes instilled in us by the first act. We wanted those attractive protagonists to appreciate one another, we wanted bright, sophticated Ginny to escape her unimaginable fate as a piece of female Southern chattel, we wanted our hero to be a manly man who seizes opportunity. We wanted them to be happy and to be together.
This must be Penfold's year of living backwards, for in the spring they'll again be staging Jason Robert Brown's The Last Five Years. That memorable two-character chamber musicale, done in 2009 in the very early days of the company, tells the story of a marriage and a breakup through solo songs. One spouse starts the evening at the outset of their romance; the other begins with the breakup and works backward. They converge in mid-performance and then our hearts break as they again move ever further apart. [Click for the ALT review]
Penfold people do good work and they've defined themselves with a long-term vision of their role in the arts of northern Travis County and Round Rock. Contemporary plays, contemporary chamber musicals, a holiday theatrical radio show and a free show for families at the Round Rock amphitheatre in early summer. There's plenty to like and to follow — even if it means occasionally running chronologies in reverse.
---
Now Then Again
by Penny Penniston
Penfold Theatre Company
September 18 - October 12, 2014
Trinity Street Players
Black Box Theatre, 4th floor, First Baptist Church
901 Trinity Street
Austin, TX, 78701
Thursdays, Fridays and Saturdays at 8:00pm. Sundays at 5:00pm.
$20 Regular, $18 Students, $18 Seniors (age 60+).
More information available at www.penfoldtheatre.org