Review: Mary Poppins by Zach Theatre
by Brian Paul Scipione
"First of all let me make one thing quite clear… I never explain anything." Perhaps my favorite line from the musical Mary Poppins, this classic one liner of delightful irony sums up the story of a magical nanny who descends from the sky to teach two unruly children (and their parents) the true meaning of family.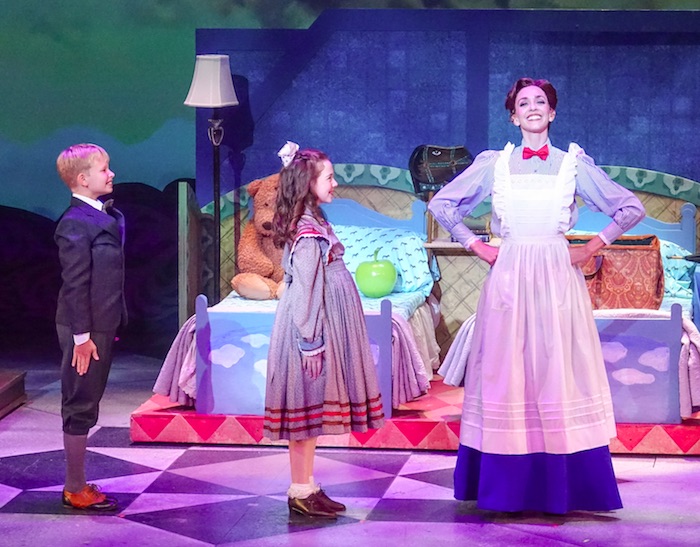 Many things in the story are non-linear and silly for silliness sake: Any part of the scenery can be inspiration for another happy song and boisterous dance routine. The story bounces around like a hyperactive jack-in-the box. The children are one minute bemused and the next confused. Mary Poppins shows little patience for their inability to keep up and speeds the action along with a string of nonsensical gags and word play. One minute she is bringing the children's toys to life in attempt to frighten them into better behavior, the next she is consorting with the myriad of town characters who gaze at her in bewitched reverence. Just as the children are at the point of learning their lesson she abandons them in a huff. But worry not -- she returns at their darkest hour, marked by the arrival of her polar opposite, a cruel and dictatorial nanny named Miss Andrew. Earlier we learned that Miss Andrew's abusive manner is responsible for the behavior of their demanding and remote father, a man obsessed with business and money to the extent that family time comes in at a distant third place.
If my depiction of the play's story seems a bit dark, then it is only fair that I confess now that I have never seen Mary Poppins before. I knew some of the songs and the perennial image of a smartly dressed Victorian maid flying through the sky with the assistance of a simple umbrella. The story is written for the fun-loving heart of a child, and these deeper themes probably flit by unnoticed by children. It was written in a time of no concern for gender equality, class standing or quality of life issues. Chimney sweepers are portrayed as smiling, satisfied beacons of good luck although the reality of their trade was quite the opposite. These ruminations are mere after-thoughts, because Zach Theater's production was a joyous display of musicality, bursts of songs and corny jokes.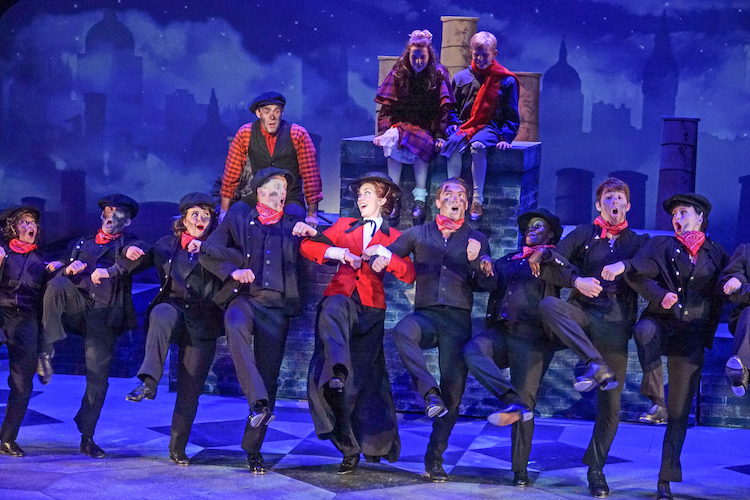 "But I feel what's to happen, all happened before," Bert, the everyman (chimney sweep, organ grinder, etc.) reminds us. A happy story will have a happy end, and the professional ensemble cast makes the journey there a loud and wonderful experience. There are many highlights throughout the evening. Michelle Alexander tears with relish into her role as the nefarious nanny, singing out her lines with sonorous wicked glee. Her rendition of "Brimstone and Treacle" may have raised every arm-hair in the auditorium.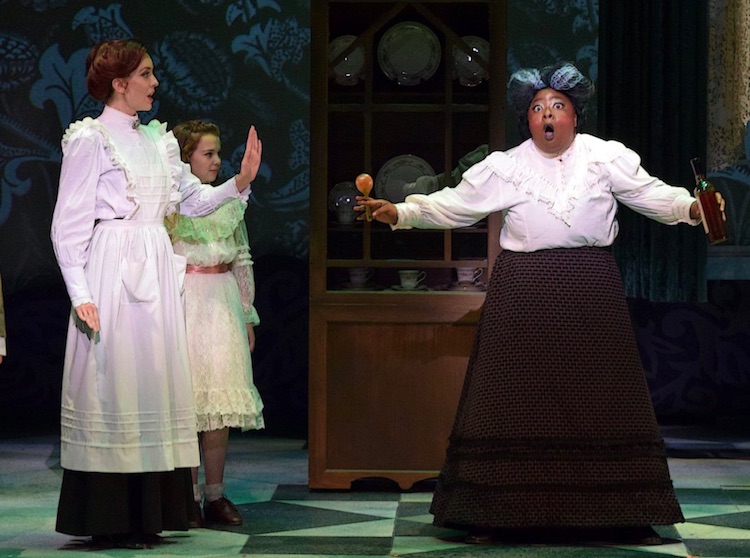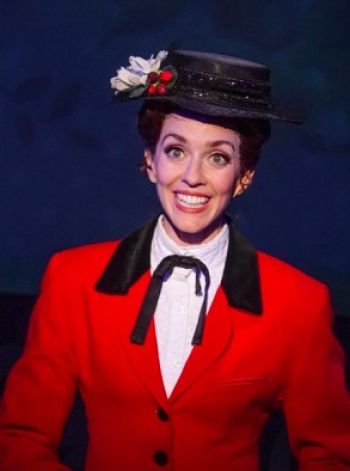 Jill Blackwood in the titular role is pitch perfect and on point. After ascending to the roof tops she uses her compact makeup mirror to add just the right touch of soot to her nose. With a twinkle in her eye she inquires, "How do I look?" The placement of the soot, like her performance, is a notch above practically perfect.
The children truly enjoy the mischief making they're employed in and sing out their lines with Broadway vigor. As comic relief Amber Quick as the housekeeper Mrs. Brill brings the house down repeatedly. I would be seriously remiss in not mentioning Jennifer Young Mahlstedt's enchanting singing voice. A true standout in the cast, she sings with a raw emotionality that illustrates her character's inner longings. And finally the extended tap dance routine by the ensemble was visual poetry, just great invigorating fun.
"Other families will need her," the now wiser daughter Jane Banks says to explain why Mary Poppins must leave again. The story has come full circle. What has happened before has happened again.
Zach's newest production is great and ideal for families (though perhaps a bit on the long side for very young children). The tickets are worth every penny, and the Topfer Theatre is always a pleasure to visit. You won't find any new interpretations or updating here, but instead more of a re-enactment or tribute. As director Dave Steakley muses in his production notes: Mary Poppins lives in a fantasy world, and the point of visiting her is to forget your cares in the real world. And there is nothing wrong with that.
---
Mary Poppins
by Robert and Richard Sherman, George Stiles, Anthony Drew and Julian Fellowes
Zach Theatre
Wednesdays-Sundays,
July 20 - September 04, 2016
Zach Theatre' Topfer Stage, July 20 - September 4, 2016