Review: Marisol by Texas State University
by Michael Meigs
José Rivera's 1993 phantasmagorical play Marisol was awarded an Off-Broadway (Obie) award for playwriting. It must have gotten attention for the deranged excesses of his picture of New York City and a world gone wrong. Rivera imagines a dark, dark world -- morally, ethically and literally, for the sun hasn't been seen for months and there's every indication that the laws of physics have warped beyond predictability. The sun rises in the north and sets in the south; banks and credit card companies torture anyone who fails to pay promptly; streets are filled with garbage and the homeless. German-speaking jack-booted Nazis chase down bums and burn them.
Rivera is from Puerto Rico, that odd appendage of the United States where the citizens are entitled to U.S. passports and yet not entitled to voting representation in the U.S. Congress. Through much of the mid-twentieth century there was massive emigration from the island to the eastern coast of the United States. Remember the Jets and the Sharks of West Side Story? Or Lin-Manuel Miranda's In the Heights? There's no dramaturgy offered in Texas State's program for this production, but it would be easy to identify the sources of Rivera's dystopia. The work is explicitly set in downtown Manhattan, on the New York subway where our protagonist Marisol may or may not have been beaten to death with a golf club, and at her barricaded apartment at 180th street in the Bronx. That's Washington Heights, north of Harlem, notorious in the 1980s as a crime zone with battles between gangs and drug dealers, almost all of them Hispanic.
Rivera gives us New York and the United States in a state of advanced putrefaction, far from the dreamed metropolis that attracted his family when he was only four years old. The play is packed with distorted Catholic imagery, from the confusing rants by street people at the opening of the play -- phrased vaguely like Old Testament prophecies and threats -- to the guardian angel watching over Marisol. Saucy and self-confident Ashley Hildredth as the angel gives up her wings in mid-play and goes off to join the revolutionists warring against a senile and uncomprehending god.
Within this setting of consuming weirdness there is a poignant story. Marisol Pérez has a job in midtown as an editorial assistant for a publishing firm. A good education and career path have taken her far from her Bronx roots in poverty and Puerto Rican culture. Still commuting through a world of menace, on the job she deals with the clean cool world of text. Julia Estrada as Marisol is quietly earnest most of the time, although capable of self-defense when seriously threatened. Estrada is the ingénue in a world buffeted by bums, derelicts and madmen, abandoned by her guardian angel. She forms an attachment and alliance with her office colleague June (Delaney Sullivan) but discovers that June's brother Lenny is more threatening than any of the bad guys out there in the murk.
This production of Marisol missed its time slot by a week, for its serious weirdness would have been appropriate for Halloween. It's a conceptual feast for the designers. Sam Gonzalez's grafitti-covered two-story brick building looks as solid as a nightmare, though it's strictly speaking not necessary -- most of the action takes place on and around furniture and props carried out into the neutral area at center stage. Justin Beets uses pools of light, silhouetting, fire effects, blinding flashes and calculated darkness to reinforce the story's catastrophic events. Phillip Owen's sound design audibly and loudly illuminates this world -- special acknowledgement is due to his use of the distant quaking menace of Brian Eno's On Land to set the pre-show mood and snare us again after intermission. The Jimmy-Hendrix-style guitar solo national anthem both captures your ear and jams a theme in your face.
There's sweet but interrupted chemistry between female leads Estrada and Sullivan, who mirror the differences of the Latino-Anglo divide. Their unexpected reunion in the closing scenes has an immediacy and emotional depth that's lacking in most of the rest of the play.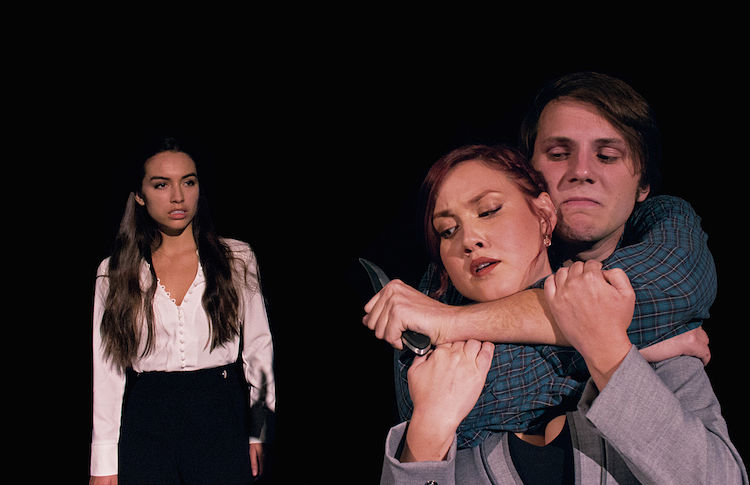 Lucas Matteson as June's threatening dimwit pervert brother has a deep pile of compost to shift here. Only after June has brought Marisol to her home for refuge does she reveal that brother Lenny has been obsessing over Marisol for the past seven years (this is too heavy handed even for Rivera's twisted world). Lenny is infantile, sex-obsessed, violent, guileful and wild for Marisol and Matteson manages the considerable challenge of presenting credibly his wild swings. They're so wild that the plot dims and darkens into absurdity as he comes onstage pregnant with Marisol's child and gives birth. Director Daniel Anderson chooses for some reason to situate this key although crazed passage at deep upstage right, when he might as well have put it down front center.
How does a playwright resolve plot tangles? The ancient Greeks brought on a deus ex machina, the god hoisted onstage to take charge and clean up human messes. Rivera does something similar. As the angels' revolt is failing he has all three of his leads machine gunned by Gracyn Lewins in the role of the nutcase lady who has gone over to the dark/Nazi side. And then he resurrects Marisol for an apotheosis wrapped in the American flag. The oppressed will rise in hope and glory.
Sorry if I spoiled it for you.
Plot resolution isn't really what this one's all about. Marisol is, in a few words, a New York city delirium. Director Daniel Anderson brings it roaring onstage, but he doesn't communicate to his Texas audience what this work is about or where it comes from.
Rivera's long and agonizing complaint is about an Anglo world symbolically inhospitable to Latinos. The justice of his anger is exemplified in one small but pertinent detail: throughout the text everyone refers to Marisol "Puhrez" instead of Marisol "Pérez."
Even the Tejanos and Tejanas.
EXTRA
Click to view the program for Marisol at Texas State University in San Marcos
---
Marisol
by José Rivera
Texas State University
Tuesday-Sunday,
November 03 - November 08, 2015
THEATRE CENTER'S MAINSTAGE
TICKET PRICES: $15 to $18 Adult | $8 Student
plus $2 Texas State Presents processing fee for tickets online or at the window.
The opening night for Marisol will be Tuesday, Nov. 3 and it runs through Sunday, Nov. 8. All performances will be in the Theatre Center Mainstage. Individual tickets start at $15 for adults and $8 for students, and may be purchased by phone at 512-245-6500 or online at txstatepresents.com.