Review: Love Me AND An Empty Stage by Austin Community College
by Michael Meigs
Austin Community College's summer 2009 Experimental Student Performance Lab got off to a good start for me with Philip Kreyche's expressionistic two-act work Love Me, preceded by Ryan Manning's whimsical curtain-raiser The Empty Stage.

Manning's short piece gives us Dani Miller as "Pye, the Man with No Memory," and Manning himself as "Que, The Man Who Reminds Him."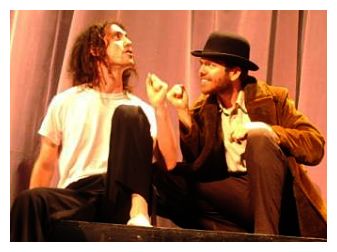 Imagine Estragon and Vladimir, respectively, except that instead of waiting for Godot, they're trying to construct a story for themselves. Author Manning awards himself the smarter of the two roles, in which he impatiently corrects and cues Pye while cadging cigarettes from him.

They eventually concoct lightweight fantasies, enlivened by the appearance of Sally Ziegler, Ariel-like, as "the beautiful girl" and "the Spanish princess," and by Phillip Kreyche as "the last man of high moral character." Our two tramps wind up paddling an invisible canoe up the center aisle, finishing their dialogue behind us, and after a pause the action begins for the two-act production.

In the Q&A afterward an audience member confessed to being confused by the fact that the company made no explicit demarcation between the two pieces. The casts overlapped, but each piece was announced separately in the program.
Kreyche's two-act Love Me is triply impressive. He dug deep into German literary history to find the source documents, including especially an eerie quasi-autobiography by the Viennese painter Oskar Kokoschka describing the artist's self-destructive infatuation with Alma Mahler, wife of the composer. He wrote a piece that is starkly expressionistic in style, using incidents from Kokoschka's life and portraying them with a mixture of narrative and mad illusion. And he played the principal character, Kokoschka, with stage presence, palpable emotion, and style.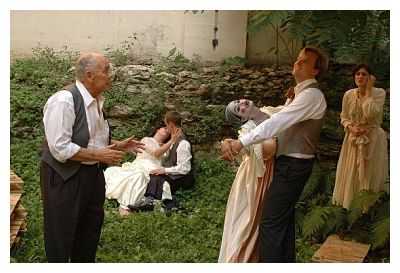 Kreyche provides an author's note in the program with a short history of the painter's life, style and infatuation. "The play itself is a defense of Oskar Kokoschka. . . He was an emotionally fragile artist who was crippled by love and by his experiences in one of the most destructive wars in history."

Of course, there's much more than that, much of it drawn from Kokoschka's writings: for example, a fellow cavalry officer, Heinrich (J. Almendarez), who tells how Oskar was wounded, left for dead in a mass grave, and discovered by a Russian soldier who prodded him with a bayonet.

Other characters include Oskar's landlord, the art dealer Herr Posse (Ryan Manning, who has an affection or perhaps an affectation for his bowler hat, even indoors at the dinner table). The languishing servant girl Hulda (Sally Ziegler) falls in love with Oskar, to the desperation of attempting suicide. And Jürgen, the stolid manservant, is played with discernment and finesse by Larry McCord.
But the eeriest of the bunch is Melusina, the life-size doll commissioned by Kokuschka to allow him to lavish his affections for Alma for a time, just a limited time, on something if not someone. Senait Fassahaye as Melusina is white faced, lolling and inanimate much of the time, but she can speak to Oskar and berate him as he goes over the deep end.

Kreyche has enlisted violinist Esther Garcia for some of the incidental music and he draws on German dance and folk music, as well as Rachmaninoff.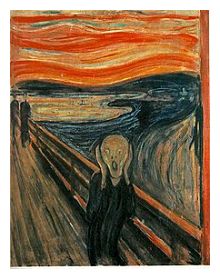 The action is sustained throughout and as director, Ryan Manning uses composition and lighting effectively, with the assistance of ESPL adviser Arthur Adair. The decision to insert an intermission was a reasonable one. Manning came around the closed curtain to let us know about the break. In keeping with expressionist or at least Brechtian practice, I would have preferred for Manning in the character of landlord Herr Posser simply to step forward from the concluding scene and directly advise the audience.

Kreyche as Oskar uses a building facial rictus early on and in the final scene, strongly reminiscent of Norwegian painter Edvard Munch's 1893 painting Skrik ("The Scream"). (Munch commented, "for several years I was almost mad…You know my picture, ''The Scream?'' I was stretched to the limit—nature was screaming in my blood… After that I gave up hope ever of being able to love again.")

Kreyche evokes Oskar's lameness well most of the time, but there's an uncanny and unbelievable moment of suppleness when he's discovered embracing Hulda. They're on their knees, facing forward, but Oskar slips quick as a snake backward up into a sitting position on the sofa.

One point in passing: we never get the visual reinforcement of a look at any of Oskar's paintings.
Despite the strength of the concept and the production, it seemed to me that Kreyche could usefully rework the script so as to locate most or all of the exposition in the text rather than in the program. One approach might be to imagine an early scene in which Larry McCord as Oskar's valet/manservant/protector is given the task of hiring the new serving girl Hulda and warns her of his master's peculiar history. Landlord and art dealer Herr Posser is underused in the action and could be further developed.

The encounter of cavalry officer Heinrich and the visitor Mme Ludovica (Amy Vaja) on the sidewalk outside Oskar's home is unexplained and sloppily casual, atypical of Viennese society (even low society) of the epoch.

Philip Kreyche was memorable in Drywall, produced in February for the 2009 FronteraFest Long Fringe, and during the Q&A after this show he said he was thinking of remounting Love Me for the 2010 FronteraFest. If he does, I'd like to be there to see it.
EXTRA
Program for An Empty Stage and Love Me
Hits as of 2015-03-01: 5534
---
Love Me AND An Empty Stage
by Philip Kreyche AND Ryan Manning
Austin Community College