Review: Lone Riders by Trinity Street Players
by Michael Meigs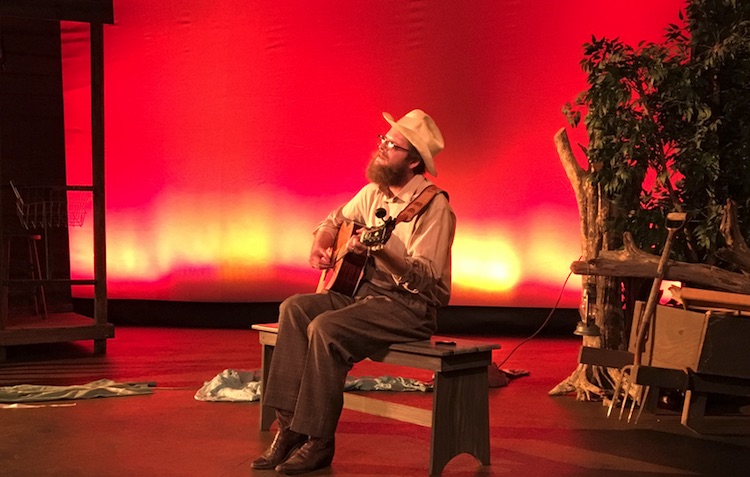 Lone Riders speaks of vast distances, and every aspect of the Trinity Street Players' production keys on that theme. This is the Nebraska Territory in 1865. From the first moments as the audience listens to Walker Lyle's musing cowboy music, the allied concepts of set designer David Weaver and lighting designer Courtney Deriger make that vastness real. A battered wooden shack for a stage depot, a barren courtyard, a bench, a tree, tools and the rear of a canvas-covered wagon establish a place and time dwarfed by the unseen immensity of nature evoked with wide intense fields of color cast against the scrim behind them.
Similar distance prevails between and among the characters we encounter in this setting. Peg, the no-nonsense depot keeper, abides alone in this way station where stages arrive irregularly and lone riders are rare. Laurence the photographer is traveling solo on a U.S. government assignment to record the features of the territory, perhaps to entice settlers out there. Dan's a tattered Alabamian, a former prisoner of the Union forces, dwelling beyond the far edge of a nation to which he reluctantly swore allegiance. At thousands of miles from these chance encounters are Sarah the photographer's wife, writing from Boston, and Becky, Dan's sweetheart, sending him news and urging him to come home to south Alabama.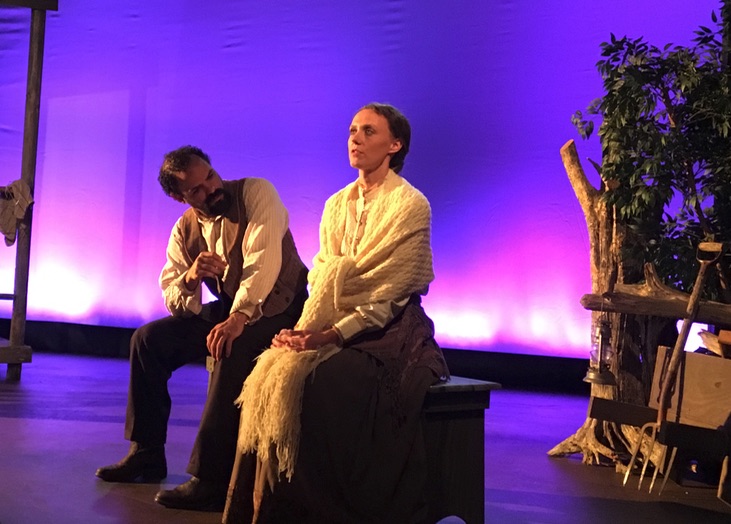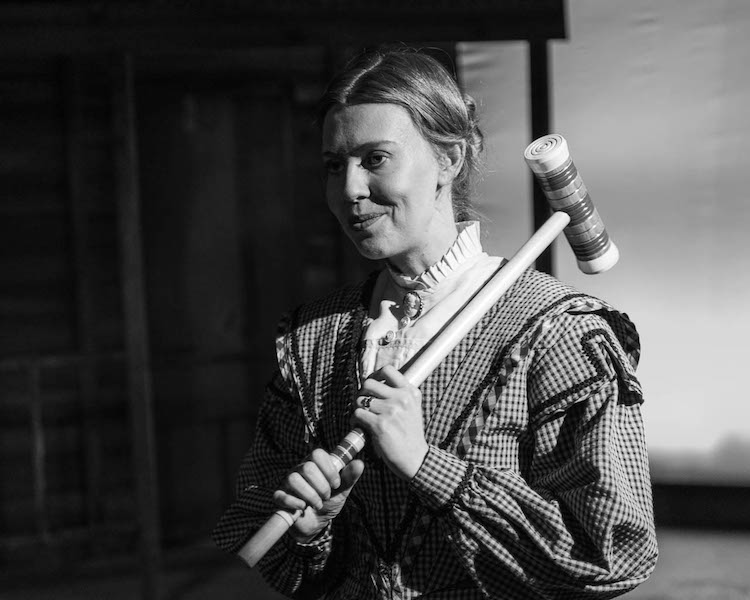 Playwright Carol Krause has created fully realized characters, revealed only gradually through terse and distantly courteous dialogue. Laurence is held up at the depot by the 'disappearance' of one of his 'U.S.'-branded mules. Over the course of the seventy-minute play presenting two long days in this landscape he learns more about the others than he finds it circumspect to know.

The photographer left a wife behind in Boston when he went to embrace the faceless West. Her letters to him, perhaps never delivered, depict a resolute and ingenious woman. Evelyn LaLonde as Sarah relates her anecdotes and achievements with increasing satisfaction, communicating a busy and successful urban life far removed from the great silences of the Nebraska territory.
From Alabama Young Becky voices the month-old letters and then arrives unexpected aboard the west-bound stage, obliging Dan to face truths and to take decisions.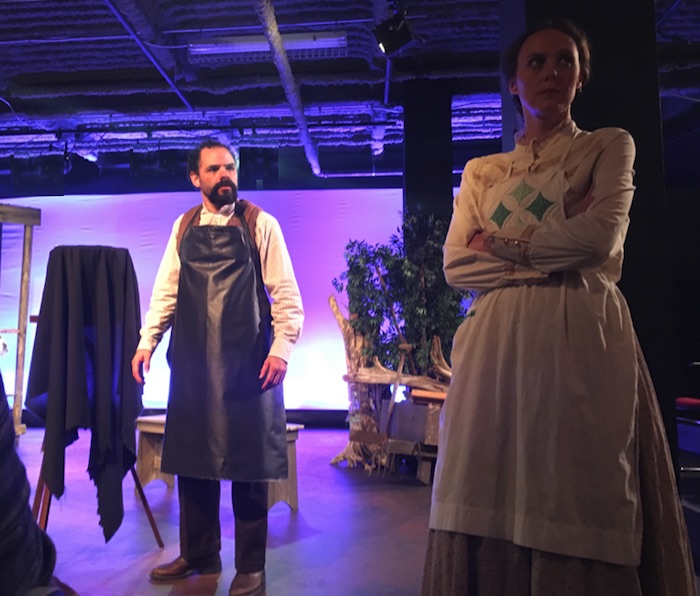 Steve Williams as Laurence the photographer speaks softly. He's eminently credible as a man who's seen too many slaughtered in the war and has renounced images of the human figure. Laurence is looking for meaning in the shapes of the land itself. Neither of the two women opposite him is an object of longing or desire. Back in Boston Sarah is expressive, while Renée Bartlett as station keeper Peg keeps all emotion bottled deep inside.
David Barrera as Dan the rebel reluctantly become turncoat to his own cause circles in confusion. Plucky little Becky's sudden apperance challenges him to overcome distance, isolation and lost years. Kimberly Barrow as Becky doesn't tolerate the self-indulgence of souls thinking themselves lost in the wilderness; in her sweetly emphatic Southern accent she lets Dan know that she's leaving on the next stage whether he's on board or not.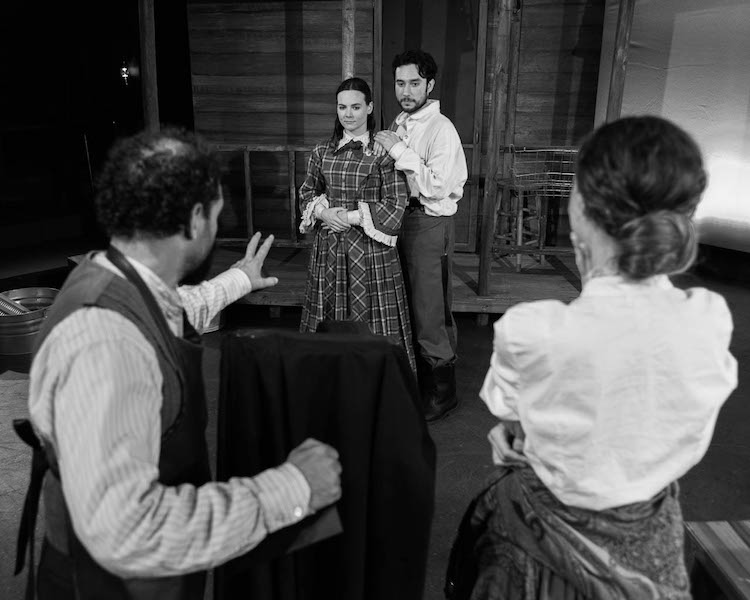 Krause touches ever so lightly upon notions of imagery, photography, assumptions and self concept. Each of these lone riders is in pursuit of something, and the playwright has her characters mark the climax of a decisive change with the ceremonial immobility of a portrait taken by a photographer who'd sworn never to capture human faces again. Reduced to black and white and frozen in time, the image we never see stands for all that is changing, colorful and transient. It's a tidily symbolic moment and a reminder that art, including theatrical art such as this polished staging directed by Manuel Zarate for the Trinity Street Players, captures ever so fleetingly the richness and complexity of life.
EXTRA
Click to view the Trinity Street Players' program for Lone Riders by Carol Wright Krause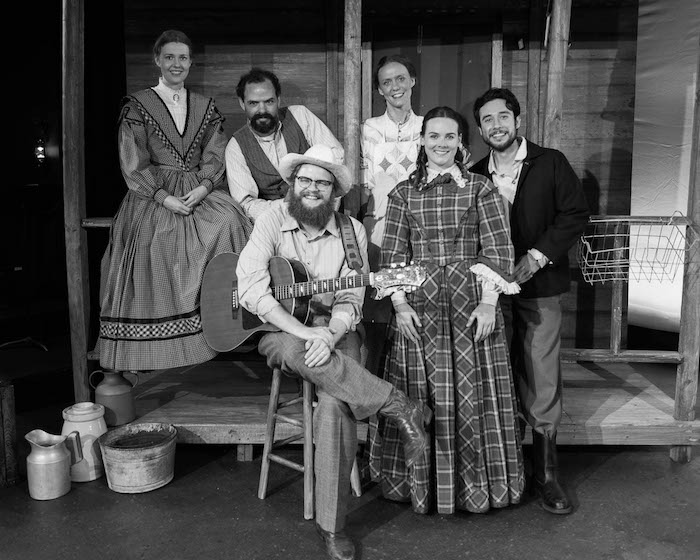 ---
Lone Riders
by Carol Wright Krause
Trinity Street Players
Wednesdays-Sundays,
May 11 - May 22, 2016
Trinity Street Players
Black Box Theatre, 4th floor, First Baptist Church
901 Trinity Street
Austin, TX, 78701
Reserve your FREE ticket online now!
Wednesday, May 11, 7:30 pm Walker Lyle, 8 pm Opening Night, Playwright in attendance! free garage parking
Thursday, May 12, 7:30 pm Walker Lyle, 8 pm Show + Talk Back with the Playwright!
Friday, May 13, 7:30 pm Walker Lyle, 8 pm Performance
Saturday, May 14, 7:30 pm Walker Lyle, 8 pm Performance
Sunday May 15, 1:30 pm Walker Lyle, 2 pm Matinee + Talk Back with the Cast! free garage and streetside parking
Wednesday May 18, 7:30 pm Walker Lyle, 8 pm Performance free garage parking
Thursday May 19, 7:30 pm Walker Lyle, 8 pm Performance
Friday May 20, 7:30 pm Walker Lyle, 8 pm Performance
Saturday May 21, 7:30 pm Walker Lyle, 8 pm Performance
Sunday May 22, 1:30 pm Walker Lyle, 2 pm Closing Matinee free garage and streetside parking
Parking is free on Wednesdays and Sundays, but otherwise, we're a downtown venue so arrive early enough to secure parking!