Review: Little Shop of Horrors by SummerStock Austin
by Michael Meigs
SummerStock's joyous production of Little Shop of Horrors gets extra class credit in recognition for its part in re-Americanizing this reviewer.

After last May's production of the same script by the Georgetown Palace Theatre, I took the liberty to grump that theirs was a "Grade A production of a Grade D musical play."

I did explain that unlike the rest of the audience, I had never been exposed to Audreys 1 or 2, either on film or in the theatre. Little Shop didn't travel to places like the Dominican Republic, my last posting abroad, where the musical theatre tastes ran to Jesus Christ Superstar and Evita. So I was a blank slate at that time both for Alan Menken's music and Howard Ashman's book and lyrics.

Last Sunday evening we were sitting in the middle of the front row, exhibiting the naive courage of theatre fanatics, so we took the full blast of SummerStock's music, singing, dancing and highly stylized camp. And, you know, seeing a Grade A production of a Grade D musical play up close and personal is a helluva lot of fun.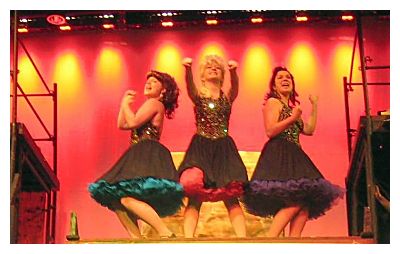 I discovered a bit more in the music -- "Suddenly, Seymour" is a glint of sentiment in the rush of outrageousness, and the Odessa strides and yiddishe warbles of their interpretation of the tango "Mushnik and Son" doubled us up with laughter. Even the early "Skid Row (Downtown)" had a finger snapping appeal this time. Other numbers still seemed a bit messy and unoriginal, curtains of sound hanging behind the clowning, but the cast kept up such a pace that one really didn't care. The story is just as witless as before, but this time I was expecting it.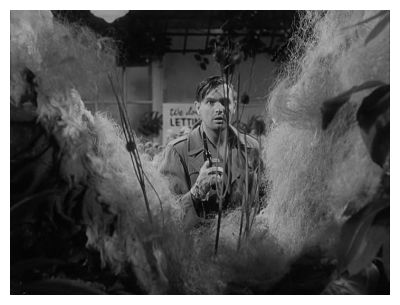 Some background, for anyone who has been off the American planet for the last 30 years (as, in effect, I had been): this story started as the campy 1960 black humor movie shot in only two days by Roger Corman, with Jack Nicholson in a minor role.

Corman and writer Charles Griffin were satirizing all those end-of-the-world movies from that epoch, sprung from the paranoia caused by the Cold War, Outer Space and the Bomb. Godzilla (Gojira) had hit the screens for the first of many outings in 1954. War of the Worlds became a film in 1953 and The Giant Claw came out in 1957. And how about Sheb Wolley's novelty song Purple People Eater, a hit in 1958?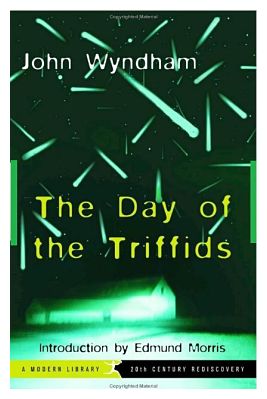 Contemporary with Corman's Little Shop was Village of the Damned (1960), followed by Children of the Damned (1964). John Wyndham's 1951 classic sci-fi novel The Day of the Triffids featured Russian-engineered man-eating plants and might have offered a vague inspiration for the boozy producers of Little Shop. But no one speaks of this possibility and the Triffids attacked on film only in 1962.

All this to say, there was a cultural context for Corman's nutty film. Ashman and Menken's musical version opened in New York in 1982, where it would run for five years. Puppeteer Frank Oz directed a film version in 1986. Menken's music won the 1987 Saturn award for best music from the Academy of Science Fiction, Fantasy and Horror Films, USA (beating out, among others, The Fly and An American Tale).

And how about the version done by SummerStock Austin?

Platforms also used in Sweeney Todd are transformed to represent looming tenements. The wild action occurs mostly front and center in Mushnik's flower shop. With 34 actors & singers in the cast, Director Ginger Morris regularly shelves various of them in spooky tableaux in the upper stories, reinforcing the moody atmosphere of Skid Row.
Andrew Cannata gives us a suitably nebbishy Seymour, covered up with his ball cap and horn framed spectacles. This character spends a lot of time in longing for the ditzy shopgirl Audrey (Macey Mayfield) and in misgivings as his strange houseplant ("Audrey 2") thrives from consuming human blood. He's a gentle loser, taken in from an orphanage by the avaricious florist, not for adoption but as a convenient unpaid worker.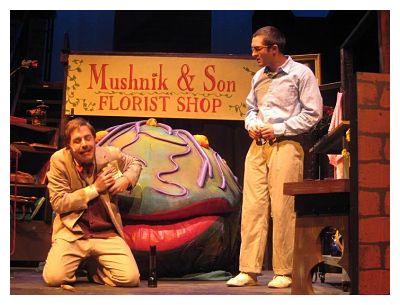 I'd seen Tyler Wallach on stage at Texas State, but his transformation into the rumpled, seedy florist Mr. Mushnik was so complete that I did not recognize him. Wallach does a fine Brooklyn Jewish accent and he makes the comic most of Mushnik's complaints, scheming and hapless delight at the fame accruing to the flower shop as Audrey 2 becomes famous.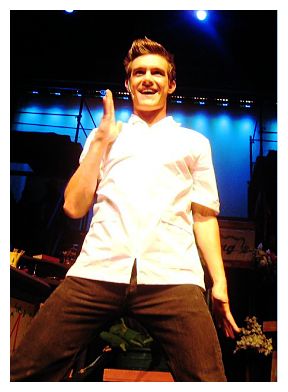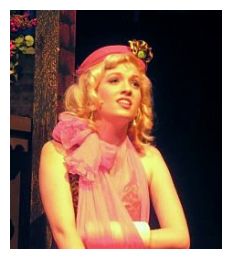 Cute little Audrey the shopgirl is sweetly, sincerely shallow and an appealing singer. She is mistreated and dominated by Orin, the sadist motorcycling dentist, who is everything that Seymour is not: handsome, decisive, exuberant and a devotee of pain.
Michael Fariss doesn't have much time on stage before becoming Audrey 2's first lengthy buffet dinner, but he makes the most of it. The script says he's on nitrous oxide but those wild gestures and gleaming eyes hint more at meth or cocaine. Seymour, threatened with immediate and painful extractions, doesn't have to lift a finger when the mask gets snarled on the numb-brained dentist.
Audrey 2 grows, our hopeful and well meaning characters face the end of the world with heroic, positive attitudes, and they all go out in an explosion of bouncy rock and roll. The message in the finale, featuring all of the recently departed, is "Don't Feed the Plants!"

Thanks to SummerStock Austin for rounding up the talent - - and corraling the sponsorship that makes it possible for students to participate in this annual venture without paying fees to do so.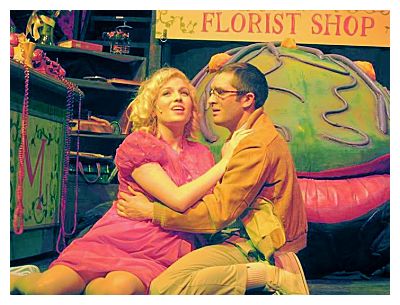 Review by Rob Faubion at AustinOnStage.com
Review by Ryan E. Johnson at examiner.com, August 13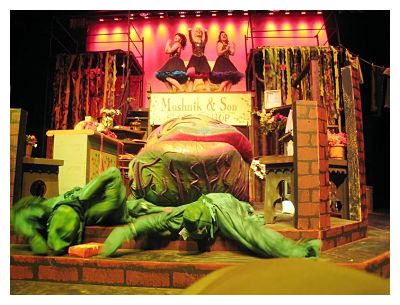 Hits as of 2015 03 01: 2411
---
Little Shop of Horrors
by Alan Menken and Howard Ashman
SummerStock Austin
August 01 - August 09, 2009
Rollins Theatre
Long Center
701 Riverside at South First,
Austin, TX, 78704