Review: Let Me Down Easy by Zach Theatre
by Michael Meigs
We go to the theatre to be delighted or to be moved.

On rare occasions we are both delighted and moved. And on even rarer occasions, an artist of exceptional intelligence and ability delights, moves and educates us. This evening with Anna Deavere Smith, intimate and often amusing, reaches deep into the common humanity of Americans.

Her performance is a portrait album, recreating for us conversations or interviews with individuals as widely different as super model Lauren Hutton and a 16-year-old girl in small town Texas struck with cancer. Some of the names we recognize -- theatre historian and critic John Lahr, for example, and Lance Armstrong, and former Texas governor Ann Richards, a portrayal that galvanized and delighted the audience. Some stories are wildly comic, such as that of the choreographer who recalls messing up a spectacular trick with flames. Other subjects are remarkable for their unusual stories or for their solemnly informative observations about American society, particularly about medicine and health care.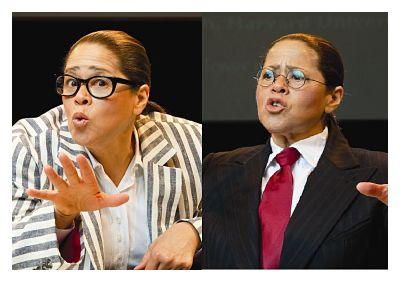 Smith's interests are wide-ranging and all of the portraits are empathetic. We cannot predict the subject matter of any page in this album. Yes, she adjusts costume and demeanor, and her mastery of accents and of speech mannerisms is uncanny. But even more striking than the performance is the writing. Her selection, transcription and interpretation make us believe absolutely in each of these individuals, because she captures moments of crystalline significance.
One suggestion: read the prompts. The Whisenhut stage features discreet video labels for each portrayal, identifying the individual by name and by profession and providing a title or key phrase. We weren't on top of that for the first two portraits and we assumed, mistakenly, that Anna Deavere Smith was speaking to us in her own person. The naming label provides immediate resonance for the portrait, and we listen closely and ultimately with satisfied recognition as Smith develops the story and then clinches the key phrase.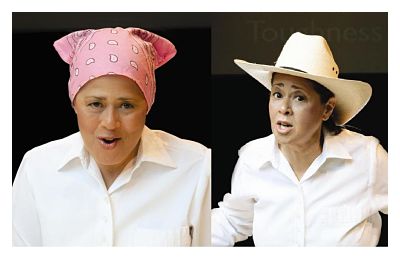 The themes that carry through the evening are those of the transience of life and of individual courage in the face of adversity. Smith's opening character counters a child's fear of death with a gentle question: "Tell me, were you afraid to be born?" The theatre critic suggests that Smith's writing resembles the stratagem of Perseus when confronting the Gorgon Medusa, whose gaze turned viewers to stone: "Instead of looking at death directly, you're holding up a shining shield and studying its reflection." Both Lance Armstrong and Ann Richards speak through her of cancer. A retired heavyweight boxer and a bull roper past his prime relive their triumphs and adjustments. A key character toward the finale is the bespectacled Boston clergyman shown above, with an account of the solemn significance of his role at funeral and burial services. From him comes the key phrase, "At the end, let me down easy." None of this is morbid and much of it is quietly heroic.

The Zach Scott Theatre tells us that Anna Deavere Smith was active in Austin several years ago, a fact that explains the inclusion of several remarkable Texas stories in this handsome album. She opened this piece in January, 2008 at the Long Wharf Theatre, and she's scheduled to take it next to New York. As far as Austin Live Theatre is concerned, Anna Deavere Smith is welcome back in Austin any time. Let Me Down Easy -- highly recommended.
[ALT accepted, with thanks, comp tickets for the opening of this production.]
Review by Joey Seiler in Austin Statesman's Art360 "Seeing Things" blog, April 20
Blurb on Soulciti.com reads, "In "Let Me down Easy" Anna Deavere-Smith portrays almost two dozen characters who together create a profile of the amazing strength, beauty and frailty of the human body." Registration is required to read the rest of the review.
Statesman feature article, April 26: Author, actor Anna Deavere Smith on identification vs. empathy
Review by Deborah Martin in the San Antonio Express-News: "The show itself is virtually guaranteed to restore chi."
Review by Robert Faires in the Austin Chronicle of May 7
Review by kelseyk on Austinist.com, May 7
Anna Deavere Smith's discussion with UT drama students, May 1 -- press release of May 8
Review by Jonelle Seitz for the Feminist Review, May 21
Anna Deavere Smith talks to NPR about Let Me Down Easy, May 26
EXTRAS!
5 Min. Video: Anna Deavere-Smith as The Bull Rider
Click for notes by Dramaturg Gideon Lester (.pdf file 1MB)
20 Min. Video: Anna Deavere-Smith brings to life author Studs Terkel, Paulette Jenkins, a Korean shopkeeper, and a bull rider.
UPDATE: NY Times magazine feature by Susan Dominus on Deavere-Smith's New York performances, September 30, 2009
UPDATE: Jill Dolan's review of the New York production on her blot "The Feminist Spectator," October 5
UPDATE: Critic-O-Meter summarizes 10 reviews of the NY production of Let Me Down Easy: "The most positive reviews of the season so far." October 9
---
Let Me Down Easy
by Anna Deavere Smith
Zach Theatre
April 15 - April 10, 2009