Review: Leading Ladies by The Wimberley Players
by Michael Meigs
Leading Ladies by Ken Ludwig has all the big-footed clowning of a British pantomime, that venerable, wheezy holiday art form in which the British public hoots and chortles at manly men dressing up as women. Dame Edna is the royalty of that genre, but every middle- and lower-class family wants to attend the local "panto" in December, and British TV comedy sketches will inevitably get around to putting a male comedian into something frilly, and preferably topping him with a hat.

The show is set in 1958. I was surprised when a little research turned up the fact that Ludwig's piece premiered at the Alley Theatre in Houston only five years ago. It has fallen into the warm embrace of community theatres since then. I missed the recent staging in Leander by the Way Off Broadway Community Players, but made up for it this past weekend with the Wimberley Players, at their handsome, intimate playhouse on Old Kyle Road.

Leading Ladies is a goofy masquerade. Two down-on-their-luck British actors of mediocre talent, on a whistle-stop tour of small town Moose Lodges and Elks Clubs, discover in a newspaper left on a train that a $3 million inheritance will soon be available to a young lady and two long-lost cousins, absent for many years in England. Aha! What better scheme for our wayward Brit showmen than to imitate those inheritors? Problem: a closer reading reveals that the lost are women, not men!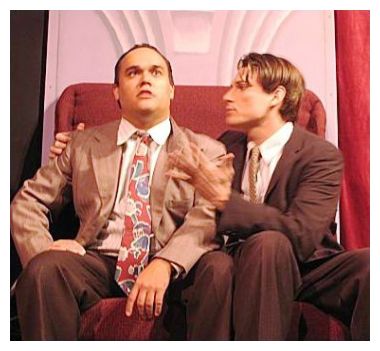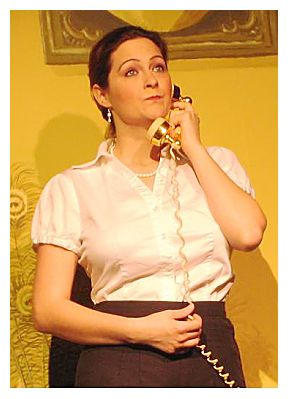 The rest is as inevitable as any On The Road picture with Bob Hope and Bing Crosby. David McCullars, as Leo Clark the slim and handsome public school sort, talks his buddy Jack Gable (Alex DeLeon), a squared-off lower-class kind of guy, into the scheme. The acting duo Clark & Gable (wink, wink!) undetakes female impersonation, using the miscellaneous female costumes in their traveling trunk.
Our heroes are helped with information spontaneously provided on the train by the bouncy roller skating hostess Audrey (Rebecca Stokinger), for whom Jack Gable immediately falls. Stokinger as the big-eyed ingenue is breathless, funny and sets a standard in lush femininity that our boys will find hard to match.

Meanwhile, back at the mansion impressively filled out with trompe-l'oeuil painting, Katie Combs in the Dorothy Lamour role of heiress Meg is engaged to the earnestly sanctimonious clergyman Duncan (Carl Galante). Meg delights in the word that her "cousins" are arriving, even if it does reduce her share in the prospective fortune to only one million dollars (back in 1958, even a single million wasn't just hay).

Leo and Jack show up on schedule and in costume, and we are off to the races, so to speak. Leo is confident and at ease, while Jack bumbles, fumbles and yearns for that Audrey, who just happens to be a regular visitor to the house.
We have the recalcitrant, fierce old Aunt Florence (Carla Daws) who isn't about to give up the ghost just yet, and her equally grumpy attendant physician Doc (Gary Yowell). Audrey's boyfriend Butch (Stephen Reynolds) is properly bewildered by this all.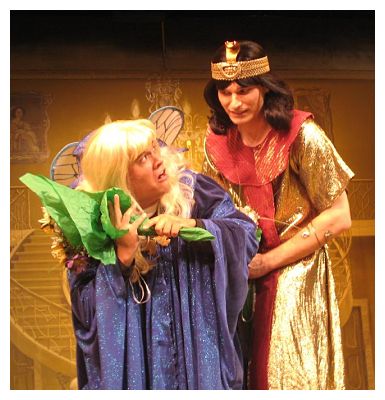 In the scrambling about that follows, we learn that Meg is a devotee of the theatre, even if performances are rare in the hinterlands of York, Pennsylvania, and she was disappointed at the Elks' cancellation of the famous duo Clark and Gable. She yearns to act and she just happens to have memorized the role of Olivia in Shakespeare's Twelfth Night. You know -- Olivia, that heroine masquerading as a male page to the handsome Duke.

Leo takes the bait. S/he offers to bring "my dear friend Leo Clark" to coach the ensemble for a performance of Twelfth Night. Many shenanigans, an engagement party with some impressively comic tango-dancing, changes of character and costume, and the deceiver deceiv'd -- Ken Ludwig is no Shakespeare, but we don't need high culture to have a good time with this script.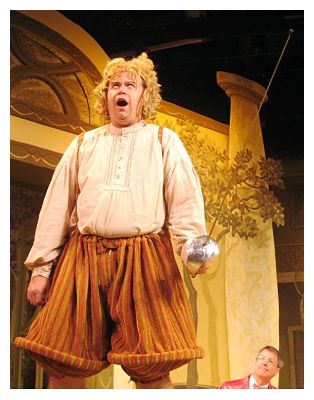 All's for the best, and we are treated to some gesticulating rehearsal of Twelfth Night that suggests that their production will be as much fun as this one. Stephen Reynolds provides a moment of epic foolishness with Gary Yowell as Doc looking on.

Director David Bisett has chosen a cast of willing and accomplished actors for this show, and the Wimberley Players' crew have lavished much love and care on creating their make believe world. David McCullars and Alex DeLeon are a fine buddy pair, nicely contrasted, confident in their characters, endearing in their innocent con-man-ship and comfortable with their adopted accents. Katie Combs would, indeed, make a superb Olivia, judging from the serenity and thoughtfulness of her comedy. All of the other cast members are lively, comic and well timed. We can let ourselves go in this world, knowing that we'll be well entertained, and that all's well that ends well!
Feature in Blanco newspaper, April 29

EXTRA
Click for excerpts from Program for Leading Ladies
---
Leading Ladies
by Ken Ludwig
Wimberley Players