Review: Austin Latino New Play Festival 2011 by Teatro Vivo
by Michael Meigs
The three Austin playwrights showcased at the Autin Latino New Play Festival last week could not have had a gentler or more supportive audience. Organizers Rupert Reyes and JoAnn Carreon-Reyes founded their Teatro Vivo about ten years ago, producing appealing, comic pieces, usually written by Rupert and featuring him.
Just the way that Austin has branded itself as the home of "live music," the Reyes' theatre group is known for its "live theatre." "Teatro vivo" can also mean "lively theatre," and their productions have always been that. They reach out to the Tejano community, that large and increasing population of this town whose first language is English but who have close, family familiarity with the Spanish-language community, principally of Mexican connection.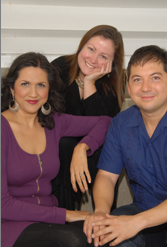 These were staged readings in the recently inaugurated "black box" theatre on the south end of the Emma S. Barrientos Mexican-American Cultural Center. Rupert or JoAnn prepped the expectant audiences, explaining that the festival was designed to assist playwrights by putting their works of imagination before live audiences for the first time. Actors carried their scripts with them and moved across minimalist sets. Decoration and costuming existed mostly in the minds of the audiences. Both of the longer pieces used an on-stage reader to deliver the authors' stage directions and descriptions of silently mimed action.
Teatro Vivo has produced full-length works by two of the three writers. Erica Saenz' piece for the festival, Lightning Strikes, comes a year after their production of another family comedy Keeping Track a year ago at the Salvage Vanguard Theatre, and Raul Garza's Dos Pocitos follows a fine production of his Fantasmaville at the Long Center's Rollins Theatre in November, 2008.

The three pieces workshopped by recognizable regulars from Teatro Vivo differed in form and subject matter. Saenz' s Lightning Strikes examines three households in "the Valley" -- the Rio Grande valley at the southernmost tip of Texas. Roxanne Schroeder-Arce's one-act play Mariachi Girl focuses on the yearnings of an 8-to-10 year old girl to sing the mariachi music of her father and grandfather. Garza's Dos Pocitos posits a hypothetical future in which the United States has de-accessioned an area of southern Texas, leaving it to drug runners, roving bands and the few stubborn Tejanos who refused to move to safer areas in Texas.
Each follows the style familiar to Teatro Vivo fans: the script is in English, flavored with Spanish expressions that are instantly understandable from the context. It's not bilingual theatre; it's theatre written in Texan and spiced with Mexican. If you understand only English, you'll have no problem; and it's even better if you know both languages.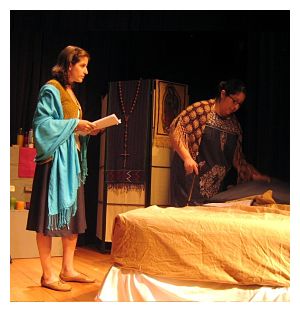 Strong themes emerge. These characters are between two cultural worlds, some of them having integrated far more with the dominant American culture -- the formative tension is less between Hispanic and Anglo worlds than between a traditional patriarchal society wrapped in family identity and the less guided, autonomous and atomistic concept of modern America. Relations between parents and children are central, especially between mothers and daughters. There's a strong element of nostalgia, at times for a world that the characters may never really have known. Much in evidence is the archetype of the strong woman -- whether it's the irreverent, wise-cracking unmarried sister Patricia played by Lydia Blanco in
Lightning Strikes
, Carmen, the mom who sticks up for her daughter's mariachi ambitions (Eva McQuade), or Zulema, sour shop keeper in the "Texaco" wasteland (Patricia Arredondo).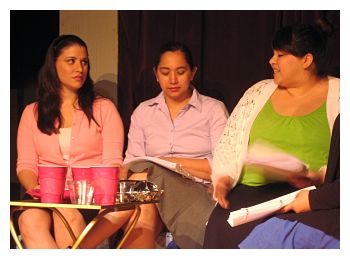 Saenz's Lightning Strikes contrasts the fates of daughters in adjacent households in "the Valley." She uses the childless Latino-origin couple from California of a doctor and his wife to mark the differences in Hispanic viewpoint and integration into American culture. Both mothers are severely controlling: curandera ("traditional healer") doña Lupe is obliging her thirty-year-old unmarried daughter Maricruz to learn the family profession of providing massage, physical manipulation and herbal remedies (Victoria Alvarez and Anabel Guevara); stiff Pilar is arranging the betrothal of her naive daughter Olivia (Martinique Duchene and Karinna Perez). Into this world come the doctor (Rick Olmos) and his well-educated, outspoken wife Patricia (Lydia Blanco), a woman with questions and an impatient attitude, acknowledged by playwright Saenz as a surrogate for herself. This is a women's world, in which a knitting circle plays a central part. The daughter's paths at the finale contrast sharply, and the childless couple glows when the wife announces that she is pregnant.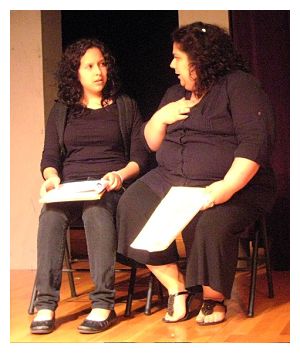 Mariachi Girl is a simple piece, aimed at younger girls with the double message that tradition is valuable and that women in this American culture should be granted greater opportunity than were their mothers. Two real live mariachi players in full regalia play accompaniment -- John Mark Holguin on the fiddle and composer Hector Martinez Morales on the guitar. Luz Zamora plays "Cita" (from "Carmencita," little Carmen), the eight-year-old whose ambition to sing in the male-dominated mariachi conjuntos is assisted by her mom (McQuade) and by her "half-and-half" Mexican-American third-grade teacher Mrs. Parker (Diana Martinez). Zamora, a young adolescent, is physically more developed than an eight-year-old, but she's a fine player. Particularly amusing is her adroit dialoguing between her dolls Juan, with sombrero and consonant-thick Mexican accent, and Barbie, whose accent is from an entirely different valley. Shroeder-Arce and the musicians support McQuade and Mario Ramirez as Luis, Carmen's father, in a lovely, unexpected mariachi duet that's a singing duel over the role of women.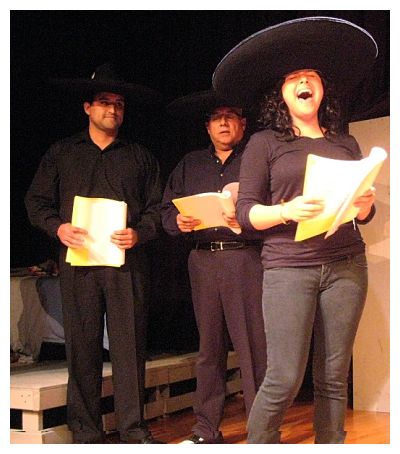 Raul Garza's Dos Pocitos ("Two Little Wells," the name of an abandoned community) is more speculative but its plot is less well integrated. Chief characters are Abel the academic and his down-to-earth cousin Adam, recruited for a jeep expedition into the no man's land of "Texaco." Garza gives the guys strong dialogue, credibly establishing the give-and-take of men with a common childhood but many fewer points in common in their current lives. This is a "mad Max" sort of world where we see Rupert Reyes as a bereaved and half-mad old beekeeper whose son unaccountably disappeared and Donato Rodriguez and Patricia Redondo as the aged couple Antonio and Zulema, dogged holdout shopkeepers. Garza offers fantastical and unlikely incident on the odyssey, so to speak, of Adam and Abel. They inadvertently run down a mythical "chupacabra" that subsequently disappears, and they encounter a mysterious deaf-mute boy (Gabriel Peñaloza). "Texaco" is a land ruled by gangs, and Garza gives us a lengthy mimed scene in which storekeeper Zulema resists an attack with the cool-bloodedness and efficiency of a Clint Eastwood character.
A talk-back with the playwright followed each staged reading. The audiences for these one-night presentations were warmly appreciative. Saenz was lively with her comments about the writing process. Shroeder-Arce asked about reactions to the girl's dialogue between her dolls and wanted to know if the message would be meaningful to girls of the target age.
Garza assiduously took notes to the replies elicited by relatively narrow questions to the audience posed by dramaturg Kevin Kautzman but offered no remarks of his own. His tale of a southern no man's land, outlandish as it sounds in summary, resounded with those in the audience. One man in the audience affirmed that the yielding of authority to the lawless is already well underway, and he cited the relocation of a border control post to a point thirty miles north of the actual border.
EXTRAS
Click to view program leaflet for the Latino New Play Festival 2011, sponsored by Teatro Vivo
Hits as of 2015 03 01: 2622
---
Austin Latino New Play Festival
by various
Teatro Vivo
Thursday-Saturday,
May 14 - May 16, 2015
8 p.m. May 14, 15 and 16 at the Emma S. Barrientos Mexican-American Cultural Center in Austin
a different new play on Latino themes to be staged each evening
For tickets - "pay what you wish" at the theatre on Thursday evening or $15. Three-evening pass $40. Reserve seats at