Review: Into The Woods by Austin Jewish Repertory Theatre
by Michael Meigs
What remains to be said about Into The Woods by Steven Sondheim and James Lapine?
Musical theatre buffs marked the 28th anniversary of the Broadway premiere of their slightly subversive treatment of four fairytales from the Brothers Grimm this past week, the day following the opening of the production jointly sponsored by Trinity Street Players and the Austin Jewish Repertory Company. Last year Disney produced a relatively well received film with an all-star cast, a sure sign of relentless popularization.
My records indicate seven productions of the piece done or scheduled in Central Texas in 2014-2016; I posted a 2010 review of City Theatre's staging; and last month I put up an appeal from an elementary school in Richardson, TX, seeking to borrow or rent a figure of 'Milky White,' Jack in the Beanstalk's pet cow for Into The Woods, Jr. The thought of a 'junior' version is intriguing: I hope the copyright owners were successful in efforts to dumb down Sondheim's challenging music and Lapine's sly libretto adequately to entertain young minds.
Into The Woods plays in sophisticated and unpitying fashion with your expectations of happily ever after. For the two or three of you who haven't seen it, the authors mingle the stories of Little Red Riding Hood, Jack and the Beanstalk, Rapunzel, Cinderella and a childless baker and his wife. And there's a witch, Rapunzel's foster mother. Act I sees each of the major characters obtain a heart's desire. Act II introduces calamity (initited by the marauding woman giant widowed by Jack) and loss (catastrophe, betrayal, indifference, estrangement and death). Sondheim and Lapine infuse the figures of the fables with emotion, character, grief and regret, bringing the audience to identify so completely with them that at the curtain call the reappearance of the absent characters brings a rush of recognition and relief.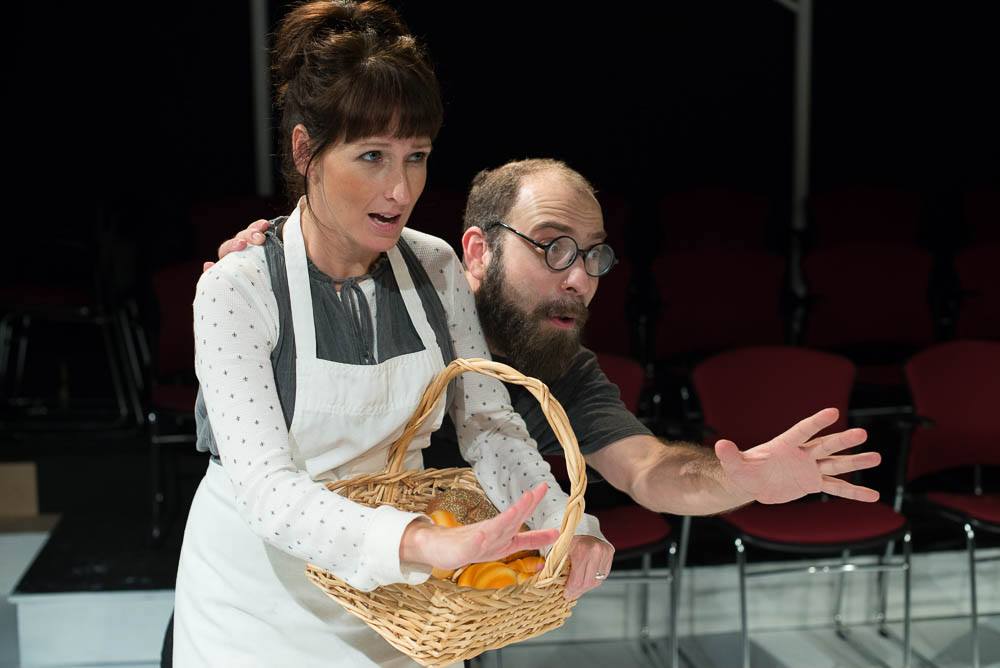 In their second collaboration the Austin Jewish Repertory Theatre, directed by nimble-fingered pianist maestro Adam Roberts, and the Trinity Street Players directed by Ann Pittman fill the black box on the fourth floor of First Austin (aka the First Baptist Church) with sparkle -- light, sound, music, harmony and acting by a large and extremely talented cast. This production is likely to be as applauded as their Fiddler on the Roof of August, 2014, done in the same space and recognized with three B. Iden Payne nominations for outstanding theatre work -- plus a special award for Chet Fagerstrom, the young man who fiddled from the roof. Into The Woods with its five narrative threads and cast of 17 may miss out on individual on-stage awards (though Michael Ferstenfeld as the Baker may find himself re-upped after his 2014-2015 award for Einstein in Picasso at the Lapin Agile). Roberts as musical director and one-man orchestra deserves strong consideration. And this beautifully spare and animated production will be a contender as an ensemble work.
In a program note Roberts explains the aesthetics. These are winter woods, virtually barren. The scene is established with no more than a few straight dark tree-like poles and a few movable cubes. Costumes by Debra Watkins are simple but vivid and appropriate. The directors set a cantering pace throughout (literally, as far as the two princes are concerned) and use the north and south extensions of the shallow theatre-in-a-square as playing space. The wolf lurking and leering beneath Grandma's quilt is established to the north; in the second act the same actor, Leslie Hethcox, seduces the baker's wife, Ryan Smith, in the far south, unfortunately partly blocked by some of the space's structural supports. Dance numbers with the full cast literally fill the small stage. Roberts performs his piano prestidigitation discreetly from the northwest corner of the enclosure.
Singing and acting quality is high. Ann Pitman as the witch, Rapunzel's foster mother, has a fine time screeching her imprecations but that seems to have no adverse effect on her singing voice. I was particularly taken by the attentive sensitivity of Ryan Smith's performance. Hethcox has cocky assurance, comic timing and a fluidity of gesture that command your attention. Matt Connelly as the narrator and Mysterious Man gives beaming explication that keeps us amused and engaged.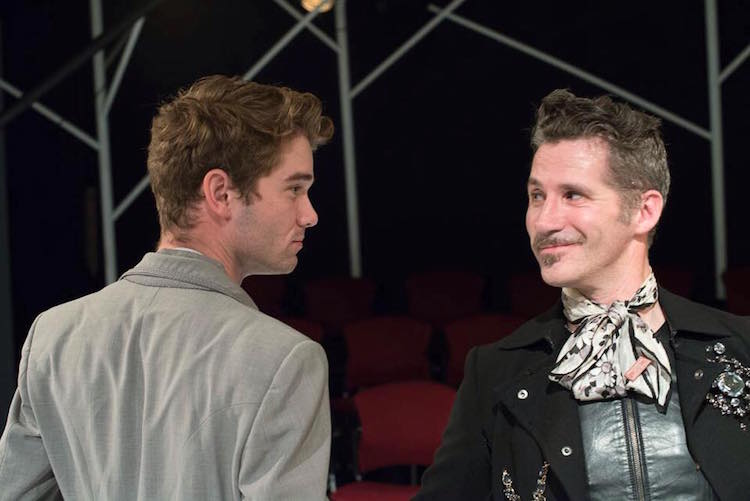 Performers are equipped with body microphones even though the space is very intimate. On opening night the audio functioned extremely well (or perhaps not much at all -- it wasn't easy to tell). A single quibble about sound design: the voice of the menacing female giant was odd and doubled with a basso vibe that was unpalatably electronic.
Into The Woods is already posted as completely sold out for its run Wednesdays-Sundays through November 22, 2015. This is in part because of the limited number of seats in the theatre (supply) and the fact that reservations and admission are entirely free (economic theory reminds us that a zero price theoretically produces unlimited demand). And of course the two collaborating companies appeal to their own built-in communities of faith. Wait-listing is your best strategy for this one: turn up in advance of the posted start time of 7:30 p.m. (2 p.m. on Sundays) and check in with the ticketing table on the 4th floor. On opening night there were at least five seats empty and perhaps more. And this one plays on Wednesdays and Thursdays, not likely to be SRO evenings.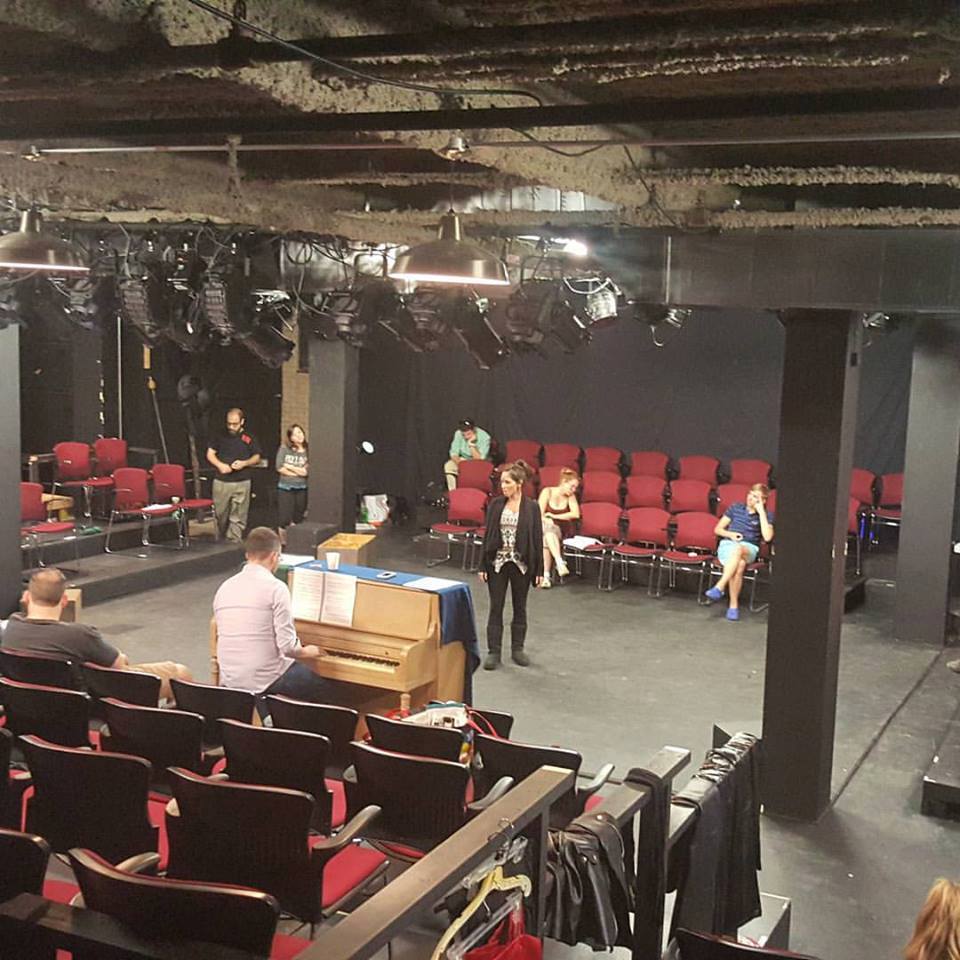 The companies ask for voluntary contributions, deposited in any of the various receptacles strategically outside the black box. They richly deserve your typical full-price Austin non-professional admission price of $15 - $30 per head.
EXTRA
Click to view the program for Into The Woods by Trinity Street Players and the Austin Jewish Repertory Theatre.
---
Into The Woods
by Stephen Sondheim and James Lapine
Austin Jewish Repertory Theatre
Wednesday-Sunday,
November 04 - June 22, 2015
Trinity Street Players
Black Box Theatre, 4th floor, First Baptist Church
901 Trinity Street
Austin, TX, 78701
Wednesdays - Saturdays at 7:30 p.m., Sundays at 2 p.m.
Trinity Street Players black box theatre, 4th floor of First Baptist Church, 901 Trinity Street, Austin.
Admission is free but reservations are required: available via