Review: Guys and Dolls by SummerStock Austin
by David Glen Robinson
Summer stock is theatre camp for musical theatre students and emerging professionals. Directors Michael McKelvey and Ginger Morris remain true to the concept in their production of Guys and Dolls.Their educational efforts over the years are laudable, but audience expectations for Guys and Dolls are sky-high, and any stock production put together in two weeks or so can hardly hope to meet even the most forgiving, reined-in expectations.
Guys and Dolls is a famous Broadway musical theatre show based on two mashed-up short stories by Damon Runyon, with music and lyrics by Frank Loesser. The book is by Joe Swerling and Abe Burrows. Their common setting is the lower-class neighborhoods of Manhattan, Brooklyn, and the Bronx in the early- and mid-twentieth century. The stories feature poverty-stricken gamblers and hustlers and their chorus line girlfriends and flat-out girls-gone-wrong. The unwavering themes of modernist theatre, cinema, and literature are romance and boot-strapping, DIY redemption. The two commonly come together at the ends of the stories. Guys and Dolls is the paragon of the type. The Broadway production premiered in 1950 to considerable success, followed in 1955 by the Hollywood movie.
Summer Stock Austin's Guys and Dolls is a valiant effort to resurrect some of the show's glory in the form of a long musical theatre teaching moment, and it should be enjoyed as such. Perhaps the most valiant of efforts is that by Theada Bellenger, the scenic designer, who created a multi-tiered set representing old Broadway and environs largely by use of store signs and on-hand flats and frameworks. It's stock, meaning produced largely with materials on hand and in stock, and Bellenger made the most of the situation.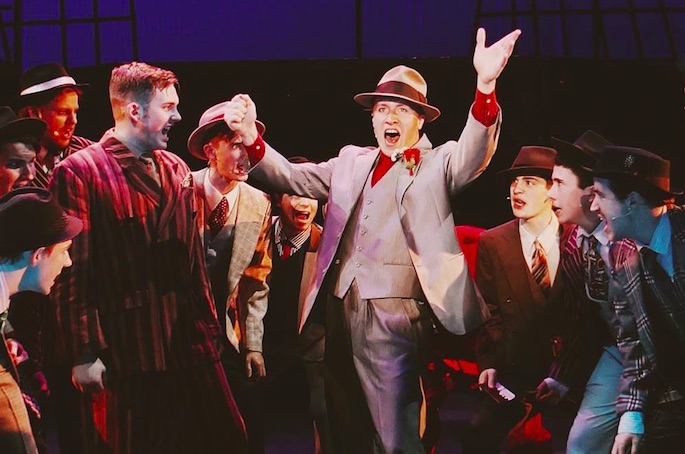 Producers Michael McKelvey and Ginger Morris did the same with a large pool of talent. Guys and Dolls has a large cast, and that is doubtless one of the reasons it was chosen for a stock production. But here audiences can see insufficiencies. The talent is there, but it's emerging talent. There was boasting about the production being created from two weeks' very hard work, and kudos to that, but all of the young performers showed no settling into their material and its deeper settings. None of the weaselly hustlers showed that interior desperation to find and grasp the talisman—whatever it might be—to elevate them from the hellholes of their lives. And that realization, that deepness, would have heightened the final triumph of Sky Masterson, so symbolically well-named. Runyon wrote to that point over and over. Broadway and Hollywood got it, but Summer Stock Austin did not, and so it opened itself to unfortunate comparisons by choosing to produce Guys and Dolls as a one-off.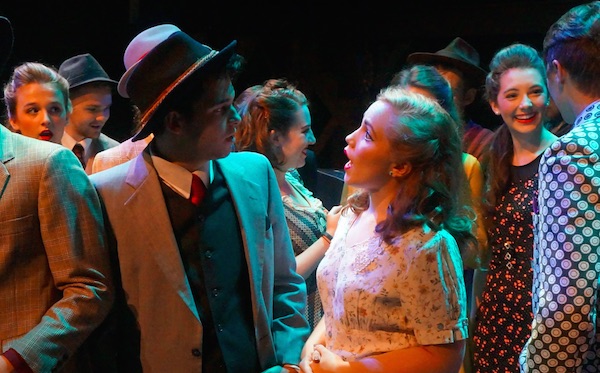 And so we enjoyed serviceable, miked singing. McKelvey is an excellent conductor and musical director. Madison Piner provided spectacular choreography in the many production numbers, although at times the dance space seemed too cramped for the dance. Dance errors showed a lack of mastery of the material. Elsewhere, there was the deadly buildup of dropped lines, incorrect entrances, hurried costume adjustments, and off-stage performers revealed to the audience.
What might be considered inappropriate casting is forgivable in this context, but, again, comparisons with other professional productions are inevitable. The movie version had Frank Sinatra, Marlon Brando, and Jean Simmons. Considered for it were Marilyn Monroe and Grace Kelly. This dazzling casting raised blisters on the face of the world. Michael Kidd choreographed both the film and the Broadway show. How can one not remember the symbolically apt crap game in the sewer, with Kidd's wild, flying dancers in the production number? You know the one, that same scene where Marlon Brando as Sky Masterson defeats a violent criminal, and while singing "Luck Be a Lady," throws the dice for the souls of the gamblers? Please, have the good taste not to redraw that scene with crayons.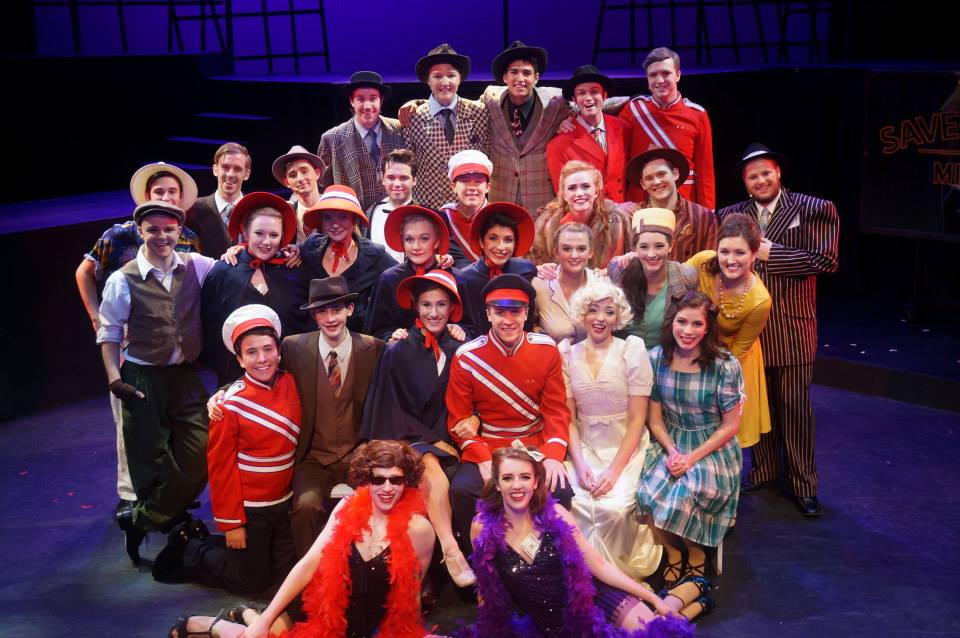 This is a production for the friends and families of the large cast and crew of the show, and they have a right to be thrilled and satisfied with this showing of a canonical Broadway and Hollywood musical. Regular, ticket-buying audiences without a family investment in the show might be less satisfied.
Summer Stock Austin's Guys and Dolls runs in tandem with other productions until August 16th, 2015 at the Rollins Studio Theatre, The Long Center.
---
Guys and Dolls
by Loesser, Swerling and Burrows
SummerStock Austin
Wednesdays-Sundays,
July 24 - August 16, 2015
Rollins Theatre
Long Center
701 Riverside at South First,
Austin, TX, 78704
Long Center Presents and Summer Stock Austin present Guys and Dolls, July 24-August 16 in the Rollins Studio Theatre, in repertory with Into the Woods
Fridays July 24, 31 and August 14 at 7:30 p.m.
Saturdays July 25 at 7:30 p.m., August 1 at 2 p.m., August 8 at 7:30 p.m., August 15 at 2 p.m.
Sundays July 26 at 7:30 p.m., August 9 at 7:30 p.m., August 16 at 7:30 p.m.
Wednesday, August 5 at 7:30 p.m.
Thursday, August 13 at 7:30 p.m.
Tickets from $25. Click to purchase tickets via the Long Center ticketing office