Review: Good Things by Renaissance Austin
by Michael Meigs
Scottish toffee comes to mind when thinking of this U.S. premiere of Good Things by contemporary Scottish dramatist Liz Lochhead. Sweet, chewy, rich and surprising, made with sugar, butter, Tate & Lyle's golden syrup and just a dash of vinegar.

Unlike English toffee, Good Things has no nuts. The characters are ordinary folk, for the most part, except maybe for Scottish Doris who haunts the "Good Things" thrift shop in search of the perfect bargain.


The shop resembles an OXFAM thrift shop, a British institution similar to our own Good Will stores, accepting donations for re-sale, to benefit charity. Pert young manageress Marjorie (Angela Loftus) enforces the rules, admonishing her volunteers Susan and Fraser that no donation, however attractive, may be purchased by staff members until it has sat on the shelf for six weeks.


This rule is the basis for one of the show's running jokes. Red-haired, 51-year-old recently divorced Susan, played by Lorella Loftus, falls in love with a pair of extravagant red shoes. She and Fraser plot at length to keep the shoes away from potential buyers, going so far as to hide one of the pair.
Susan needs those shoes, or something else to brighten up her life. Her husband has dumped her for a 32-year-old he's gotten pregnant, her 15-year-old daughter is acting out, and her only friend is her co-worker Fraser, a mama's boy in middle age who is thoughtful, kind and sexless.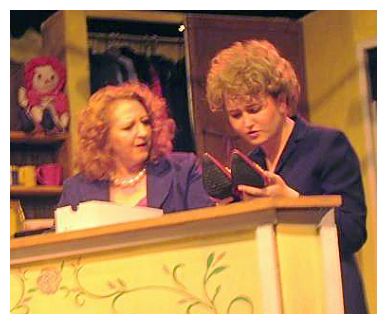 In the opening scene Fraser is attempting to coach her through making a video to be posted with a dating service. Susan cannot put up with the marketing aspect of trying to meet eligible bachelors. She botches the video by telling too much truth. In subsequent acts we get disheartening but funny reports from her dating front -- for example, speed dating is a disaster and a creepy guy from that effort becomes infatuated with her.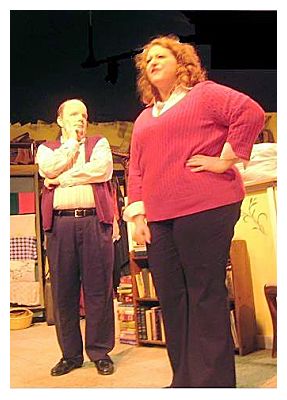 We follow Susan's growing frustrations through this three-act play, in which Susan persistently misses meeting David, a widower who visits the shop periodically. Fraser in his genteel fashion befriends David, who is methodically cleaning out the relics of his past.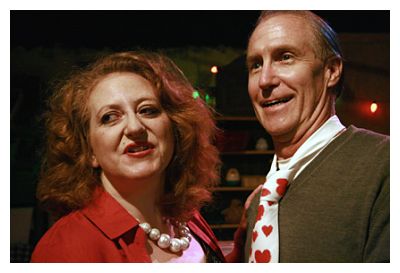 Susan and David revolve through the play like planets in asynchronous elliptical orbit. Playwright Lochhead sets up our expectations of their eventual meeting, in part by the sly device of assigning to the other two actors in the piece an assortment of secondary roles.

Craig Kanne as shop volunteer Fraser is the face of decent humanity, but he pops up also as Susan's unrepentant former husband Tony, complete with toupee. He transforms into various quirky visitors to the shop, into Susan's father wandering bathrobe-clad in early dementia, into a flower delivery man, and into the classic unflappable policeman investigating an accident.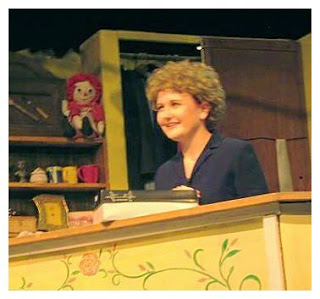 Angela Loftus is self-important as Marjorie while managing "Good Things," but she does comic turns in a variety of wigs and outfits, including as Scotch Doris and as Natalie the Other Woman, lusting after Susan's red shoes as well as her husband. She appears as a sharp young policewoman and later as a pregnant young thing threatening to overturn Susan's slowly reviving hopes of romance.
Lochhead writes a vigorous but gentle farce with these folks, giving us their very human sides while keeping us laughing. Lochhead's plot twists and misunderstandings are neatly calculated. The gags and events click into place with the assurance of a BBC television comedy. Director Karen Jambon moves actors and characters nimbly through it all. Everything comes right in the end, as we knew it would do.

The Scots accents in this piece are rich and strange for us, adding to the flavor. Non-native Glaswegians handle the lingo well, reinforcing the illusion of a locale exotic to Austin. Adapting to the unexpected turns and music of Lorella Loftus' pure Scottish voicing is a pleasure.

Special recognition goes to Lorella Loftus for her perceptive portray of Susan, a well-meaning, enduring and doggedly dedicated individual caught in an evidently undeserved dilemma. Susan is one of the Good Things in the "Good Things" shop. We are encouraged to see her finally come off the shelf.

Recommended!


EXTRA:
Program for Good Things by Liz Lochhead at the Vortex
Hits as of 2015 03 01: 4967
---
Good Things
by Liz Lochhead
Renaissance Austin