Review: Ghosts by Penfold Theatre Company
by Hannah Bisewski
Penfold Theatre Company and the Breaking String Theater joined forces to stage Ghosts, producing a well considered work that breathes a fresh vitality into a familiar story. Revolutionary reevaluation of old convention is precisely the theme of Ghosts.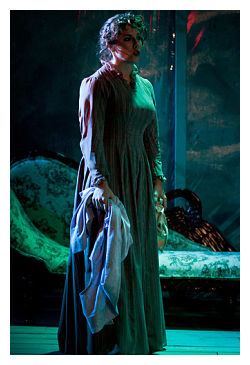 Settling into their seats in the cramped, angular space of the Hyde Park Theatre, the audience sees a dusty, dirty, though elegant, Victorian-era living room. A dim chandelier hangs from a cobweb-lined ceiling. Given the play's title, an uninformed audience member could reasonably guess that the cast will present a horror story.
Attractive young housemaid Regina Engstrand enters to clean the room, only to be interrupted by her scheming unwelcome father.One has no idea how entangled even the maid is in this family's self-destructive legacy. Only during the confrontational conversation between the house's matriarch Helene Alving and the family pastor, Manders, prompted by estate affairs following Captain Alving's death, do the family secrets begin to spill forth. There are many, further complicated by Helene's attempt to keep Osvald, her recently returned only son, from discovering any of them.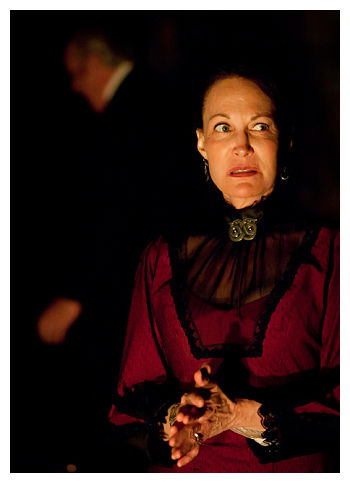 In the second act a whirlwind of family history, incestuous in every sense of the word, is driven primarily by the mesmerizing performance of Babs George as the distraught Helene. The play closes with almost overwhelming dramatics, with Helene prostrate before her dying son, crying of the ghosts that have haunted her for years.
Although dead Captain Alving's syphilis catalyzes the entire back story, it is never named. The characters' attempts to conceal that unmentionable disease exacerbates the perpetual daily burden of strife of the Alving and Engstrand families. Director Graham Schmidt cites in his program notes a scandalized early criticism of Ghosts deriding Ibsen's work as relying too heavily on shock value. Ibsen's message of the need for open discussion of these issues was dismissed.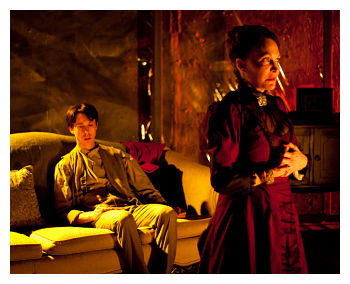 Standards have changed, but work's message of the need for clear-eyed confrontation of these issues remains relevant. The condemning, almost apocalyptic finale challenges every audience member to identify the causes of the Alving family's doom. This production is not for the intellectually lazy, but Ibsen's work, more than a century old, remains rewarding experience for those willing to engage with its themes.
Ghosts runs until November 20th at the Hyde Park Theatre, 511 W. 43rd at Guadalupe. Tickets prices run between $18 and $20 and are available on-line.
Additional ALT review by Michael Meigs, October 10
Review by Cate Blouke for the Statesman's Austin360 Seeing Things blog, October 18
Review by Elizabeth Cobbe for the Austin Chronicle, October 27
Review by Olin Meadows for AustinOnStage.com, October 28
Review by Ryan E. Johnson on examiner.com, November 5 (the last day of the run)
EXTRA
Click to view the program of Ghosts, staged by Penfold Theatre and Breaking String Theatre
Hits as of 2015 03 01: 1754
---
Ghosts
by Henrik Ibsen
Penfold Theatre Company
October 13 - November 05, 2011