Review: Gallathea by Poor Shadows of Elysium
by Michael Meigs
Kevin Gates is intensely dedicated to the text of early modern English drama. In the same secret space where he was transformed into Shakespeare's Coriolanus just over a year ago, he has conjured up a graceful and whimsical staging of a work from the London of 1588 that you've not seen and probably have never heard of: John Lyly's Gallathea.
It's a pastorale that provides definitive evidence that Shakespeare wasn't the only dramatist whose plots sent young ladies disguised in men's clothing off to adventures, amorous and otherwise. Lyly's play was performed by the Children of St. Paul's for Queen Elizabeth on New Year's Day, Gates notes, and the Virgin Queen no doubt appreciated the many references to the 'virgins' in the leading roles: Gallathea and Phillida, whose fathers sent them off under manly cover in order to escape sacrifice to the god Neptune.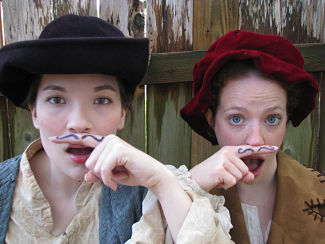 One amusing hitch to this strategem: the two sweet women fall in love with one another.
You've certainly seen other avatars of Gallathea, by the way, for in Greek mythology she was the sculpture carved by Pygmalion and endowed with life by Aphrodite. George Bernard Shaw's play Pygmalionwas the basis for My Fair Lady. And pastoral scenes were dotted throughout early modern European literature. Gates cites a 1574 play by Torquato Tasso. It so happens that Miguel de Cervantes' first work, a verse compendium published in 1585, was La Galatea.
Lyly's story shares little with the legend or those literary works except for a pastoral setting where various Greek gods vie with one another to exert dominion over the small number of rustics inhabiting the forest. Lyly sends three plots spinning through this 90-minute performance: the flight of the virgins and their finding of one another; the misadventures of some penniless brothers in search of fortune or at least of regular employment; and Cupid's attempts to cast tricksy spells upon huntress Diana's band of vestals, an effort to entice them from chastity to the pleasures of love.
The stage is essentially bare, with action taking place before green draperies and a single tall prop of net and yarn representing Neptune's temple and the forest. But the scene is never empty. Players exiting stage right are immediately replaced by others emerging from backstage, stage left or the aisles of the cozy black box theatre on the fourth floor of First Baptist Church at 901 Trinity Street. As in Elizabethan times, the actors are happy to address audience members directly, often with a nod or a knowing wink, and perhaps even a coy touch upon the cheek.
Some aspects of this staging whisper 'community theatre' -- the church space, the choice of songs for the pre-show busking, the use of female actors in several principal male roles, and the relative youth of the cast -- but this company is confidently professional in aptitude, above all in their delivery of sixteenth-century English speech. The text is in prose, granted, but it's evocative and often sudden with images.
For example, in the brief opening scene Gallathea's father Tyterus (Daniel Norton) reveals to her that every five years the community's most beautiful virgin is tied to the shrine and sacrificed to the monster Agar. The occupying Danes had neglected Neptune's cult and provoked him to fury: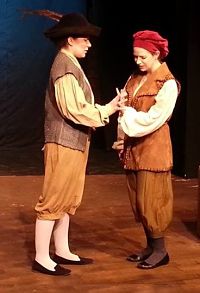 [They] enraged so the god who binds the winds in the hollows of the earth, that he caused the seas to break their bounds, sith men had broke their vows, and to swell as far above their reach as men had swerved above their reason;
then might you see ships sail where sheep fed,
anchors cast where ploughs go,
fishermen throw their nets where husbandmen sow their corn, and
fishes throw their scales where fouls do breed their quills:
then might you gather froth where now is dew, rotten weeds for sweet roses, and take view of monstrous mermaids instead of passing fair maids.
The leads are nicely matched. Kristin Hall as Gallathea is lively, expressive and vulnerable, while Rachel Steed-Redig as Phillida bears herself in more guarded fashion. They're quicker than Shakespeare's characters to suspect the disguises, and Lyly provides them with amusing twinned soliloquies of dawning suspicion, addressed directly to the audience from either side of the stage. Their romance is tentative and discreet against the stir of Diana's troupe of anguished virgins and the rollicking comedy of the brothers. When Aphrodite promises to convert one of them to a man to make their joy complete, without specifying which one, that promised fulfillment is celebrated with the most tentative of butterfly kisses.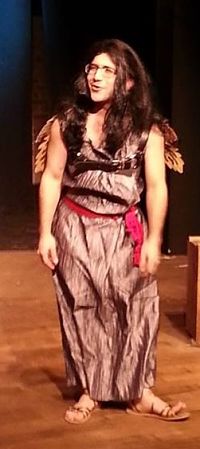 Occasionally a cast member might not project sufficiently, forgetting perhaps that even this intimate space requires it.
Mario Silva never commits that fault. He's a boisterous and brash Cupid, detained by Diana's supporters, obliged to dress as they do, and called repeatedly to justify his antics promoting love (and, by implication, abandonment of chastity). Silva has the carefree confidence of a music hall trooper, and he would easily carry away the trophy, wisecracking to the audience, if Bridget Farias as the stern goddess Diana weren't there to contain him.
Several actors play multiple parts, as was common in Elizabethan times. Norton is adept at this, subtly differentiating paternal Tyterus from a salty mariner from a twinkle-eyed and slightly deranged astronomer. Shakespeare-at-Winedale alumna Susan Bennett tops that, especially in comedy, appearing as a disgruntled apprentice to the astronomer early on and later as Haebe. That plain maiden is dismayed to find herself put forward as the third-string substitute for ritual sacrifice (and worse, still, then to be disdained by the monster Agar). Bennett's lengthy complaints are repeatedly renewed in farcical tropes, in a nice balance of comedy and pathos.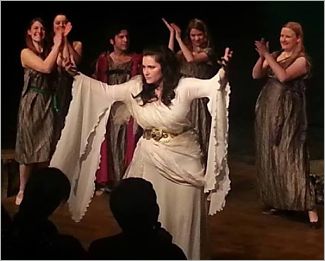 Director Gates and cast occasionally push further into broad farce than I'd prefer -- the spectators' thrice-interrupted departure during Haebe's scene is one example. The members of Diana's troupe of maidens are captivating and amusing in duos or trios but when grouped gathered behind the leads, they individually glower, gesticulate and grimace enough to detract from the action.
Gallathea sparkles throughout, and this production by the Poor Shadows of Elysium offers students, scholars and seekers of entertainment a rare chance to appreciate the lively London stage as it was just before the man from Stratford-on-Avon began to make a career. Gates and the company perform it with respect and affection, without offense either to the original concept or to contemporary attitudes toward gender -- a considerable accomplishment in itself.
---
Gallathea
by John Lyly
Poor Shadows of Elysium
Fridays-Sundays,
January 03 - January 19, 2014
Trinity Street Players
Black Box Theatre, 4th floor, First Baptist Church
901 Trinity Street
Austin, TX, 78701
Tickets are $10 and available via brownpaper tickets.