Review: For Fear the Glass May Shatter by The Vortex Repertory Theatre
by David Glen Robinson
For Fear the Glass May Shatter is an opera about physics.
Stop right there, don't leave!
The first impression of this show directed by Bonnie Cullum at the Vortex is its high accessibility, quite surprising. Everyone must agree that an opera about physics is a refreshing change from yet another revival of a shallow canonical tale about violent European teenagers in love.
I must back up. The opera is indeed set in Europe (and America), and love with its devoted servant despair plays and romps throughout the opera. But these characters represent historical personages; they are physicists, their colleagues, lovers and families. The cast literally sings physics in their songs, about electron shells, spin, conservation of matter and energy, and the possibility of more particles—neutrinos—and quanta.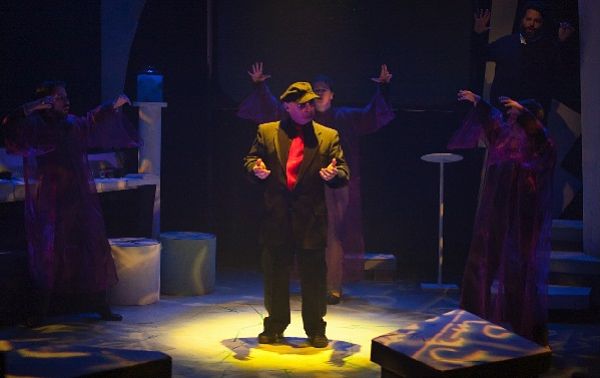 The larger story is about the key figures in 20th century physics, and their math-heavy, almost romantic and highly idealistic quest to understand matter and energy. The story trace carries past World War II, with the culmination of their efforts in splitting the atom and releasing the golem of the atomic bomb. As a group, they suffered a near total loss of idealism. They paid the consequences of that for the rest of their lives, but found inspiring joy wherever they could.
Who wouldn't love a story such as this? The principal artist here is David DeMaris, who wrote it and whose name appears in the credits for most of the design fields involving music, video and software. He is a polymath on intimate terms with electrons. He also writes a historically accurate book, as well as this reviewer could tell.
Of greatest interest for history buffs, Wolfgang Pauli, the principal character of For Fear the Glass May Shatter, visited Carl G. Jung for counseling and assessment of disturbing dreams he was having. Jung at first referred him elsewhere, but later accepted him as a patient. Ultimately, Jung included some of Pauli's dreams in one of his books, citing him as an anonymous patient. This intersection of historical figures has never before been treated in the literary or performing arts, to this reviewer's knowledge.
De Maris also maps between his work and Goethe's Faust, parts 1 and 2. In terms of broad themes, the analogy is apt. And in a touch of magical realism, Goethe's Grey Ladies visit Pauli onstage.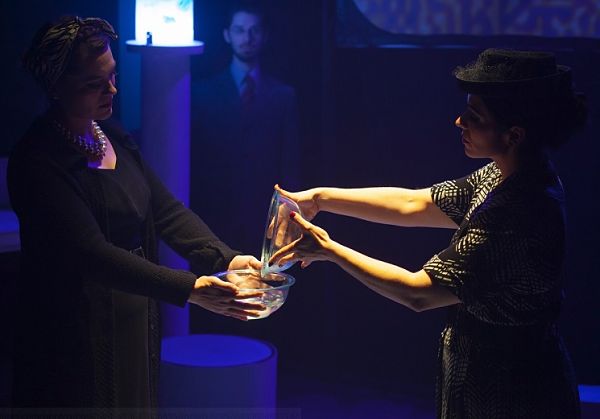 Every opera crushes us with music, and for For Fear the Glass May Shatter, Vortex Repertory recruited nationally known Emily Breedlove to create in all areas voice and music. The results are spectacular.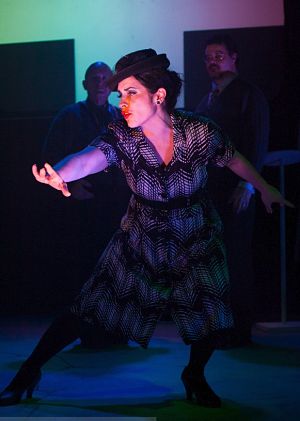 Chelsea Menasseri transcended herself. Coming off her highly regarded roles in the Vortex's Sing, Muse and Passing Strange by Half and Half Productions, her songs here were quieter and more disciplined. Her tones had crystalline clarity, no need for pear-shapes at all. Vortex regulars Melissa Vogt-Patterson and Mindy Rast-Keenan sing at the height of their impressive skills, and Michelle Haché, borrowed from Austin Lyric Opera across town, elevated everyone's game with her magnificent singing.
Rudy Ramirez did yeoman work in his portrayal of the ill-fated Ehrenfest. Trey Deason's star continues to rise in Austin musical theatre productions. Most notable here, however, as Heisenberg, was his movement performance. His crisp, flourishing movements seemed to match his wiry frame, while his singing in the lower registers was clear. Heather Huggins, choreographer and artistic director of DA! Collective, brought refreshing movement values forward.
Playing Wolfgang Paul, the redoubtable Mick D'Arcy, onstage and singing virtually every minute of the show, made his immensely difficult work seem easy. He sang and danced continuously and never seemed to breathe hard. His work facilitated that of the entire cast, all of whom sang well together. There is no greater generosity among actors than to be able to do this, and it is a rare trait among them.
Playwright DeMaris and Director Cullum speak of continuing to develop For Fear the Glass May Shatter. The audience encourages their plan, especially given the auspicious work we have seen here.
---
For Fear the Glass May Shatter
by David DeMaris
Vortex Repertory Theatre
April 04 - April 18, 2014
April 4 - 18, 2014
Tickets $10 - $30 via BrownPaperTickets