Review: Flying by Breaking String Theater
by Michael Meigs
Olga Mukhina's Flying is a fast, dangerous and exhilarating ride.
Graham Schmidt and Breaking String Theatre put audiences up close to the beautiful youth of post-Soviet Russia in this 2004 piece. Olga Mukhin was one of those who originated the "New Drama" that came raging into Russia's mid-1990's. Flying plays until February 19 at the Off Center, 2211-A Hidalgo Street (behind Joe's Bakery on 7th Street). This is the North American premiere.
Heedless, hedonistic and rootless, a gang of six young professionals address one another only by their remarkable nicknames. Snowstorm, Blizzard, Snowflake, Maniac, Orangina and Lenochka strut, talk, preen and play hard. They revolve about one another and thrust themselves through the drab Moscow nights like shooting stars. Director Schmidt, choreographer Adriene Mishler and composer Justin Sherburn give this story a kinetic power that leaves the audience breathless at the end of the first half.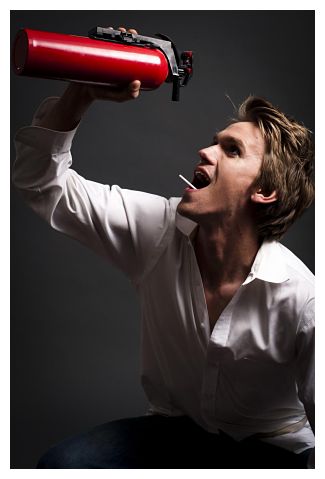 This gang of six is without a past and with only fleeting thoughts about a future. In the original Russian version they were a commercial TV team. Breaking String makes them DJs, models and the well-connected rich. They sweep along with them a naïve 17-year-old café waitress from Siberia whom they nickname "Bushy tail." They charm her and seduce into their world of glamorous emptiness.
It's a hot cast that sizzles as an ensemble. Bad boys Joey Hood and Jacob Trussell; handsomely depraved Jesse Bertron as Maniac the base jumper; juicy women Michelle Keffer and Katie van Winkle; the dangerously seductive Adriene Mishler, also responsible for the dizzying movement; big-eyed Griçelda Silva as the girl from the sticks.
Playwright Mukhina's dialogue is remarkable. Rapid-fire exchanges are punchy, direct and surprising. All the more remarkable is the fact that she lifted every word, she says, from interviews.
Nihilism and glamour do not prevail. The second act is an equally talky, eloquent exploration of consequences. David J. Boss as the stolid police lieutenant Volodya brings reality to some of them – in part because he lost his ballerina girlfriend to Blizzard, who in turn wasn't able to keep her (I missed that plot twist in performance but found it later in the text). Childhood and narcissism do not last. Each of those shooting stars transforms or flames out.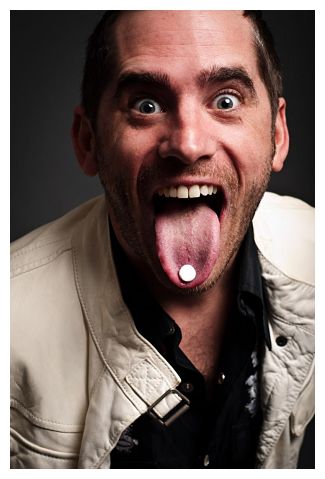 The Center for International Theatre Development brought Mukhina to Austin last weekend to see it and to talk to actors and writers.
Mukhina, Schmidt and this talented company create a terrific, terrible and hypnotic spectacle for us. Flying is an experience not to be missed.
Review by Claire Christine Spera for the Statesman's Austin360 "Seeing Things" blog, January 31
Review by Timothy Braun for www.culturebot.org, February 3
JennyMarie Jemison's blog post "The Russians are Coming!" about the staged readings, with addendum photos and comments about Flying (bottom of page), January 28 & February 3
Review by Ryan E. Johnson at examiner.com, February 7
Review by Bastion Carboni at austinist.com, February 11
Review by webmaster, TheatreAustin, Yahoo groups, February 12
EXTRA
Click to view program for Flying by Olga Mukhina, Breaking String Theatre
---
Flying
by Olga Mukhina
Breaking String Theater
January 28 - February 19, 2011
Off Center
2211-A Hidalgo Street
near Robert Martinez and E. 7th Street, behind Joe's Bakery
Austin, TX, 78702