Review: Exit 27 by Southwest Theatre Productions
by Michael Meigs
Exit 27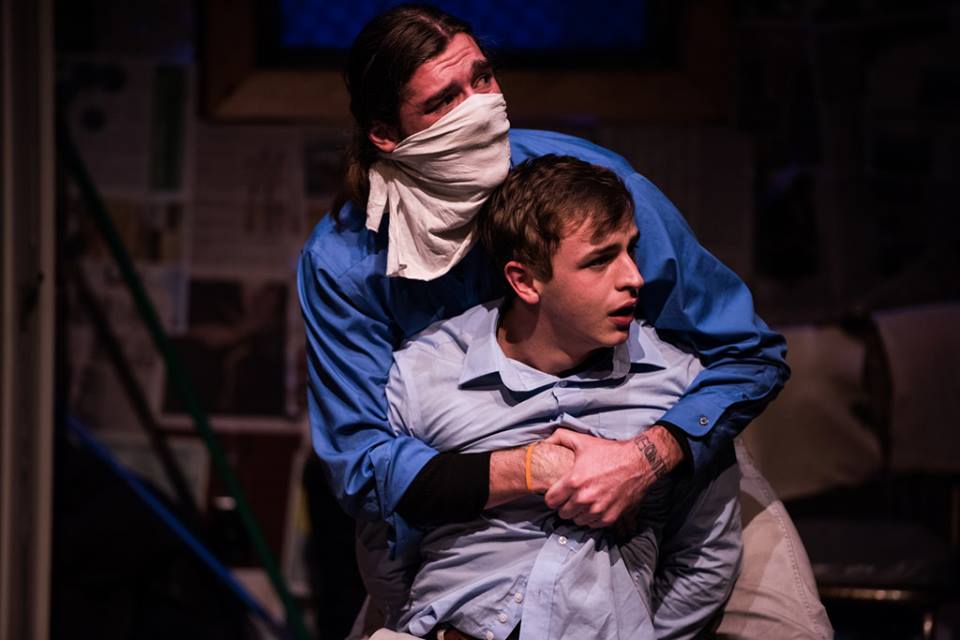 starts dark and gets darker. Much darker.
Like just about everyone else I'd heard of the abuses of the Fundamentalist Latter Day Saints (FLSD) church headed by Warren Jeffs -- traditionally polygamous and in some cases abusive of underage girls. That's why the man is serving a much deserved twenty-year prison sentence.
Alex Merilo's 2013 play, which premiered in Houston, looks at the other horrific aspect of systematic abuse: the 'lost boys,' those young men expelled from the FLSD ostensibly for various sins against the faith but also in order to reduce the competition for all those child brides. It was a brutally heartless practice. Like all the children these boys were indoctrinated with threats of hellfire. They were then abruptly cut off from the only family and society they'd known and dumped out into the desert at Exit 27 on Interstate 15, a barren area of southwest Utah. Program notes and other sources state that as many as 1500 teenage boys were cast out over a period of ten years.
It helps to have some of that background at the start of this piece. The elegant show program on glossy paper isn't of much help because its notes are printed in what looks like 6 pt font, meaning that many of us couldn't decipher them in the discreet house lighting of the Boyd Vance Theatre.
Exit 27 begins in relatively low light and great paranoia. Three young men seem to be holed up in a large shed or cabin somewhere in the countryside. With every sign of feeling threatened, they're on the lookout for someone or something. Once the coast seems to be clear they're suddenly manhandling another young man they've been hiding in a closet. The struggle is forceful and frightening, as are all of the physical confrontations in this piece. Fight and movement choreography is by California veterans Peter Kent and Scott Galbraith. Amy Lewis's light design is subtle but all-enveloping; it almost constitutes another character in this nightmare mix. The brief passages from African-American choral hymns during scene changes are agreeable but don't entirely fulfill the thematic aims articulated int he program by consultant Dr. Logan Sparks, who chose them for sound designer Fabian Duran.
Much remains unexplained. It's not clear where these three are getting the supplies of bottled water and snack food that keep them alive. They speak with distrust and dislike of the population of the town of Hurricane, Utah, but it looks as if they may be bartering scrap there for food and trading rummaged items with other similar colonies of abandoned young men. Playwright Merilo has all of them deeply disturbed and conflicted, but director Kat Sparks's casting and coaching successfully differentiate the characters. Thomas Burke is the bedraggled and neurotic Bryker; Nathaneal Dunaway is the stolid and self-hating hunter-gatherer Dodge. Sam Stinson as Shyler, the agonized and inarticulate third member of the trio, at first seems mute. They capture newcomer Brodie (Sam Domino) who's initially terrorized but once accepted into the band will show himself the most cunning and daring of them all.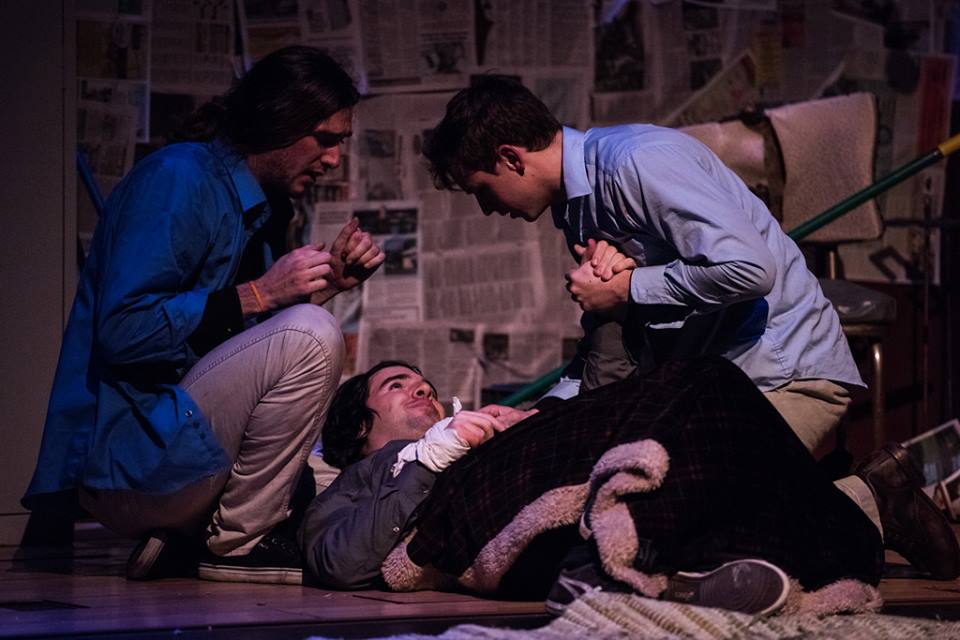 This is a didactic piece, a lengthy look into grotesquely deformed values that drive the boys' wrong-headed attempts at self-preservation and soul preservation. They shun contact with everyone outside their circle and speak obsessively about their pasts and their fears of damnation. There's an inevitable set piece as they take turns confessing their FLSD sins in an effort to identify the greatest offender, who'll be dispatched to approach the 'outsiders' for medicine to treat Bryker's infected hand. The origins and efficacy of that medicine are another plot detail to be taken on faith without adequate explanation.
From time to time one or another will step forward into an isolated spotlight to speak a 'letter' addressed to family members -- since there appears to be no postal or messenger system at work, we're obliged to interpret these as interior monologues.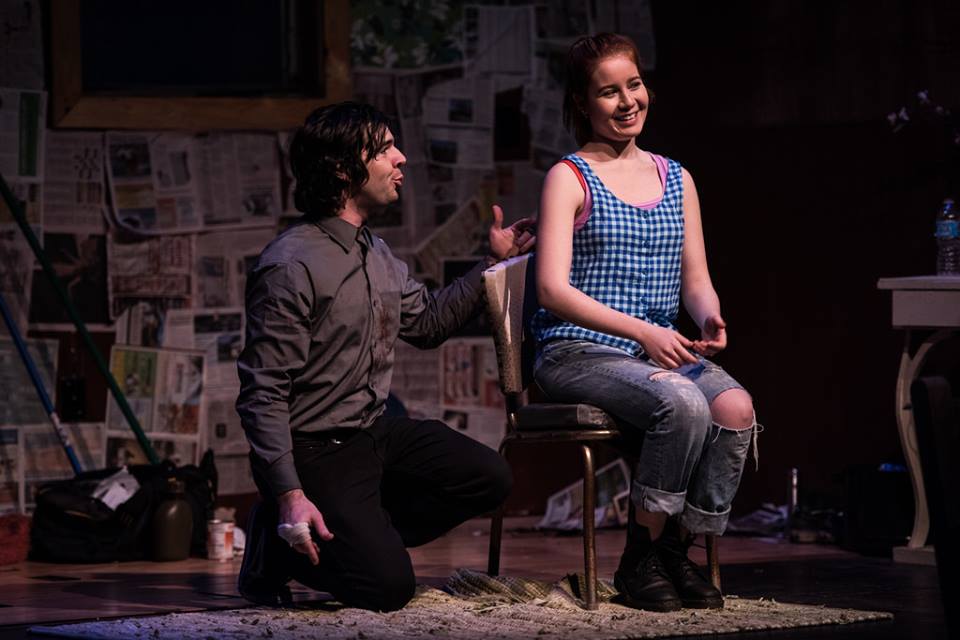 Just as inevitably, a feared but fascinating 'outsider' does appear in the person of the earnestly friendly daughter of the man in Hurricane who sells construction supplies to the FLSD. Lee Eden gives newcomer Brodie the opportunity to mime the young men's quivering fear of ripe femininity. Later, alone with the garrulous Bryker, she hears out his confused and ultimately horrifying account of the mistreatment of his own 14-year-old sister -- horrifying because suddenly Bryker's speaking with the identical moral incomprehension of his lunatic elders. This crime surpasses any that we read about in the newspapers.
And necessarily there's a factual doubting voice that speaks the grimly inevitable mathematical truth of not enough girl-children to provide wives for all.
The message is that the worshipped FLSD elders imprisoned their women with bonds of doctrine and, like cannibals, consumed their own many children, both female and male. Given that dark moral background there is no hope here of release or of positive resolution. The 'lost boys' in this fable of evil are so deeply in thrall to twisted ideology that they seek forgivenness and redemption by exactly the same means.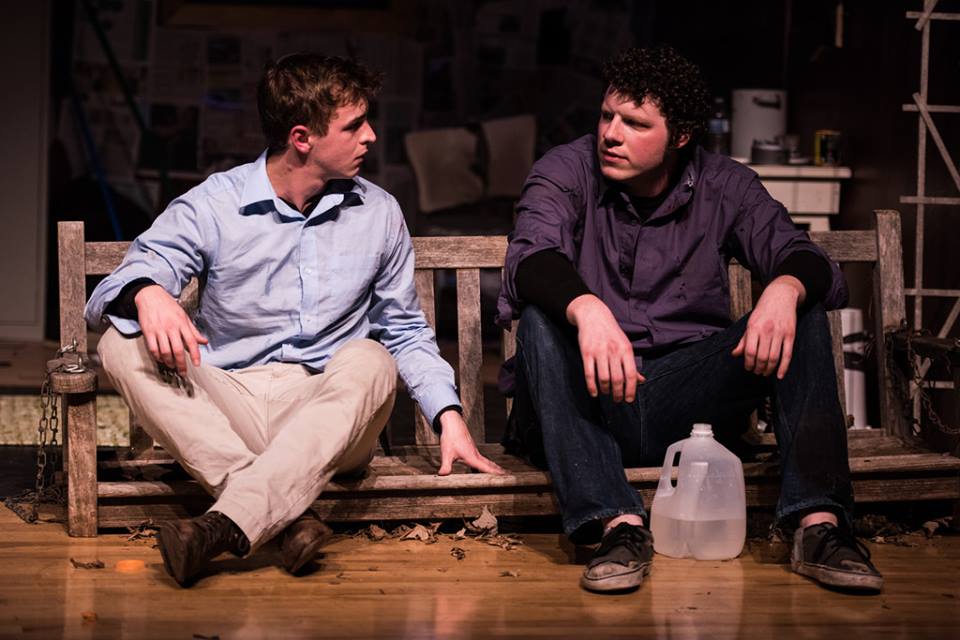 This piece is not a tragedy -- certainly not in the classical sense, in which a protagonist of valor and virtue is brought low by his own mistaken actions. These boys are condemned from the first moment we see them, like all the others whom Dodge the survivor says he struggled unsuccessfully to keep alive. The able young actors draw these distinct characters with sharp clear lines and a physicality throughout that insists upon our attention.
Their force and desire to survive encourage us to hope for the characters, or at least to hope that someone is going to walk up to that inexplicably isolated dwelling with an offer of help. Playwright Merilo's not offering any outs though, despite the ad in the program for Brent Jeffs' 2009 Lost Boy, a tale of his escape from his uncle and extended clan. Judging from the NPR summary of his account, the playwright may well have mined the book for material and used the author as the template for new arrival Brodie.
EXTRA
Click to view the Southwest Theatre Productions program of Exit 27 by Alex Merilo
---
Exit 27
by Aleks Merilo
Southwest Theatre Productions
Fridays-Sundays,
January 22 - January 31, 2016
Boyd Vance Theatre
George Washington Carver Center
1165 Angelina Street,
Austin, TX, 78702
EXIT 27 runs for two weekends only (Jan 22-31) at the Boyd Vance Theatre.
TICKETS $22 (general), $18 (student, seniors), $15 (group of 6 or more). Service fee additional.