Review: Evita by Georgetown Palace Theatre
by Michael Meigs
Evita offers not only the Georgetown Palace's usual high standards of performance, but also something more: a deglamorization of the Lloyd Webber/Rice tragic fairy tale.
Eva Duarte de Perón came from almost literally nowhere -- from a provincial Argentine town where she was one of several illegitimate children of a wealthy rancher. She became leading lady, first lady and "Spiritual Leader of the Nation."
Lloyd Webber's score and Tim Rice's libretto have furnished us with memorable if only partly understood standards of the English language musical theatre. Don't Cry for Me, Argentina, for example, is a stirring anthem that lurks somewhere in the popular mind in the region of Frank Sinatra's I Did It My Way.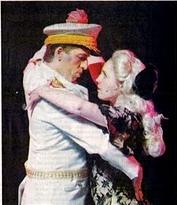 Few of us in American audiences are aware of the complicated history between the United Kingdom and Argentina, ranging from the quaint polo match and familiarities of the wealthy upper classes caricatured in the play to the bloodily decisive conflict in 1982 over the Faulklands/Malvinas islands, just four years after Evita was first produced. Mid-century Argentina evoked for the British mind aspects of European fascism. At the very time that Evita was first staged, the tactics of Argentine military rulers against their own people gave us a new locution in English -- the verb "to disappear" not only acquired a transitive mode but even became a passive transitive. As in, "After their arrests, the radical student leaders were promptly disappeared."
In the eyes of civilized Brits, the middle of the twentieth century was a sad disappointment all across Latin America, and nowhere more so for them than in Argentina.
Director Cliff Butler situates Eva's Cinderella transformation firmly in that history, with the striking use of cinema scenes, newsreel footage and projected documentary images. Those reminders appear in ghostly dim gray-and-white, projected most of the time onto a scrim (a semi-translucent theatrical curtain) and sometimes directly onto the two-story set and the moving actors.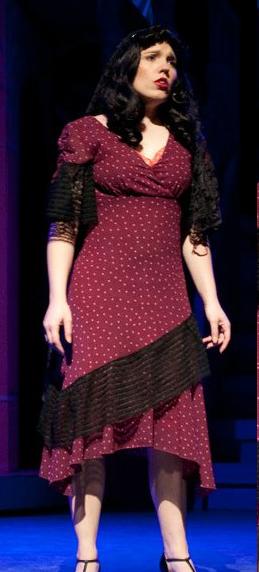 The live action begins with the national announcement of the death of the First Lady, heard in a cinema, and we join the crowds queueing to pass by her casket -- both the cinematic crowds and the actors moving down the left aisle of the Palace, shuffling forward in their mourning. With the magic of theatrical staging, we're then whisked back in time to meet petite Ann Pittman as Evita in her provincial town, excited to be courted by tango singer Agustín Magaldi (the slim, golden-tonsiled Ed Hillis). Her friends oblige Magaldi to make good on his one night of passion with her by taking her away to the Big Apple - Buenos Aires (disconcertingly pronounced Texas-style in this production).
It's up and away for her from there as she sleeps her way to entertainment fame and then to the top, becoming live-in lover of military strongman Juan Perón (Jim Lindsay). Rice's libretto suggests that Eva was the real politician of the two and architect of Perón's appeal to the massses of "shirtless ones" (descamisados).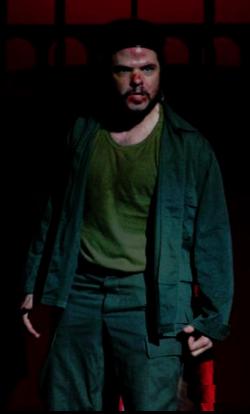 Narrating, commenting and receiving systematic abuse from government thugs in black trench coats, Steve Williams portrays the emblematic persona of Ernesto "Che"Guevara.
That choice by the creators of Evita was both logical and provocative. Guevara was indeed Argentine, even though one associates him more often with Cuba, Guatemala and Bolivia. In the years portrayed in the play, Guevara was in his early twenties, on the way to radicalization thanks to his motocycle journeys across the continent in 1950 and 1951. Guevara received his diploma in medicine in June, 1953, less than a year after the death of Eva de Perón. He became a leader of the Cuban revolution, second in command in the successful defense against the U.S.-backed invasion, and he was hunted down and killed in the Bolivian highlands ten years before Lloyd Webber and Rice staged the musical.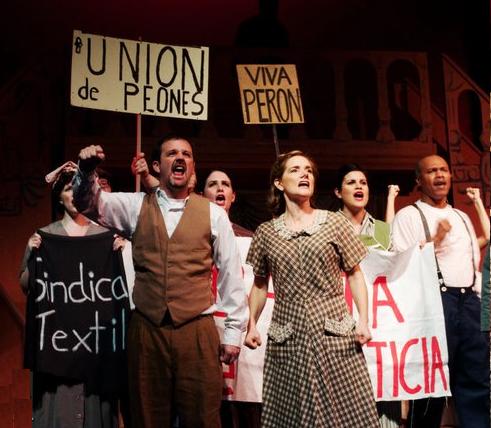 In passing, one might also note that the deposed Perón came back to Argentina in the early 70's with Isabel, the nightclub entertainer who became his third wife. He won the presidency in 1973 and Isabel won election as his vice president. When he died a year later, she became president and ruled for two years before the military took over. The staging in this production of military resistance to Evita's political plans, amusingly demonstrated with a rifle-twirling squad of senior officers, was all the more pungent because the same sentiments had resulted in a coup just two years earlier.
You don't need all that to enjoy Georgetown's Evita. The voices are superb, the leads are very well cast both for appearance and for presence, and as usual the Palace fills the stage up with action, spectacle and dance. Movement is swift and convincing, and the director and cast make very good use of the turntable at center stage.
For this production the music is entirely recorded and played through a superb sound system. All of the players have body microphones and they know how to use them. Their diction is excellent.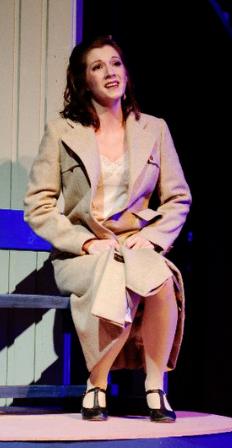 This is a challenging score -- for the 1996 film Lloyd Webber and assistants reorchestrated parts of the score to bring them down to the vocal range of pop star Madonna. Ann Pittman hits every note in this original score and infuses them with passion, humor or pathos as required. Lindsay as Perón and Williams as Che Guevara are equally accomplished.
Sara Burke as Perón's abruptly dismissed mistress has a brief, transcendent moment in the poignant Another Suitcase in Another Hall, done with a moody chorus of Che as barkeeper and his customers.
Lisa Jones' choreography is integral and fully exploits the tango tradition. The large scenes are fun. Smaller, evocative dance scenes are the seductive initial pas de deux of Evita and Perón, the aggressive recriminations between Che and Evita in Act II, and a delicious silent tango in virtual silhouette done by unidentified dancers high behind the scrim as Eva mesmerizes Perón in Act I with I'd Be Surprisingly Good for You.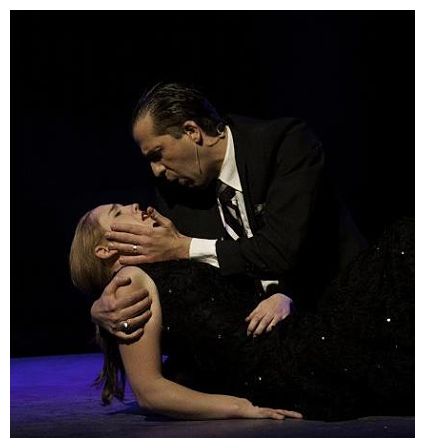 This a numerous, diverse and engaging cast. Not a role is wasted. Particularly notable smaller parts are done by Richard Crippen, Leslie Garr, Lisa Hyde, Leonard E. Lee, Frank Linenberger, Cody Lippard, and Kirk Miller.
A note on finality: I first saw Evita in an elaborate staging at the National Theatre in Santo Domngo, Dominican Republic. The ending was brilliant hagiography -- at her death, Evita gasped, slumped backwards onto a seat and then was mystically lifted high above the stage, spotlighted in Christlike pose.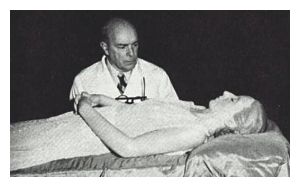 In Georgetown, Evita lies in her hospital bed, accompanied by a nurse and four white coated doctors. She clutches toward her husband Juan Perón and expires. The lights slowly dim. Che Guevara steps forward onto the empty stage apron and tells the audience bitterly that Eva's body was embalmed and then disappeared for 17 years. We see an image of society embalmer Prof. Dr. Ara as he inspects his work.
Che leaves. An image of Eva's epitaph appears on the scrim.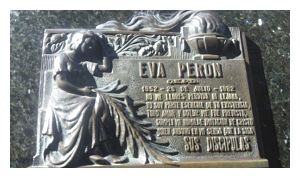 There is a long, dark whiff of the tomb before the children's chorus comes scrambling onstage to begin the curtain call.
Evita plays at the Palace Fridays to Sundays for the next three weekends, through March 20. Houses have been full for the first two weekends, and there's no reason to expect anything else for the rest of the run. The Georgetown Palace website provides on-line ticketing, with the attractive feature that you can pick out your exact seats on a chart of the house, both orchestra and balcony.
Thanks again to the Palace staff, players, volunteers and supporters for making this high quality entertainment available to the greater Austin area.
NOTE: Announcement of 3/13: Performance added on Thursday, March 17.
EXTRAS
Click to view excerpts from the program for Evita at the Georgetown Palace Theatre
ALTcom video from dress rehearsal of Evita, February 17
The full text of the epitaph, with translation, on the plaque installed in 1982 (four years after the first staging of Evita):
EVA PERON
Q.E.P.D. (Que En Paz Descanse)
1952, 26 de Julio - 1982
No me llores perdida ni lejana,
yo soy parte esencial de tu existencia,
todo amor y dolor me fue previsto,
cumplí mi humilde imitación de Cristo,
quien anduvo en mi senda que la siga.
SUS DISCIPULAS

EVA PERON
RIP (May She Rest in Peace)
July 26, 1952 - 1982
Don't cry for me, lost and distant,
I'm an essential part of your existence.
All my love and pain were my destiny,
I assumed my humble responsibility of living like Christ.
May whoever followed my path continue in that endeavor.
Her Disciples
Hits as of 2015 03 01: 2799
---
Evita
by Andrew Lloyd Webber
Georgetown Palace Theatre
February 18 - March 20, 2011