Review: Cuento Navideno, or Bah Humbug in the Barrio by Rupert Reyes
by Michael Meigs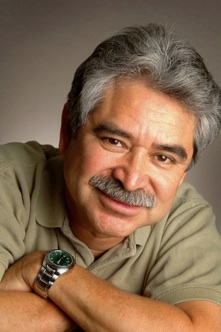 Rupert Reyes puts "home-made" theatre onstage. And I mean that as high praise.
He and JoAnn Carreon-Reyes founded Austin's Teatro Vivo ("Live Theatre") in 2000, and the program notes for his Cuento Navideño which closed just before Christmas at the Rollins Theatre, Long Center, record that it was their 27th full-length production.
Rupert is friendly, serene and gently humorous, as is JoAnn. This pair stood before the audience at the December 18 closing performance at the Rollins, not in the least rattled by the fact that they'd had to add an extra 40 chairs to accommodate the overflow crowd. The performance was starting almost half an hour late because of that press and because of the logistics of getting folks from the senior home into their seats in the front rows. Rupert was carrying his granddauighter, a two-year-old who immediately charmed everyone.
Cuento Navideño -- "Christmas Story" --was Rupert's recrafting of Dickens' Christmas Carol. Or "regifting," to use the expression of Austin Chronicle arts editor Robert Faires. To quote from Rupert's remarks in the program,
I have been attracted to Christmas Carol by Charles Dickens long before I appeared as Ebenezer Scrooge in our high school production. Not much of a story there, I promise. Then there was the cartoon version with Mr. Magoo, the Disney version with Mickey Mouse, a version on TV that may have been imported from the BBC and one of my recent favorite movie versions, 'Scrooged.' The attraction has been the story about a person who has a second chance at life. Every time I drive to the intersection of I-35 and 38 1/2 street, I think of this story. Here are people asking for spare change to eat (or drink), homeless and probably in poor mental and physical condition, in need of help. WWJD? We all have a chance in life to make a difference, small or large, in someone else's life. And I am not just talking about money.
Reyes follows Dickens' story arc, establishing a flint-hearted protagonist visited by the spirit of a former partner and obliged to witness Christmas past, present and future. But this is a Tejano story -- principally English-speaking, firmly located in the day-to-day of the 35 percent of Austin's population that has Latino roots.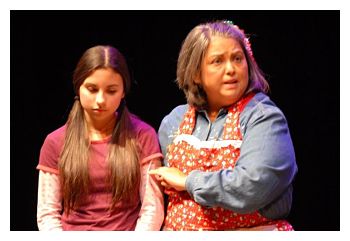 That means, for one thing, that Reyes has structured it to emphasize the family. Dickens tells the story of Scrooge alone and his transformation, and other characters are peripheral; Reyes opens at Christmas time with a family, including the beloved Tía Evangelina and four adoring young girls. One of them, played by Jada A. McElroy, won't join in the Christmas cheer. When coaxed, she confides to her aunt that kids at school have mocked her for being "brown" and accused her of being an illegal. Mary Alice Carnes as Tía Evangelina promises the girls a Christmas story that will make her feel better. That's the frame for the cuento navideño.
Scrooge becomes "Evangelina Cruz" -- that very Tía Evangelina in an earlier existence of which the young girls know nothing -- and the story proceeds through the assigned Christmases. With a bit of video showmanship, Reyes maintains the frame around the story at intervals by having images projected on three screens above the actors -- sometimes these are establishing scenes and at other times they're images of the storyteller and the fascinated girls. Korina Delapena's designs even include video clips of the children's comments and questions (often prompting laughter).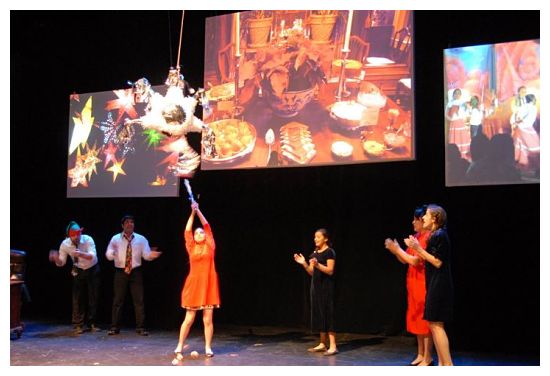 Truth be told, the Scrooge/Evangelina story doesn't really remedy the hurt of unjustified mockery. Instead, it turns the child's attention away from those demeaning comments by outsiders and back toward the warmth and support of family.
I missed the earliest stagings of the "Petra" plays by Reyes that helped establish Teatro Vivo, for I arrived in Austin just about the time that he had decided to let that larger-than-life middle-aged Latina take well deserved retirement. But in Cuento Navideño Rupert Reyes again uses the archetype of the strong Latina for his protagonists -- both for the Scrooge-like Evangelina, a cold unmarried businesswoman, and for her visitor, her deceased partner Teodora, who gets the roles of Marley and of all three ghosts.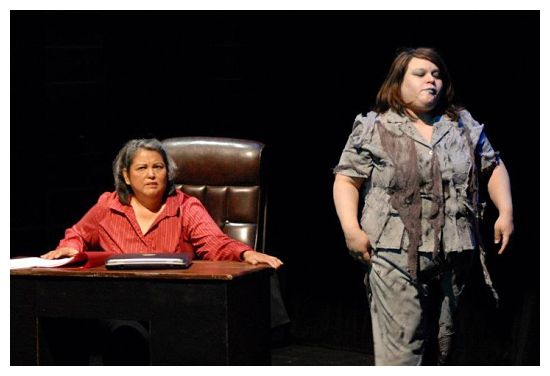 The theology of this cuento is lite -- one doesn't get the horrors of Marley's purgatorial wanderings and there's not a word of the institution of the Catholic church. The irony is that the dead Teodora as played by Yvonne Cortez Flores is far more lively and life-loving than the living Evangelina. Teodora has a big laugh, a sarcastic sense of humor and a inclination to tipple, to the point that she wakes up with new tatoos. One has the sense that being dead has loosened Teodora up considerably, shifting her attention away from the cold clink of coins, and that she has come back of her own volition to share this with Evangelina.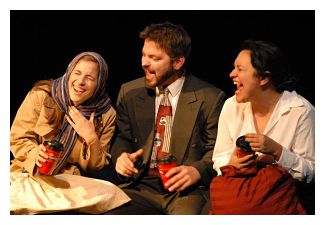 There are familiar faces in the supporting cast, including Mateo Barrera (author of Dos Pocitos, staged in August-September, 2011), the reliable Mario Ramirez, and Annabel Guevara. All four young girls (Amy Maxwell, Nashley Morales, McElroy, and Mercedes Olguin) are confident and effective in their roles.
Reyes' theme is explicit both in the text and in the second paragraph of the program, where he writes as the director. We are tied to our sense of time, he writes:
Our lives are ruled by it. In fact you had to be here "on time" to be reading this. So after I saw the line, "the present is but a sliver," it occurred to me that the "sliver" could last a lifetime if we want. We can be present in the simplest of ways. Take a moment to sit with your child, hug your wife, mother or father, and listen with undivided attention to a friend or coworker. This is what being present means to me now.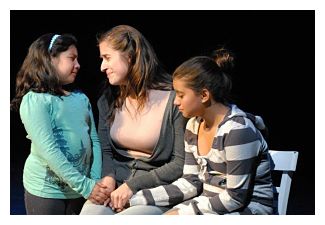 A great pleasure of this story is that we as ordinary Austin families, whatever the background, can see ourselves in it. In the "talk back" afterward, spectators agreed that they'd be happy to see this cuento navideño staged again next holiday season. Teatro Vivo may have unwittingly instituted a tradition.
If so, it will complement the annual recrafting of La Pastorela at the Emma S. Barrientos Mexiican-American Cultural Center. The contrast between the two productions this year was notable. Natividad, the "Pastorela" production written by Miguel Angel Santana and directed by Alejandro Pedemonte, focused on an upscale Latino family of means and modern taste, folks whom you might see in a telenovela on Univision. Except for an occasional casual phrase in English they could have been living in a high rise in Mexico, D.F. Rupert's characters were unquestionably U.S. Latinos, living without ostentation. Both productions conveyed the importance of family values and the deep delight in the reunions and celebrations of the holidays.
EXTRA
Click to view the program sheet for Cuento Navideño
Hits as of 2015 03 01: 1752
---
Cuento Navideño or Bah Humbug in the Barrio
by Rupert Reyes
Teatro Vivo
December 08 - December 18, 2011
Rollins Theatre
Long Center
701 Riverside at South First,
Austin, TX, 78704