Review: Circle the Wagons by The Exchange Artists
by David Glen Robinson
Circle the Wagons is now playing through March 3rd in eight cars and one red pickup truck in the parking lot of Hyde Park Christian Church on 45th Street in central Austin.
This one is pretty close to unique for stage presentations, and in keeping with Exchange Artists' reputation, the quality of each of the five-minute playlets performed in eight vehicles is exceptional. Five playwrights produced the work for Exchange Artists, and Content Love Knowles composed the music and plays it from her set-up in the bed of the big red truck.
How can anyone go wrong presenting plays about car culture? Can't. The set designs were perfect. The premise of presenting eight five-minute plays in eight vehicles required close coordination of the audience shuttling from car to car, but Director-Performer-Head Usher Rachel Wiese pulled it off without a hitch.
This sharpness of presentation extended to the performances within the cars. As most of the cars were compacts, audience and performers sat or stood very close. It was a full range see-hear-touch-smell experience. There was screaming, laughing, pounding, weeping, hair whipping across faces, voices from without, and voices from within. It would be very appropriate to re-title the show Extreme Close-up.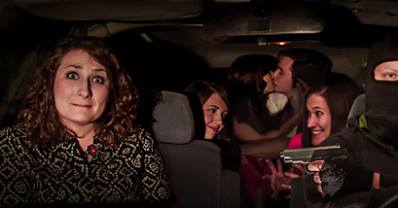 We had two car romances. No, really: two plays about being in love with the automobile. And one of the cars loved back in the suave voice of Jonathan Itchon. Otherwise there was a kinky marriage scenario, a coming-of-age story, a murder mystery, a tale of magical realism, and a terrific you'll-never-see-it-coming horror story worthy of The Blair Witch Project. All in five minutes each.
The playwriting credits for these gems go to Katherine Craft, Cleve Wiese, Sarah Saltwick, Rohan Joseph, and Gwen Copeland. The excellent actors were Bridget Farr, Bradley Silman, Rachel Wiese, Laura Artesi, Vanessa Marie, Zac Crofford, Katie Richter, Mindy Cook, Leticia Monsey, Anne Hulsman, Doug Costello, Amber Lackey Moreno and Karina Dominguez. In addition to Mr. Itchon, Aaron Alexander, Alexander Freuding, Michelle Keffer, and Rachel Wiese provided the voices.
Circle the Wagons is a marvelous evening of theatre, enjoyable by anyone with the energy to hustle between the stages/cars every five minutes. But as the audience is limited to 24 per night (three per car), reservations are required, and the show has sold out every night so far. See this one before the moment passes; it is not likely to be repeated. And a hint: it plays on Monday evenings, as well. Click here to to the Exchange Artists page at brown paper tickets to reserve your jump seat.
---
Circle the Wagons
Exchange Artists
February 14 - March 03, 2014
The Exchange Artists invite you to Circle the Wagons, a new voyeuristic theatrical experience in 8 parts, running February 14th – March 3rd, Friday through Monday evenings at 8pm. The performance will take place in the parking lot of Hyde Park Christian Church with audience getting in and out of 8 vehicles to witness a five minute play in each car. Tickets are $20, $10 for the first weekend, and $15 for students and artists, and can be purchased online at brownpapertickets.com, or reserved by emailing exchangeartists@gmail.com.