Review: Charley's Aunt by Different Stages
by Michael Meigs
Norman Blumensaadt, artistic director of Different Stages, has over the past 34 years provided a continuing anthology of the theatre, the living equivalent of that imposing row of books in public libraries, The Best Plays of [year]. The series on American dramas ran from the 1930's to 1993 as founding editor John Gasner was replaced by Clive Barnes.
Blumensaadt's reach is wider and, if anything, more determined. The Different Stages programs list them all, providing an eclectic, mostly trans-Atlantic exploration of stage works mostly of modern times. It was all but inevitable, then, that the company would get to Charley's Aunt, the wildly successful London farce from 1892. The Wikipedia entry quoted in full on page 3 of the program is the self-evident theatrical-historical justification for this revival.
Director Karen Jambon and the cast put a lot of energy into the staging of this fairly silly farce revolving around the cross-dressing of an aristocratic Oxford undergraduate seeking to support his friends' romantic aspirations by passing himself off as one's chaperoning aunt from Brazil, 'where the nuts come from.' (Get used to that mild joke because it'll be used and reused.)
Charley's Aunt features Jack and Charley (Curtis Allmon and Grayson Little), a pair of aspiring undergraduates, penniless but hopeful, cut from the same bolt of cloth that P.G. Woodhouse would soon use to fashion Bertie Wooster for comic stories and novels featuring Jeeves the butler. Ian King as Bassett, the dutiful butler/manservant of the piece, would probably like to take a hand with these young duffers but the author and director provide him not much more than eye-rolling and despairing smirks to work with.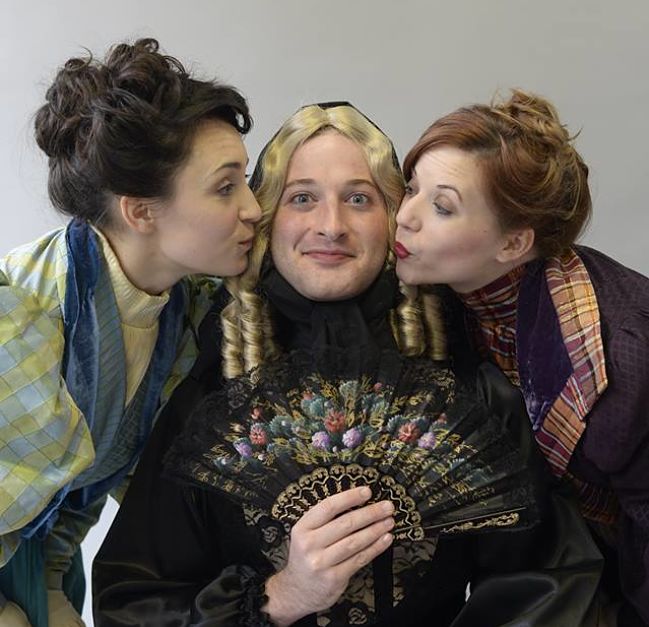 Isto Barton as Lord Fancourt Babberley (cue amused laughter at the name!) has a rollicking good time throughout. Equally short of funds, Babberly works hard at swiping champagne from his friends. When the chaperoning aunt from Brazil (where the nuts come from) delays her visit, the boys press him to impersonate her, using the amateur theatrical costume that Babberly just happens to have brought along with him. The set-up is short to describe but takes all of Act I. This piece being thoroughly traditional in form, it uses another two acts to explore the possibilities of this astonishingly effective disguise and to get to a dénouement with engagements for everyone onstage except the butler and the maid.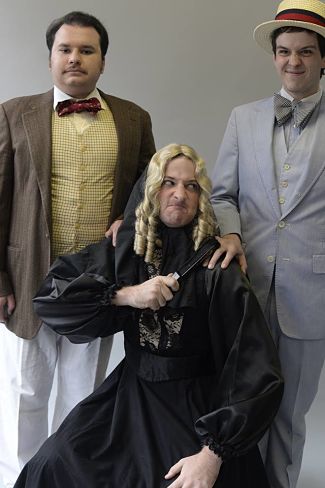 Farces about courting and deception have a fine long history, for what's more amusing that the earnest efforts of the young to wriggle around the constraining conventions of society? A modern audience, especially one with any percentage of millennials, may well despair however at the nearly three hours including two intermissions that it takes to work all this out. One can salute the producers' attachment to the original text while still wondering if some scissorwork might have made it more effective for an Austin audience.
Charley's Aunt is a relatively mechanical, galumphing romp. Or perhaps one might recall those toy theatres with cardboard figures that affluent English youngsters could move about a tiny stage. Playwright-actor Brandon Thomas hauls onstage an array of stereotypes that constitute a sort of West End commedia dell'arte: Jack's father, retired from military service in India (Skip Johnson); the glowering, distrustful Mr Spettigue (Andy Brown) who has the thankless responsibility of serving as guardian of Jack's sweetheart (Sarah Danko); Donna Lucia Alvadorez the aunt from Brazil (where the nuts come from) (Carrie H. Stephens), arrived surreptitiously and conveniently unrecognized by the rest of the antic cast; and the aunt's young orphan companion Ela Delahay (Frances Bello), who'll rediscover a forgotten love by the end of the play.
The characters are thinly drawn and the comedy is that of foolery rather than of wit. The piece is an earnest effort to entertain but it pales to insignificance if compared to its near contemporary in the same genre, Wilde's witty The Importance of Being Earnest, staged only three years later. Charley and company were still on the boards at the Globe Theatre in route to establishing their record of 1466 first-run performances.
As the Oxford classmates Jack and Charles, Curtis Allmon and Grayson Little are nicely paired in a Laurel-and-Hardy match of featherhead-vs-straight-man. Skip Johnson as the old colonel falls short of the old dufferdom that one might wish of such a stereotype, while Andy Brown as Spettigue blusters, growls, foolishly woos and otherwise completely fills out his amusing role as quasi-villain. The women in their ingénue roles are scarcely differentiated save for their attachments to their respective beaux. There's a bit of a discrepancy in the casting of the proudly attractive Stephens as the aunt from Brazil (where the nuts come from) -- one could accept her youthfulness as the widow of the fabulously wealthy old Brazilian but it doesn't quite fit with the (spoiler alert) plot revelation that she was the old colonel's fleeting sweetheart before he got shipped out to India. In a world of comedy that hardly matters, of course, but it might have been sweet to have an older sharp-tongued worldly-wise woman in that role (alack, where was Jennifer Underwood at casting time?).
Ann Marie Gordon's set transforms neatly and efficiently to represent a different locale for each act. Stephanie Dunbar's costumes are generally eye-catching, but Isto Barton's wig while playing the aunt from Brazil (where the. . . .) was a disaster -- tight nasty little curls obscured his face whenever he was not facing directly out toward the audience. The cascading blonde wig shown in publicity photos would have worked better. Dressing Ian King in a tuxedo instead of something approximating servant's livery caught the eye in unwelcome fashion. Spats are splendid but shoes beneath must be shined (for shame, Jack!). Jack's jolly blue suit with bowtie worked very well but those baggy white trousers on his friend Charles were closer to housepainter's pants than to flannels. The ladies were dressed, perhaps even overdressed, in elegance and style.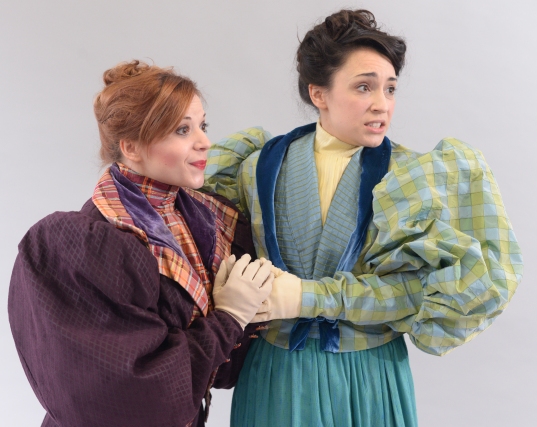 An appreciative tip of the hat to cast and to dialect coach Bernadette Nason. My American ears were generally quite convinced by all and most particularly impressed by Barton and Allmon.
EXTRA
Click to view the Different Stages program for Charley's Aunt
---
Charley's Aunt
by Brandon Thomas
Different Stages
Thursdays-Sundays,
March 20 - April 11, 2015
Thursdays - Saturdays | 8 pm - Sundays | 5 pm (March 29 at 3 pm)
Pick Your Price: $15, $20, $25, $30
For information call (512) 926-6747