Review: Changelings, by Vortex Repertory
by David Glen Robinson
Reina Hardy's Changelings, A Dark Fairytale Adventure, playing weekends until February 7 is the very paragon of the dark fairytale subgenre. I expect it will have success and long runs nationally after its performances at the Vortex Repertory on Manor Road in Austin.
Hardy, a young playwright and Michener Fellow from UT Austin, has already enjoyed recognition on the national level. She has typically pursued magical realism in her playwriting, notably in her Stars and Barmen at the Vortex in November, 2013. Hardy is fascinated with the magical underpinnings of everyday reality. Changelings takes it further by establishing a magical land which one can enter physically with the correct magic keys and incantations. Once there, one can contest issues with the fay. Hardy has chosen to fight the ancient contest involving the fairies' nasty habit of stealing mortal babies and raising them as their own, the changelings.
Hardy seems to have combed virtually all the fairy myths of Western cultures so as to compound her excellently written play with most of the mythic tropes of faery. These include such details as wearing clothing inside-out to confuse fairies as to one's location, and using ferrous metals, which fairies find painful to the touch.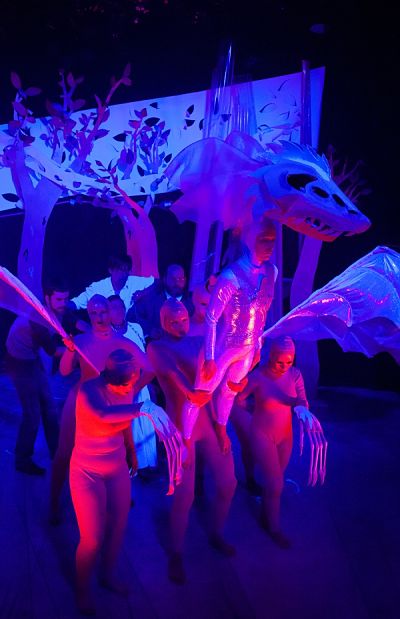 The production draws on a very talented cast and design team, most of whose members reside in the Vortex Repertory Company. Foremost among them is director Rudy Ramirez, who takes a clean and efficient approach to stage action. His direction is deft and confident. The design fields at the Vortex top themselves show after show. Set designer Ann Marie Gordon, always fresh and original, designed and built the veil between the worlds as a series of paper screens. Far upstage, paper trees stand tall, and their large paper leaves seem to float in all the upstage areas. Paper is light, insubstantial, ethereal, and deceptively strong—perfect for fairies. The screens slid back and forth for numerous entrances, exits, and surprises.
Lighting designer Patrick Anthony lit the show with very complex but pleasing designs. Lighting usually helps to change scenes and heighten the imagination of the play, but in a few cases in Changelings, the lighting changes were so strong that they alone instantly altered the world represented by the set, to the surprise and delight of both characters and the audience. This advanced level of lighting design can work only in close cooperation with the set designer. Anthony and Gordon are an excellent team.
Chris Humphrey did a hard thing: she composed music and contributed song lyrics for the music performed in various ways throughout. The songs held together well--enough to become likely candidates for award nominations.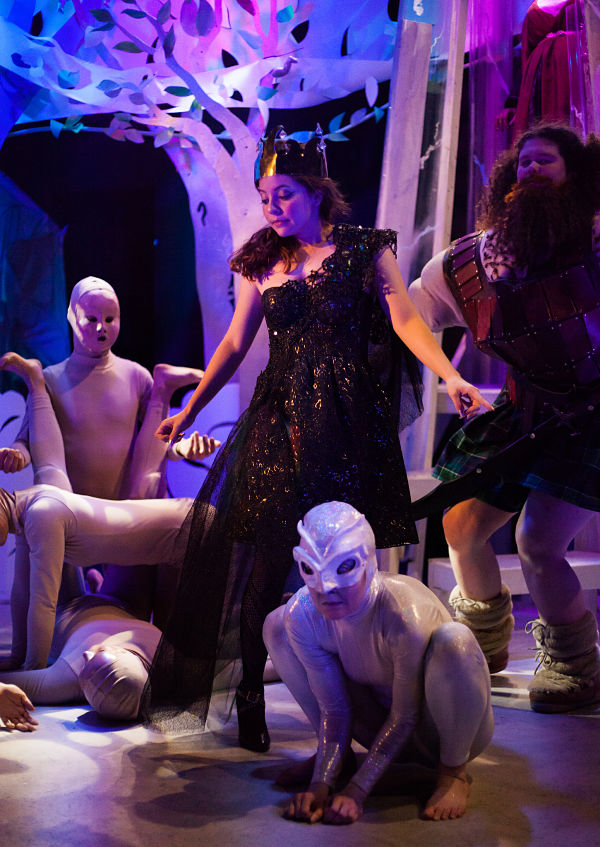 Gricelda Silva as The Wicked Child emerged as the principal character as the play progressed and devoted more of its time to Fairyland. Silva herself has grown into a powerful actor capable of taking a play on her shoulders and having a terrifically good time with it. Her acting strength combines well with her glamorous looks; that's her on the play poster. Her foil is Pandora, played by Nicklette Izuegbu. When Pandora is released from a spell, she becomes as rotten as she wannabe. Izuegbu's Pandora offers a magic combination of voluptuousness and evil, abetted by Jennifer Davis's impressive fantasy gown costume.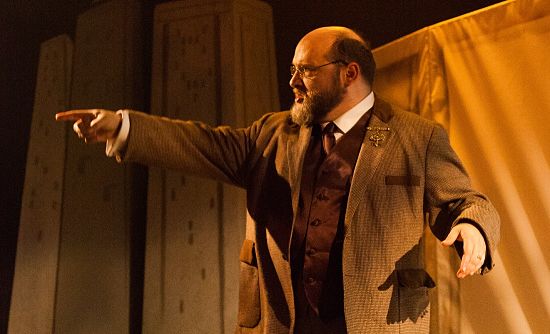 In dapper costuming yet again, Travis Bedard is Magus Kemp. None dare call him Professor, and Kemp warns us that he being him is like you being you on a quarter-tab of mescaline at all times. Bedard embodies Kemp with the apparent glee of one who has finally found a role he sought for years. Hardy and Bedard create a character of whom the producers of the movie Ghostbusters would be deeply envious.
Not even Ghostbusters could claim the limber physical performers of the aerial performance troupe Sky Candy, who built the thrones of Fairyland, threatened intruding mortals, and performed most of the physical work of the play. They are Joanna Wright, Jonathan Itchon, Winnie Hsia, and Melissa Trevino.
Laura Ray and Ben McLemore are exceptionally well cast as the siblings Megan and Luther Powers. Ray, in particular, conveyed the vulnerable ingénue beset by the fantastic. Zac Carr asTimothy Stamp, Megan Power's fiancé possesses magic magic on the level of Harry Potter. In fact, Carr's character made explicit reference to the Harry Potter franchise. Carr is fresh off Theatre en Bloc's Cock, which played last year at the Off Center. His protestations of love to Megan eerily resembled those he made in the earlier play. For some of us this added an extra vibe of strangeness to Timothy and Megan's already strange relationship.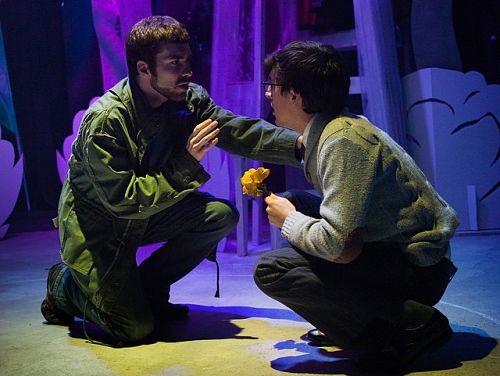 Hardy's well-crafted play ventures far into the magical universe to explains differences between Fairyland and mundane reality. In the end it satisfies, and it may teach us things previously unknown. It slowed into relatively arduous stagework in the second act but this was because it featured a few more plot convolutions than a modern audience really cares to follow. Neatly tied-up resolutions are required for every character in a play.
Hardy is blessed in that in the relatively early stages of her career she can draw on the immense production and creative resources of the Vortex Theater and Repertory Company. Other companies may take up the opportunity.
Changelings is recommended for everyone and runs until February 7 at the Vortex.
---
Changelings
by Reina Hardy
Vortex Repertory Theatre
January 16 - February 07, 2015
Tickets: $30 Priority Seating , $20 General Admission $10 Artist/Student/Senior
Advanced Reservations Recommended.
2-for-1 admission Thursday and Sunday with donation of 2 cans for SafePlace
Directed by Rudy Ramirez. Scenic Design by Ann Marie Gordon. Lighting Design by Patrick Anthony. Costume Design by Jennifer Rose Davis. Original Musical Score and Sound Design by Chris Humphrey. Puppets and props by Melissa Vogt, Helen Parish, and Ann Marie Gordon.
Changelings features Travis Bedard as Magus Kemp, Zac Carr as Timothy Stamp, Nickclette Izuegbu as Pandora, Mindy Rast Keenan as Bantam Beth, Ben McLemore as Luther Powers, Julie Moore as Luwis, Amber Quick as The Luck Angel, Laura Ray as Megan Powers, Gricelda Silva as The Wicked Child, Amelia Turner as The Whiteling, and the Movement Chorus of Jonathan Itchon, Winnie Hsia, Melissa Treviño, and Joanna Wright.