Review: Bright Now Beyond by Salvage Vanguard Theater
by David Glen Robinson
The original musical theatre production Bright Now Beyond, created by Daniel Alexander Jones, is one of the finer efforts of the Salvage Vanguard Theatre. The successful and complex work may well serve to vault playwright Jones to higher levels of recognition in the national musical theatre community.
Multi-talented theatre and performance artist Jones concentrates on the issues of sexual politics, sexuality, and identity writ large. His cross-gender persona of Jomana Jones seems to offer a career through-line that's adaptable across media. A constant concern with identity informs most of his work, so who could better create an all-ages musical with the question of identity-- its discovery, discoveries, and changes--at its heart? After all, identity is a central issue for preteens and adolescents, and we welcome the sensitive and ature treatment of it in Bright Now Beyond.
And what better story to structure such a performance than the second volume in L. Frank Baum's Oz series? The Marvelous Land of Oz was set in a time long after Dorothy's syncopated, four-four time travel along the Yellow Brick Road. Glinda the Good Witch hasn't been seen since Dorothy's advent, and evil has spread across the land once again. The risks are high, very high, and much must be done to save whatever's worth saving in this world.
There's a river at the heart of Oz—those emeralds are a well-known delusion—and Jones touches lightly but deftly upon the river's shifting multiple metaphors of flow, change, and eternity. The river bears Tip, played by the very young Jacques Colimon, on an odyssey of refuge, rescue, and identity. Tip's quest is ours, and for us he wrestles with the questions of who he is and who he may become. He learns gradually that life's an adventure if one but dares drink the potion and take the river into oneself. Colimon is a performer to be followed with interest; the audience hushed when he began to sing, which he did often, yet he handled the burdens of his singing role with ease and confidence. The sky is the limit for this performer. Jones' lyrical brilliance is evident in Tip's/Colimon's songs, too; this accolade is Jones' core credit in his ambitious, multivalent work.
The production design esthetic of this show is one of ephemerality, shifting changes, and gauzy insubstantiality, It's what in the 70s we would call water-sign stuff, given the public's fascination with astrology. In Bright Now Beyond the audience is never sure where it rests among the many shifting images and sets of hanging fabrics and lightweight scrims moving back and forth between scenes. As might be expected within this esthetic, shadow play and shadow puppets claim prominent roles. The artistry of the puppets, their play upon the scrims, and the choices of the live performers in shadow were intelligent and well finished.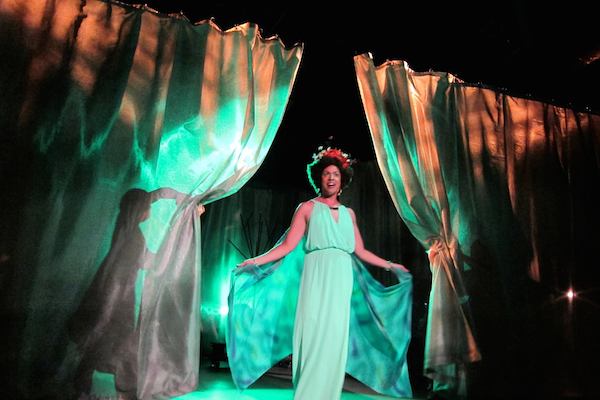 Still, a collision of esthetic choices was apparent here. The light fabric projection surfaces were so insubstantial that the shadow-playing performers behind the fabrics were fully revealed. Exposed-artifice design is a trend familiar to all sophisticated audiences, such as those at the SVT; but there is a fine line beyond which the artifice gets out in front of the exposure. The risk is that of distracting focus away from the stageplay and the music. Likewise, the fabrics seem to billow (as fabrics always do), betraying hard working stage hands in black garb off-stage and actors preparing for their next scenes. A little more masking of entrance points would have helped a lot. Again, all these things individually are trivial up to a point, but once that point is reached, they've piled up in number sufficiently to become both distracting and detracting. Each audience determines that point according to its own sensibilities; producers lack a speaking trumpet with which to boom forth, "Pay no attention to that man behind the curtain!"
Cami Alys overwhelmed all distractions with her performance as General Jinjur. She was not gauzy, ephemeral, gossamer, insubstantial, iridescent, or pearlescent. Rather, she was incandescent, garbed in primary colors and leaning up into the audience's faces, singing up the revolution. Alys led her girl army against Oz, only to find disillusionment tumbling piles of emeralds. Alys' performance modulated the show's energy almost singlehandedly, giving it a lot of texture, but for all her showy brightness, her General Jinjur taught one of the show's subtler lessons on growth and change. Very well done.
Robert Faires as The Scarecrow and Robert Pierson as the Tin Woodsman played their roles like military buddies reuniting, retelling old glories and giving huge belly laughs while sharing stories nobody outside the clubhouse understood. Pierson wielded his iconic ax like a scepter, and Faires wore his straw head like Einstein's wild hair. Together, Faires and Pierson formed a warm and crazy center for the show's humor.
Florinda Bryant as Mombi the Sorceress provided the pole of negativity in the show. The audience almost hissed, approvingly, on her entrances. Bryant's speaking and singing are marvels of clarity.
This reviewer right now nominates singer Carla Nickerson as a national treasure. She, without a doubt, could sing the phonebook and leave the audience weeping that the Ls were never so passionate.
The music was perfect for musical theatre, and it was composed by Bobby Halvorson. Peter Stopschinski conducted the ensemble in live performance, one of the treats of the show. Stopschinski shows a rare skill in his ability to recruit the best musical talent for his varied projects. SVT and Daniel Alexander Jones benefit strongly from Stopschinski's contributions to this production.
Bright Now Beyond enhances Salvage Vanguard Theatre's production reputation, and it dances Daniel Alexander Jones farther along down his performance Yellow Brick Road. CTXLT recommends the show for all ages, though most of may have to work a little at ignoring those black-wearing stagehand types off on the sides. Do this and the dreams will flow like the river.
---
Bright Now Beyond
by Daniel Alexander Jones and Bobby Halvorson
Salvage Vanguard Theater
July 31 - August 23, 2014
July 31 - August 23, 2014