Review: Born Yesterday by Classic Theatre of San Antonio
by Kurt Gardner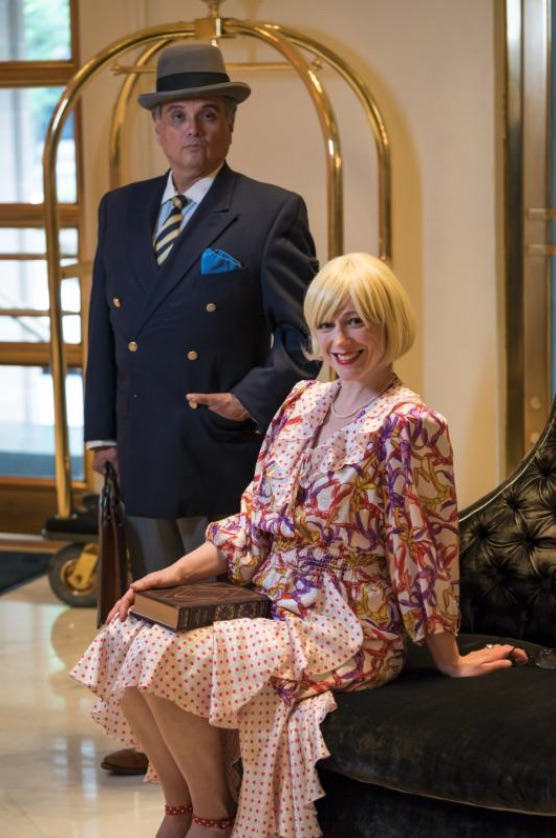 A crowd-pleasing hit when it opened on Broadway in 1946, Garson Kanin's Born Yesterday now plays like an interesting time capsule of the attitudes and mores of the postwar era. That said, the production now playing at San Antonio's Classic Theatre has been so well-cast — and is performed so engagingly — that it breathes new life into the occasionally heavy-handed piece.
Corrupt junk dealer Harry Block (Greg Hinojosa) arrives in Washington with his mistress, Billie Dawn (Hayley Burnside), and his alcoholic attorney, Ed Devery (Byrd Bonner), in tow. He's in town to buy some lawmakers to help him take his shady business worldwide. To that end, Ed has arranged for a meeting with a morally loose legislator, Senator Norval Hedges (Chuck Wigginton).
Billie is a former chorine, blissfully ignorant of the ways of the world. She's been with Harry for nine years and has allowed herself to be an unwitting partner in his shady business dealings. As she says, "I'm stupid and I like it."
When Ed suggests to Harry that he marry Billie in order to present a more respectable image to the Washington elite, he balks, instead deciding to find someone to give her some class by teaching her to "be smart." Harry had just been interviewed by Paul Verrell (Nick Lawson), a no-nonsense writer for The New Republic, and determines that he would be a perfect tutor. Paul eagerly accepts the job, primarily because he's attracted to Billie. It turns out that she's "got a yen" for him, too.
Things don't turn out the way Harry wants them to, however. As Billie begins to read books, visit museums, and learn about history and politics from Paul, she begins to realize what a crook Harry is and seeks to stop him in his tracks. Here's where the material gets preachy, but the cast and production effectively keep the audience engaged.
Hinojosa is solid as the tough-as-nails Harry, whose glad-handing outward demeanor barely conceals a violent temper just waiting to explode. Bonner is excellent as Ed, a once-dignified government lawyer corrupted by the bottle — and Harry's $100K per year. His weary, bleary asides are poignant as well as funny. Lawson hits the right notes as Verrell, whose character serves as the voice of morality among all the shady dealings.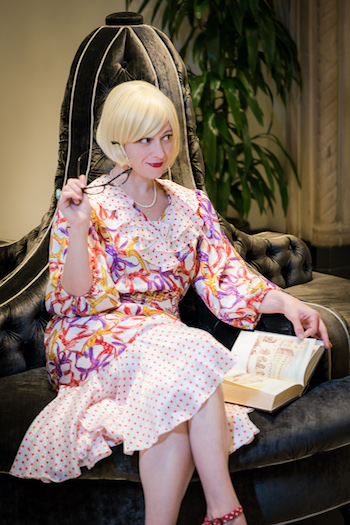 Wigginton and Alexandra Montgomery give fine support as Hedges and his wife, with Montgomery providing particular amusement as a Washington aristocrat horrified by the vulgarity of Harry and Billie. Also good is Gabriel Sanchez as the humorless Eddie, who is Harry's cousin, assistant and all-around gofer.
Since the story revolves around the character of Billie, it's essential that the actor inhabiting this role deliver just the right combination of comedy and pathos. Burnside delivers in spades, providing a convincing transition from a gum-snapping, happy-go-lucky chorus girl to a deep thinker who's growing a conscience.
In a nearly dialogue-free scene in Act One, as Billie and Harry play a game of gin rummy, Burnside's comedic pantomiming is priceless. And later, when Harry physically attacks her for refusing to sign a contract, it's an authentically shocking moment, as the audience has developed such well-deserved empathy for her.
Karen Arredondo-Starr's set design is a perfect recreation of a deluxe Washington hotel suite circa 1945, and Diane Malone's costumes blend well with the scenery. Steven Starr's lighting and Rick Malone's sound design contribute nicely to the atmosphere, and the production is solidly directed by Matthew Byron Cassi.
Born Yesterday plays Fridays and Saturdays at 8:00 p.m. and Sundays at 3:00 p.m. through May 22 at the Classic Theatre, 1924 Fredericksburg Road. Tickets can be obtained online or by calling (210) 589-8450.
Kurt Gardner's theatre reviews also appear at www.BlogCritics.com.
---
Born Yesterday
by Garson Kanin
Classic Theatre of San Antonio
Fridays-Sundays,
April 29 - May 22, 2016
Born Yesterday runs April 29 - May 22, 2016. Show times are Fridays and Saturdays at 8 p.m. and Sundays at 3 p.m. Call the box office for tickets or group rates: (210) 589-8450 or purchase tickets online at www.classictheatre.org. There is no service charge for using the ticket service.
Fridays and Saturdays at 8 p.m., Sundays at 3 p.m.
1924 Fredericksburg Rd, San Antonio, Texas, 78201
Tickets: General- $25, Student- $10, Educators/Senior/Military- $20
Purchase online: www.classictheatre.org/index.php/2014-03-15-23-26-10
Our Website: www.classictheatre.org
Contact/More Information: Call our Box office at 210-589-8450