Review: As You Like It by Texas State University
by Michael Meigs
Marketa Fantova's designs for As You Like It at Texas State University establish at a glance the intentions of director Chuck Ney. The action opens at Duke Frederick's court, a bare space at the front of the wide thrust stage, bounded to the rear by a high, chill wall with a blue metallic sheen. That wall initially appears featureless, except for the edifice of steel tubing and dark metal treads parked against it -- the sort of movable ladder one might expect to find in a warehouse. Concealed doors open from that blank wall, including one at the top of the edifice. Characters descend or climb those precarious stairs that sway, suggesting a subtle danger.
The court is equally bare and cold. Young Orlando is angered by the neglect shown to him by his elder, inheriting brother Oliver. Duke Frederick, the ominous usurping head of this city state, stalks onstage accompanied by bodyguards whose chief function is to walk and stalk in step with him.
When the duke's daughter Celia and her banishéd best girl friend Rosalind flee to the forest, the metal barrier vanishes, to reveal a striking, deep stage picture very similar to that depicted on the poster for this production. Fantova has established progressive inclines running from side to side of the stage, usable as steps or as ramps, and she uses tall narrow cylinders of white semi-lucent fabric to suggest the trees of a grove, perhaps of birches. Although exiled Duke Senior speaks to his band of the "icy fang and the churlish chiding of the winter's wind," their white and blue world, though suggested merely, feels far warmer than that of the court.
Director Chuck Ney chose to situate this production in the present day. That interpretation opens opportunities, particularly musical ones. Among exiled Duke Senior's men are a number of nimble-fingered strolling guitarists. Wry Jacques, the philospher of the exiled band, is a sinewy aged African American who elicits a rhythmic blues riff from the Duke's acoustic guitarist for his "ducdame" satire of "Under the greenwood tree." The celebration of the deer hunt in IV, 2 is a haunting a capella rendition in the twilight of "What shall he have that kill'd the deer," much in the style of Seattle's Fleet Foxes. Members of the wandering band do "a lover and his lass" with guitar and improvised percussion like street busking music, and Sean McGibbon performs break dancing with the energy and assurance of competition-level gymnastics. The final celebratory dance is a memorable cross between a contra dance and a hoedown.
At some corners, however, this smoothly woven fairy tale catches on the contemporary concepts and comes close to ripping. Duke Senior's supporters are labeled "homeless lords" but they're young, clean, amused and bursting with health, a bit like Explorer scouts out for a long weekend in Tennessee's Great Smoky Mountains. The wrestling match between the Duke's champion Charles and young Orlando is swift and dramatic, but fight coordinator Paul Schimmelman makes it look like a World Wrestling entertainment bout, complete with rabbit punches and kidney jabs, forfeiting the opportunity to establish Orlando as a naive or ethical.
The final scene in the palace, III, 1, converts Duke Frederick's brief interrogation of Oliver into a nasty scene of torture. Minions wear black ninja masks and repeatedly force the prisoner's head into a bucket. Oliver twitches and bubbles loudly until with a flick of his hand the Duke signals a respite. Oliver emerges gasping and wet. It's a grim Amnesty International moment, one that disturbs without particularly contributing to the play.
Texas State University, just 35 miles south of the Texas capital of Austin, has an accomplished and popular theatre program. This staging calls on strong faculty resources. Playing both Dukes is Michael Costello, the head of acting instruction at the university, a man with a lengthy stage résumé and the stage presence to match it. The melancholy Jacques is artist-in-residence Eugene Lee, artistic director of the school's annual Black and Latino Playwrights' Conference, who early in his career performed in Lorraine Hansberry's A Raisin in the Sun for President Johnson at the LBJ ranch. Lee creates a cerebral Jacques with a marked African-American accent, hinting at a double richness of cultures and of wisdom.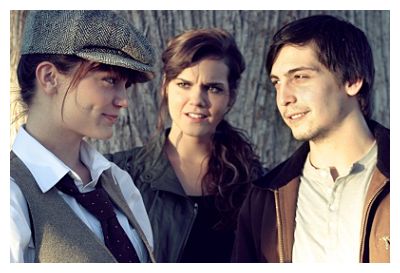 The student cast plays with dedication, many of them with eye-catching confidence and ability. Robert Wighs as harsh elder brother Oliver is particularly strong in gesture and diction, and his eventual transformation to a simple good guy, there deep in the forest, is heartening. Angeleiea Stark and Keeley Koop as runaways Rosalind and Celia are peas from the same pod, enthusiastic and effusive. Oscar Cabrera convincingly shows the gradual maturing of Orlando.
Touchstone the clown as played by Nicholas Kier was gusty and a bit manic, an interpretation of that wise fool emphasizing the "fool" aspects. I awaited with misgiving his expostulation in Act V about the rules of quarreling. Kier delivered it at top speed, involved all the while in farcical business with Ragan Rhodes as his fiancée the dizzily charming, fully ripe blonde Audrey. We paid more attention to his alarm over her lusciousness than to the wit in the lines mocking the court etiquette of quarreling.
Ashley Rountree crafts an apt and vivid cameo as Phoebe, the shepherdess who falls in love with page "Ganymede" -- Rosalind, in the disguise she uses in the forest to join Duke Senior's band and to instruct Orlando in wooing. Rountree gives Phoebe a determined swagger and emphatic demeanor, contrasting to her feeble wooer William (Zachary Blackwell). She's assertive and yet at the same time appealing. In the dance of general celebration concluding the play, Ney and choreographers Ian Saunders and Rachel Hull-Ryde include this Phoebe, aptly, in the circle of suitors rather than sending her over to the demoiselles who were wooed.
Chuck Ney's As You Like It served both as showcase and a satisfying entertainment. We left the theatre cheered and refreshed, exiting the cool blue ot that imaginary birch forest back out into the warm Texas night. Faculty members Chuck Ney, Michael Costello, Eugene Lee, musical theatre veteran Kaitlin Hopkins and others are shaping a large corps of young performers and theatre artists in San Marcos, many of whom rival their counterparts at the huge Department of Theatre and Dance at the University of Texas in Austin. Theatre aficionados in Central Texas and elsewhere can acknowledge that, with thanks, and wish them all well.
EXTRA
Click to view program for As You Like It from Texas State University
Hits as of 2015 03 01: 2537
---
As You Like It
by William Shakespeare
Texas State University
April 06 - April 16, 2011