Review: Anything Goes by Lee Colee Studios
by Michael Meigs
The 'Broadway Bound' theatre boot camps run in Wimberley each summer by Lee Colée have become so popular that for the just-completed production of Cole Porter's 1934 musical comedy Anything Goes, she was instructing and directing a cast of 39 young persons ranging in age from 8 to 18. The turnout was so strong that she took the initiative of organizing the players into different configurations for "odd" performance dates (with the older players in the principal roles) and for "even" performance dates (with the younger members taking the leads). I attended a performance of the "even" cast, which had an extraordinary feel, very similar to that of Alan Parker's Buggsy Malone, the 1976 film in which a star cast of children including Jodie Foster and Michael Jackson did a gangster musical.
Cole Porter put a gangster or two on board the cruise ship U.S.S. American, but they were harmless or inept. The story is straight out of the Depression-era dreams of glamor and glitter, as earnest and underpaid Billy seeks to court heiress Hope Harcourt, prying her from the surveillance of her mother and from the attentions of her stuffy English presumptive fiancé Sir Evelyn Oakleigh. Mix in a missionary bishop back from China with a trio of Chinese converts, assorted pretty girls, woman evangelist-turned-nightclub-singer Reno Sweeney, and a whole lot of white-clad sailors, and you can keep the decks full of silliness and celebration.
The 1934 Broadway show starred Ethel Merman, who returned to the role at least twice in later years. The Wimberley cast wasn't well grounded in the rich musical and theatrical history of the piece -- for example, Cole Porter's "You're The Top" evokes "the nose -- of the great Durante!" But some tutoring, some trimming, and some instruction in the fundamentals of tap dancing during the three-week production phase put them on the right track. On the evening that I attended, this cast was having a great time.
Porter's music includes such lasting American standards as "You're the Top," "It's Delovely," "Friendship," and "I Get A Kick Out of You."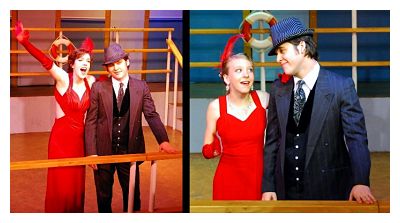 In the "even" or younger cast, 13-year-old Dorothy Anderson performs as Reno Sweeny, the worldly-wise, red-clad nightclub singer, and she has a passing resemblance to Jodie Foster at that age.
Sidekick Bonnie, who performs "Heaven Hop" with a platoon of sailors, was the impossibly tiny and irresistible 10-year-old Genevieve Hodge.
Billy, the male lead for both casts was a confident song-and-dance man in serious need of a haircut and a styling to fit the period piece -- he was identified as "Jake Ward" in the program and, mysteriously, "William Crockett" in the Facebook portfolio of dress rehearsal photographs posted by Petesie Lee. Kendra Patch was the shy and admiring Hope, object of Billy's affections.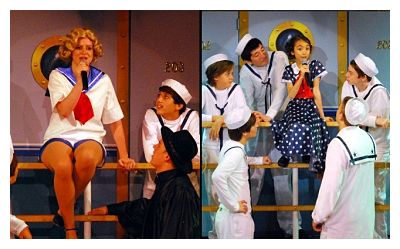 Anything Goes has been playing in New York at the Stephen Sondheim theatre since April, where it won three Tony awards, including that for best revival. The New York show is scheduled to continue until at least January, 2012, with a touring company planned for next year.
Wimberley parents and friends didn't have to travel that far or wait that long. Colée with assistant director Rachel McGuiness and other staffers brought these youngsters to an enthusiastic pitch, moving them with energy and precision. The set was simple but apt and perfectly well decorated. At times the recorded music came close to dominating young voices and for my taste could have been adjusted downwards. The audiences loved it all.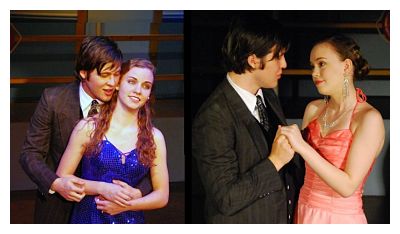 Accompanying this text are paired illustrations of the challenges of casting and the strategies for keeping everyone in such a large group involved in the production: paired scenes, odd and even, from Lee Colée's staging of Anything Goes.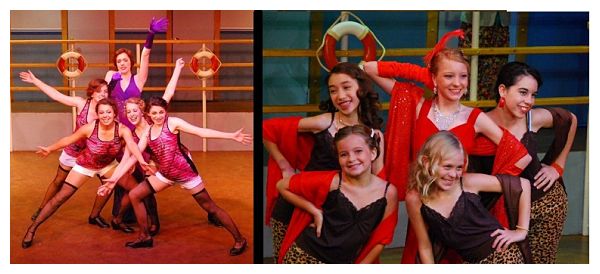 EXTRA
Click to view the program for Anything Goes , staged by Lee Colée studios at Wimberly Playhouse
Hits as of 2015 03 01: 2323
---
Anything Goes
by Cole Porter
Lee Colee Studios