Review: Always, Patsy Cline, by Tex-Arts Lakeway
by Michael Meigs
Selena Rosanbalm is a great big bundle of vocal talent.

She delivered again and again in the TexArts' production of Always, Patsy Cline, blending with our memories of Patsy's joy, melancholy, honky-tonk and hokum from the late 1950s and early 1960s.

That was the time when that plucky little singer with the vibrant voice traveled from town to dusty town, earning her coins with a different band every night instead of staying in Nashville and watching the royalties roll in.

I recognized almost every one of the 27 numbers done by Rosanbalm in this two-hour compendium. They were part of the sound track of growing up in the South at that time. Patsy and Loretta and Brenda Lee and, soon after, Dolly came through the WGN/Nashville/Grand Ole Opery circuit and their catchy melodies and simple lyrics of their hits were anthems of a simpler time. That happy nostalgia is part of the reason this show works so well.

Tex-Arts co-founder Todd Dellinger was visibly delighted last Thursday night to see that positive reviews and word-of-mouth had filled the house. The show was closing its three-weekend run on Sunday; the Friday performance was already sold out. Few tickets were left for the last performances.

So if you missed it, well, you missed it. But now at least we know that TexArts is for real and this is homegrown talent. Both Selena Rosanbalm as Patsy and Edie Elkjer as the star-bedazzled Louise are from Austin, as are the sidemen, most of whom have been working in Austin music for 20 to 30 years.

I had delayed on this one because TexArts had labeled it as the first of the "TexARTS Off Broadway Series." I'd thought that meant a touring company, come to perch out in Lakeway before moving on.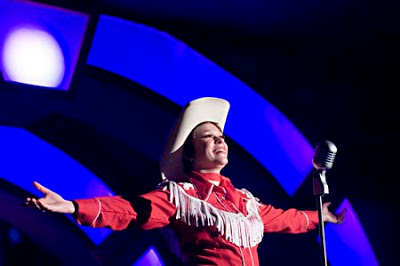 The mostly middle-aged crowd had a terrific time and gave themselves entirely to the calculated crowd-pleasing antics of country music. We clapped along in time to the lively numbers and admired Patsy's cowgirl schtik and her glitter dress. We reached out to her in her pink cotton two-piece traveling suit and smiled when she put an apron over it to hang out late night in Louise's kitchen. We giggled when hoedown-loving Louise pulled senior gentlemen out into the playing space to accompany her in awkward or accomplished Western swing. And we ate it up when they teased us at the curtain call, to spin out another rousing farewell encore.

That's the message: I really enjoyed this entertainment. I would happily go again to hear Selena Rosanbalm front the fictitious "Bodacious Bobs." I would go to see Edie Elkjer charm the bourgeois again with her energetically hokey dumb-country-broad-with-a-heart-of-gold number.

But what an odd structure this entertainment had. It is based, however tenuously, on a real relationship.

Cornpone Louise in this show is an embellished version of Mississippi native Louise Seger, who met Cline in Houston in 1961. She tells us about hearing Cline on Arthur Godfrey's televised talent competition and falling so hard for that voice and music that her daily, even hourly requests to the local radio station for Cline music made her a familiar pest. When Cline comes to Houston for one night of singing at a honky tonk, brazen Louise drags hubby and boss to the locale hours ahead of time, befriends the unpretentious Patsy and has the equivalent of a one-night-stand that becomes a long-running correspondence.

In all innocence and with not a bit of sexuality – but the story presented here is part romantic attachment, part hagiography.

As we all know – or if not, learn in the second act – Patsy Cline died in the 1963 crash near Nashville of a small plane.

Always, Patsy Cline is not a biography. That's not for lack of material. Cline was a spunky, feisty pioneer in country music and cross-over pop, as is made clear by the lengthy biography at Wikipedia.

She had romances, infidelities and broken hearts; she had two near-fatal accidents and premonitions of death. At first she absolutely hated Willy Nelson's "Crazy," which in a modified version became her breakthrough and huge cross-over hit.

She called her friends "hoss" and referred to herself as "the Cline." She battled with promoters and won. She was generous to a fault (her friend and honky tonk accompanist Del Wood commented, "Even when she didn't have it, she'd spend it — and not always on herself. She'd give anyone the skirt off her backside if they needed it.").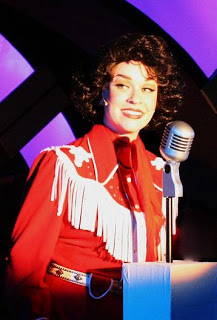 Patsy Cline broke the mold for country stardom and her career was slowed up only temporarily by her death. She was the first woman singer inducted into the Country Music Hall of Fame (in 1973); post-mortem releases and recompilations of her music over decades were highly successful. In 1992 she appeared on a U.S. postage stamp. She got her own star on Hollywood Boulevard in 1998. Every poll or survey puts her among the top country singers of all time.

But we get very little of that, other than a passing reference to her rural Virginia origins and her desire to get back to her young children.

Instead, playwright Ted Swindley weaves two very different strands for this presentation. The manic Louise provides the narrative and the jokes. She is a clown of little insight, one who evokes hilarity by making fun of herself, her hubby, and her boss, but never of Patsy. Edie Elkjer has great fun with the role.

And Patsy sings. She walks through a few scenes, interacting minimally with Louise, and during her number she carries on patter with her public or the band.

Rosanbalm is perky, confident and attractive, but doesn't really have to act.

After all, who would require an angel to act?

Jeanne Claire van Ryzin's review in the Statesman, October 1

Barry Pineo's review in the Austin Chronicle, October 10

Robert Faires' backgrounder on TexArts, Austin Chronicle of September 28


PATSY CLINE ON YOUTUBE

Walking After Midnight (bw from TV, Patsy in spotlight)


Walking After Midnight (with slideshow)

Crazy (bw from TV)

Three Cigarettes in an Ashtray, intro by Red Foley, bw from TV in a studio set for a café
---
Always, Patsy Cline
by Ted Swendley
Tex-Arts
Fridays-Sundays,
September 26 - October 12, 2008