Review: Agnes of God by City Theatre Company
by Michael Meigs
Agnes of God is a dark piece, in a dark place in the soul and in the universe. The three gifted actresses in this cast are glittering points of an enigmatic constellation in that darkness.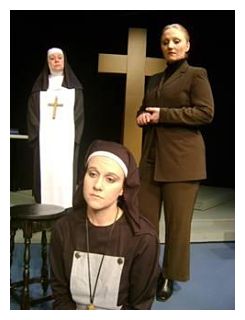 A crime has been committed in a convent. Jennifer Underwood, admant and authoritative as the mother superior, clashes with Dawn Erin's Dr. Livingston, the skeptical, chain-smoking psychiatrist appointed by the court. Laura Ray's performance as a stressed and confused young novice demonstrates impressive intensity and maturity. Taken together, these three actresses embody for us the ages and the fragilities of women in our time.
Partly a crime investigation and partly an examination of troubled souls, Pielmeier's play is a mystery in two senses. The first, almost banal, is the puzzling out of the facts of a murder, through interrogation, speculation, and, finally repeated sessions of hypnosis. The second sense of mystery in this piece is that of human motivation.
Curiously, despite the convent setting and the scene -- a relatively bare stage dominated by a an enormous barren cross -- the action and the exchanges have very little to do with religion, at least in the theological sense. The psychiatrist cast aside her own Catholic allegiance long ago, bereft and angered when her own sister, a convent novice, died of a neglect from a ruptured appendix. Inevitably, Livingston's court mandated inquiry becomes a campaign of retribution against the institution of the convent, waged against the insistent protectiveness of the Mother Superior.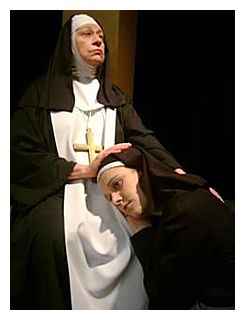 Jennifer Underwood, the grande dame of the Austin stage, is strong yet vulnerable as Mother Miriam Ruth. Her tenacious opposition to the inquiry and to the inquirer is a defense of the institution and of young Agnes. Secrets are revealed. Livingston insists on the hows of impregnation, the hidden pregnancy and an unattended birth. Mother Miriam Ruth works to shelter Agnes, ultimately to little effect. Laura Ray as Agnes is tentative at first, polite but blessed with amnesia, until Livingston eventually uses hypnosis to strip away her defenses.
The young novice is named for St. Agnes of Rome, martyred at the age of 12 or 13 when she refused to marry a Roman nobleman. That Agnes was dragged naked through the streets, shut up in a brothel, avoided rape only by miracles and was beheaded in a public place by a Roman officer. The name "Agnes" comes from the Greek word for "chaste" or "pure." This Agnes suffered mental torment before her convent life and fled from the wider world.
Evil exists. Pielmeier's examination of it here is glancing and exculpatory, as is often the case in our secular society. Each of these women is a victim in some sense, and in Pielmeier's world without greater meaning there appears to be very little consolation for any of them.
Rave review by Ryan E. Johnson at examiner.com, May 6
review by webmaster, TheatreAustin, Yahoo groups, May 28
EXTRA
Click to view program for Agnes of God from the CIty Theatre
---
Agnes of God
by John Pielmeier
City Theatre Company