Review: A Shadow Among Strangers by University of Texas Theatre & Dance
by Michael Meigs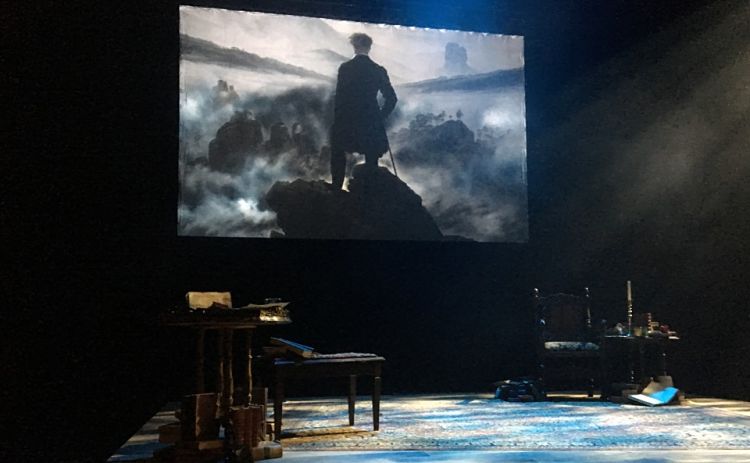 Sometimes you just have to show them how it's done.
Lucien Douglas, professor of theatre at the University of Texas at Austin, has received plenty of acclaim: the College of Fine Arts award for excellence in teaching in 2012 and the UT Systems Regents' award for the same in 2014. His list of acting credits and theatre accomplishments, summarized in the program leaflet and on-line, would probably be as long as your arm if you were to print it out single-spaced in bullet format.
Responding to the 2014 recognition he quoted Einstein: "Imagination embraces the entire world, and all there ever will be to know and understand."
That may sound like a romantic viewpoint -- or a Romantic viewpoint -- and it's no suprise that he's long been captivated by Edgar Allan Poe, the American writer closest in spirit and in time to the Romantic movement in Europe. Poe was a contemporary for a time of Lord Byron, for when Poe was born in 1809 Byron was only 23, and Byron died in Greece in 1824, only 36 years of age, when Poe was just fifteen. American literary life in the first half of the 19th century included, on one extreme, the New England transcendentalists and thinkers Emerson and Thoreau, and on the other, the wild imaginings of Poe.
In his recapitulation of the events of Poe's life Douglas brings vividly to life the early-orphaned Poe's longng for love, family and acceptance, as well as the man's emotional turmoil. Some parts of the biography are astonishing. He dropped out of university studies when his sponsor refused him adequate financial support, he lived a wild and dissolute life, got an appointment to West Point and was dismissed in his first year because of unacceptable behavior, used forged papers to marry a 14-year-old girl from his adoptive family, met with success and acclaim as a writer, lecturer and editor, became the editor of a New York literary publication, and lost his beloved wife to consumption at about the time that The Raven made him a household name. Not long after that, in 1849, he disappeared for a week in his native Baltimore and turned up almost comatose, clad in someone else's clothing, and died shortly thereafter.
This life story of quest, desperation, eloquence, poverty, dissipation and defeat is in itself a Romantic saga dense with incident. Douglas does not impersonate Edgar Allan Poe; he narrates, comments and channels the writer. He drafted the story with precise prose and tells it in a stage style that surely must resemble those of the most famous of the English-speaking stage -- greats such as Edwin Booth, Henry Irving and the Barrymores. He speaks with cadence and gesture, delivering a polished prose weighted and precisely articulated, commanding the attention of the audience.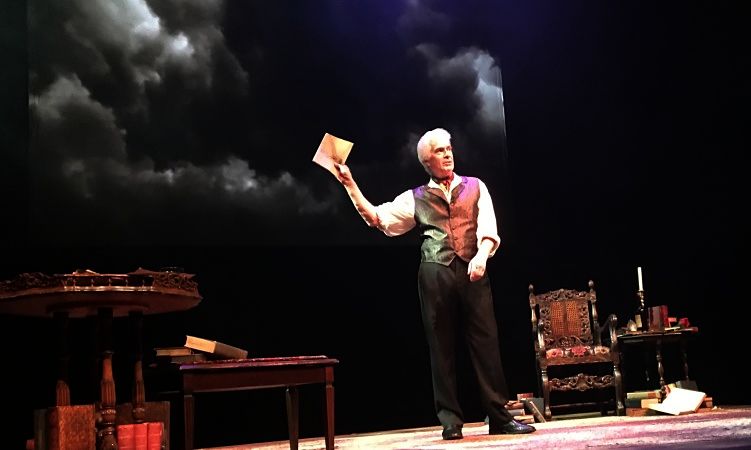 Douglas brings the audience closer to Poe the master stylist by articulating three key works from the canon. His keen sense of the verbal power of Poe's words is further emphasized by his stylings of each of them. His pacing and articulation of the 1842 short story Eleonora put its prose into form very closely resembling Shakespearian iambic pentameter, and his telling of murder, auditory hallucination and madiness with the The Tell-Tale Heart from 1843 establishes high tension with jumpy rhythm and the growing surge of revelation. In the last tour de force of the evening Douglas tells his audience the story of The Raven, published in 1845. This is a work of spooky force, powerful with repetition and metrical tic-toc, a poem that has delighted virtually every school child. Preserving every word and rhyme, Douglas nevertheless turns them into a hypnotic prose-poem that somehow elevates the imagery above the form.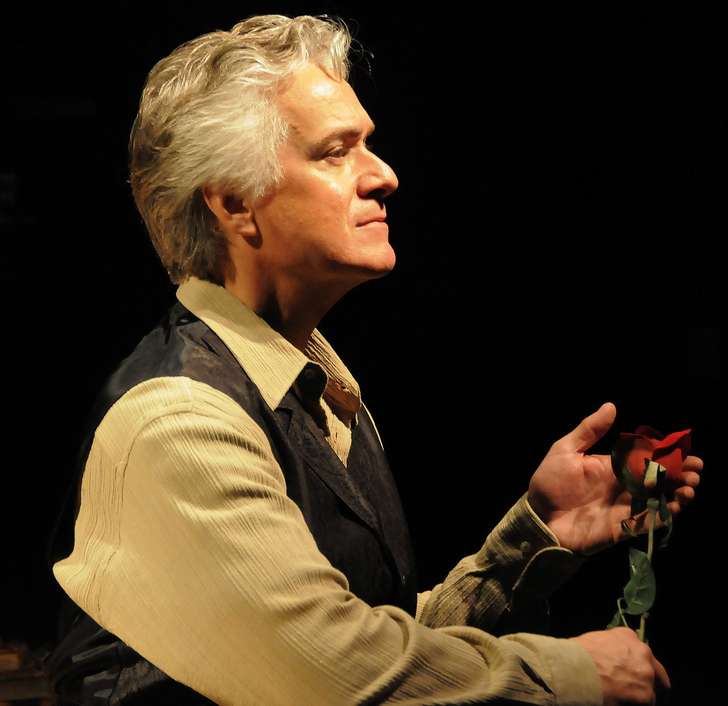 Lucien Douglas could have captivated us even if he'd performed this piece out at the intersection of San Jacinto and 23rd Street by Darrel K. Royal Memorial Stadium, literally a stone's throw from the Winship Theatre Building. He performed versions of it in 2009 at UT and in Smithville in 2011. The Department of Theatre and Dance gave the three 2016 performances royal treatment. Not only was there theatrical fog and dramatic lighting but the production team of Benjamin Campbell, Rusty Cloyes, Nathan Duncan and Paml M. Hanvey created video and sound effects that brought that Romanticism right up into the 21st century.
The undergrads in the audience with me on opening night didn't utter a peep, intrude with a ring tone, stir in impatience or even applaud at any moment during the performance, despite blackouts and one-man tableaux that decisively separated the segments. At the conclusion they applauded, whooped and hollered. They understood that they'd seen something extraordinary.
Douglas took the plaudits like a pro, bowed and waved, retreated and then stepped forward. He held up a hand to silence the tumult.
"Say," he said, "Would you like to hear a funny story?"
He grinned, stepped back to further applause and waved goodbye, master of the stage to the last second.
You've got to know your craft and know your audience. Razzle-dazzle 'em. And let 'em know they've been razzle-dazzled.
EXTRA
Click to view the program sheet for Lucien Douglas's A Shadow Among Strangers.
---
A Shadow Among Strangers
by Lucien Douglas
University of Texas Theatre & Dance
Wednesday-Friday,
September 07 - September 09, 2016
September 7 - 9, 2016 at 7:30 p.m.
Admission is free; seating is limited.
Parking Information
The University of Texas at Austin requires all faculty, staff, students and visitors to pay for parking on campus. All parking on campus - both ADA and non-ADA requires a permit or payment of fees.
Discounted parking ($6) can be purchased online at: https://utcofaparking.clickandpark.com/venue. Select "College of Fine Arts" as your venue to find links to parking for this event. The discounted parking is only available online until 10:00 p.m. the day prior to the event.
$12 Event Parking is also available for purchase in-person on the day of your event at the entrances to the surrounding surface lots and garages.