Review: A Midsummer Night's Dream by Texas State University
by Michael Meigs
Opened just a year ago, the Patti Strickel Harrison Theatre at Texas State is a first-class facility, ample both inside and in its exterior spaces, spacious but at the same time snug. But you may find yourself disconcerted, even disoriented as you wait for the beginning of A Midsummer Night's Dream, for the stage is bare. You can see all the way to the cinderblock stark walls in the depths of the performing space. At stage center is positioned a single-bulb standing lamp -- the 'ghost lamp' of traditional theatre, left burning to give arriving tech crews enough illumination to find the other switches. Or, since by tradition all theatres are haunted, to keep the ghosts at bay.
In this production those ghosts are not long in arriving. The lamp flickers, the metal door in the depths of the playing space opens, and a lithe young woman with wild red hair lopes across the stage. Instants later, a tall, slim man sails onstage aboard a skateboard. He spies a discarded top hat of red felt, scoops it up and puts it on. She fishes in a trash can left onstage and discovers the frame for a bustle. And there's a large book with a red cover, bearing the title of the play. Intrigued but nonchalant, they open it and discover dialogue:
He: How, now spirit! Whither wander you?
She: Over hill, over dale,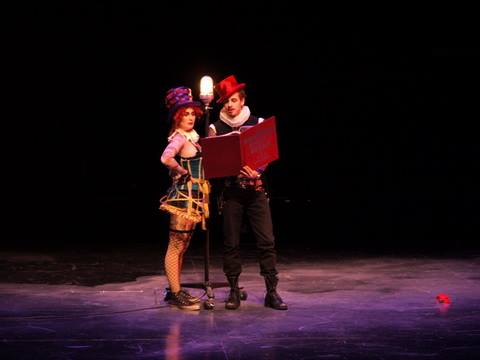 Through brush, through briar,
Over park, over pale,
I do wander everywhere,
Swifter than the moon's sphere.
They grin and giggle at those lines from Act 2, Scene 1, then outdo one another with magic tricks. A finger-snap brings down drapes to the side of the stage; another sends a scrim tumbling down to mask the rear wall; another gesture summons illuminated chandeliers down from the flies. A projected moon appears, huge and serene. Our two ghosts are spirits of the theatre, and in a twinkle they've set the stage and called the actors. The play begins with Act 1, Scene 1, as angered father Egeus (Charles Werner) appeals to Duke Theseus (Nick Ortiz) to oblige Egeus's daughter Hermia to bend to his will.
The Tragedy of Hamlet is the most admired of Shakespeare's plays, but A Midsummer Night's Dream is almost certainly the most enjoyed. Shakespeare amuses us with fast-moving multiple plots, presenting two royal courts (Athenian and fairy), a clutch of foolish and changeable lovers, and a fine pack of rude mechanicals, hard-handed men who aspire to perform theatrical art. I've seen this play so many times that I've lost count. In his World Theatre Day address in 2010, Austin theatre artist and scribe Robert Faires commented that Midsummer and a handful of other works "circle round again and again like pop songs in heavy rotation. In fact, Austin theatre companies have a curious tendency to remount all kinds of plays that were staged in the area within the past 10 or so years, as if it were part of the city's recycling effort."
So my inquiry to director Chuck Ney -- and implicitly, my challenge -- was, 'How are you planning to make Midsummer new?' On the evidence of this production, running only through this Sunday, he and his capable, attractive cast have wrapped the familiar text up in spectacular theatre magic, drawing on the strengths of Texas State. The Harrison Theatre itself is the first of these, a physical metaphor for the possibilities of theatre art, cleverly demonstrated by Ney's framing device. Equally on display are the university's deep resources in dance, musical theatre and costuming, as well as an array of undergrad talent sufficient to populate the stage two and three times over. There's a single faculty member onstage: Neil Patrick Stewart in the role of Oberon the imperious fairy king.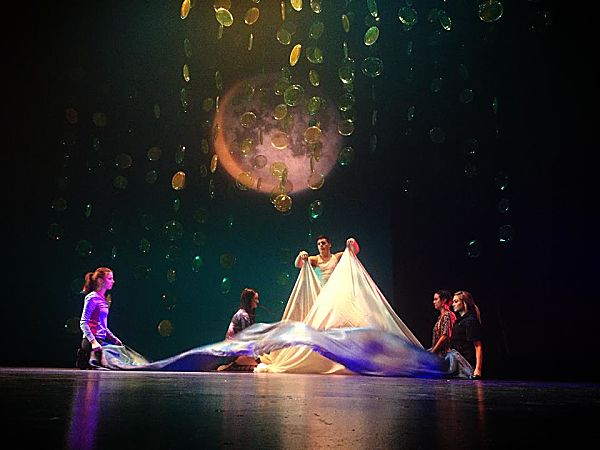 Ney, choreographer Lynzy Lab, and designer of sets and costumes Michelle Ney take the play far from imaginary Athens and render it in a generally contemporary setting in which the fairy kingdom is distinguished with a healthy dose of steam punk, hip-hop, music video and Texas contemporary. This attracts and amuses the attending audience and doesn't impede the plot in the least. Kailyr Fazier as Puck/Robin Goodfellow matches appropriate swagger with a cool mastery of his skateboard; Sydney Roberts as his correpondent the First Fairy is a Raggedy Ann via Bertold Brecht. Once they've set the action going, they hop down to occupy their seats in the audience, first row center, and they don't hesitate to offer directorial corrections that the players dutifully incorporate. Roberts stepped into this role at the last minute but you'd never know it, given her confident, clever delivery.
Drake Shrader as Bottom the weaver dominates the mechanicals, as he must. He's a lovably boastful presence, a fine comedian with an excellent sense of timing and contradiction. These guys are summoned onstage from trapdoors, boogying in surreal circumstances, half-puppet, half other worldly, but once that trance passes and they engage, they're as fine a vaudeville troupe as any I've seen. Personalities are sharply delineated, and Ney gives them lots of comic business. Kurt Engh does organizer Peter Quince as sweetly earnest and much put-upon; big Tommie Jackson as Snug the joiner (also the lion) is deliberate, courteous and astonished; Thomas Miller is a manic Flute and Thisbe; and Joseph Nicholson as Robin Starveling/Moonshine quite steals the show with his reactions when Bottom mimes Pyramus killing himself (an action that never ends). Joshua Martinez as Tom Snout/Wall is solemn, sweet-tempered, and deliciously ridiculous when he appears festooned with Lone Star beer cans to represent Wall.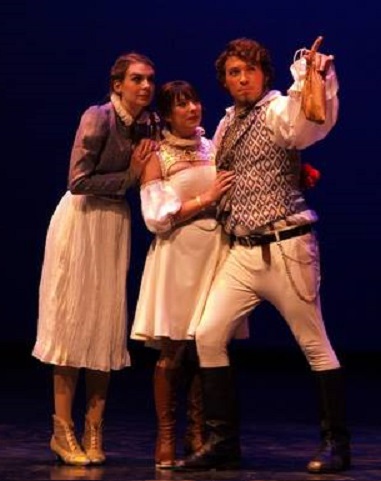 The quartet of lovers is comic in a different way: infatuation is to some extent its own punishment. Their wrangling in Act III is amusing, and Ney has given them some commedia dell'arte moves that visually emphasize their conflicts. Roberta Ahrens as Helena the tall and Taylor Scorse as Hermia the small are nicely cast, but the speed and generally high pitch of their complaints might make the language difficult to follow for those who don't already know the text well. The tall-small contrast is visible, but Ney's blocking generally doesn't play on it. Another concern, at least for those of us in the closer rows, was Ney's tendancy to offer separate centers of interest in their scenes, widely separated on the stage. For example, Hermia and one of the beaux would be debating at stage right while Helena was doing her best at stage left to fend off the other.
Updating at least one insult brought the emotional content home to the audience. Lysander (Evan Davies) rejects the confused and pleading Hermia, derisively calling her a 'bitch' -- an ungentlemanly epithet that doesn't exist in the original but brought a collective gasp from the house.
Fairyland is anything but the gauzy twinkling of 19th century England. Stewart's an imposing, studded, masculine King Oberon and Brianna Ripowski as Titania has got a good deal of Wonder Woman about her. Her fairy attendants have the strength and confidence of steam punk toughies, a fact that emphasizes all the more the contrast between Shrader as the genial Bottom/Ass and the inhabitants of fairyland. Fairyland music and dance is powerfully Brechtian.
The Texas State Midsummer Night's Dream tends to push action, flash and bedazzlement. It's captivating. The production runs three hours, including the single 15-minute intermission, but that time passes in a flash. At times the images in Shakespeare's language are waved at us rather than explored (for example, Puck's catalog in II, i, of his mischiefs, delivered in detail but summed up swiftly in gesture). This is exciting Shakespeare, and I'm pleased to report that not a single one of the Texas State students around me felt the need to pull out their i-Phones during the performance -- despite the fact that the company didn't bother with the now-customary admonition about phones, buzzing and texting.
---
A Midsummer Night's Dream
by William Shakespeare
Texas State University
November 18 - November 23, 2014
November 18-22 at 7:30pm and November 23 at 2:00pm
Individual tickets start at $15 for adults and $8 for students, and may be purchased by phone at 512-245-6500 or online at txstatepresents.com.