Review: A Funny Thing Happened on the Way to the Forum by City Theatre Company
by Michael Meigs
City Theatre's staging of A Funny Thing Happened on the Way to the Foreum has all the cheery exuberance and somewhat retro fun of a toga party at a frat house -- do the on-campus Greeks do that anymore, or has such innocent naughtiness disappeared in today's overload of digital ersatz sophistication? If so, too bad for them; this evening of capers led by R. Michael Clinkscales is merrily nonsensical, a Sondheim/Shevelove/Gelbart celebration of the 'tricky slave' rom-coms of the Roman (not Greek) theatre of Plautus.
A Funny Thing. . . . works a vein of comedy with origins around 200 BC, but by now, though very much alive and perhaps even timeless, it's something of an artefact itself. Staged in 1962 -- 53 years ago -- it was the first production for which Stephen Sondheim wrote both lyrics and music.
Its now familiar and ever catchy musical numbers are all here. The opener A Comedy Tonight is begun by Clinkscales as Pseudolus, the clever slave yearning for his freedom, and is taken up by the full cast. They're an impressively large gathering, 18 in all -- so many that one wonders if half of them aren't obliged to wait outside in the parking lot until called, given the limited backstage areas of the City's comfortable little 85-seat theatre off Airport Road. The cast's youth matches its exuberance. That is entirely appropriate since at heart this is a send-up of youthful intrigue outwitting watchful and concupiescent old age. And that, for sure, is an eternally renewing theme.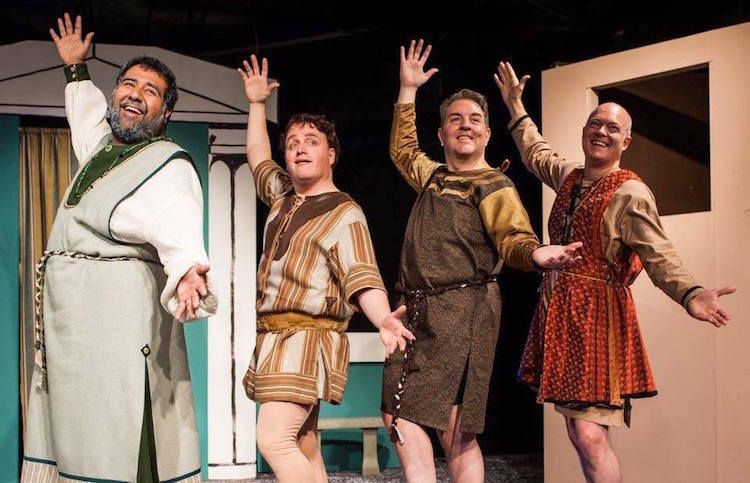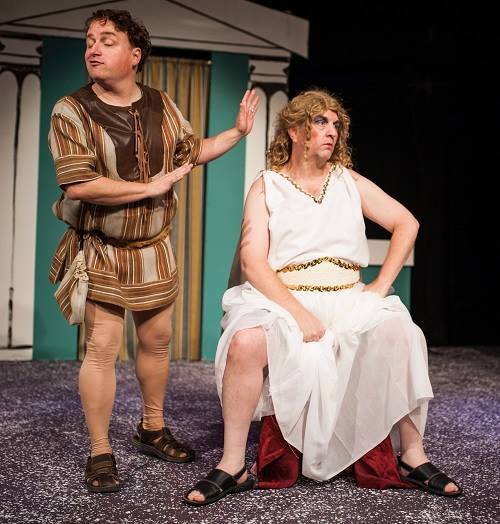 The 'front men' are slaves and knaves: on one hand Clinkscales as personal slave to his love-smitten young master Hero (Richard B. Hall) and Jeff Phillips as the ponderous major domo Hysterium left in charge while the masters are away, and, on the other hand, Lycus the local brothel keeper (Bill Claussen, come up from Wimberley to the sinful delights of the big city) and Carl Gonzalez as Hero's father, eager to taste of the panderer's wares.
Michael Clinkscales is always fine comedic value. Zero Mostell originated the role of Pseudolus, but given his weight and girth Mostell was more leer and lyric than pratfall. Clnkscales has the quiver and rubber-faced grimaces for the role, but he also has a bounding physical energy. Philips as Hysterium is a fine deliberate distrustful foil, and the two work together with the familiar ease of a vaudeville duo. Hysterium in drag in the second act is, yes, hysterically funny as his prissy dignity struggles with his pretended role as the unfortunately recently deceased bride purchased sight unseen by swaggering soldier Miles Gloriosus.
This production entices you with its humor, candor and energy, so that you willingly excuse some incongruities and low-budget aspects. There are some: the sets are rudimentary but serviceable, the costumes include some improvised low-budget assemblages that might have been draperies in earlier life, and the orchestra is really Clifford Bond's hard-working hard-pounding piano at stage right, backed up behind the side curtains by Ian Geyer's drums and Chris La Cava's bass. Devin Adams as the threatening warrior Miles Gloriosus certainly has the height and good looks for a leading military man, but his lean build hints that he might be better at Asian martial arts than Roman ones.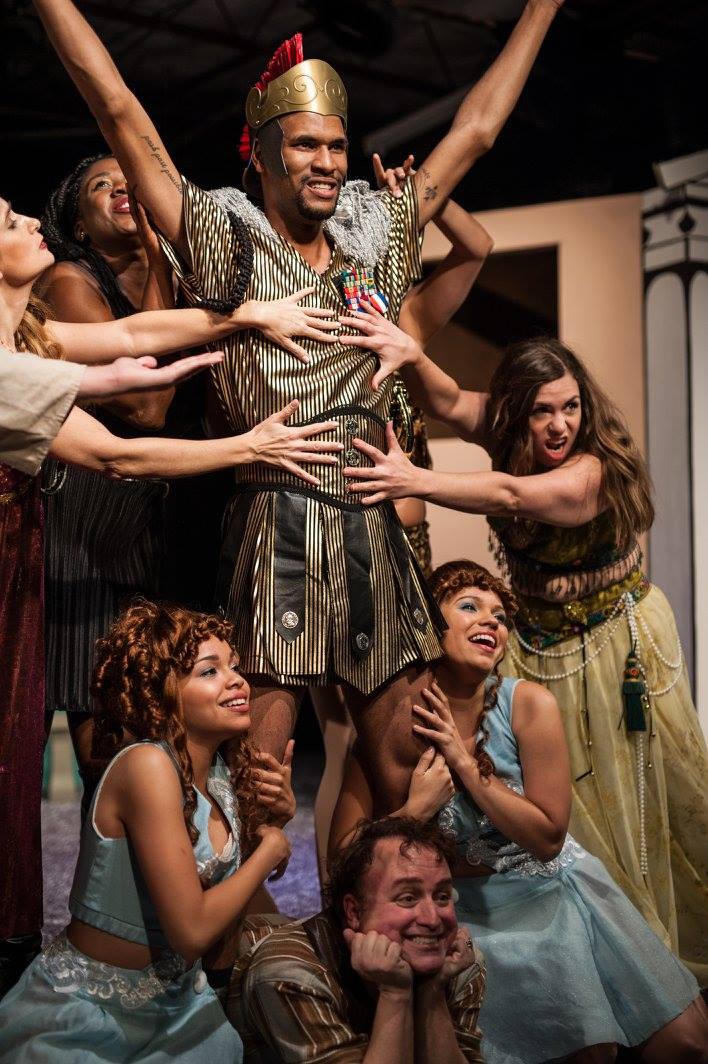 The photo above confirms one particular bit of casting and costuming legerdemain: the Geminae (twins) on either side of Adams and Clinkscales, played by Emily Villarreal and Cherry Mendoza, really do look like twins!
The comic parents Senex and his wife Domina (Jennifer Tucker) constitute a sly visual joke (Gonzalez large and dour, Tucker short and emphatic). Tucker doesn't have a lot of time onstage, since her departure to visit distant family opens the way for shenanigans; but she opens Act II with a barrel-house lament about her husband, That Dirty Old Man, done in fine voice and cadence and with some clever clowning.
Hall as Hero (who's not really a hero at all, but rather a moonstruck adolescent) and Becky Musser as the object of his (and his father's and of the soldier's) affections are necessary cogs to spin the plot along, for Hero promises Pseudolus his freedom but only if Hero can obtain the damsel. The youngsters' duo (I'm/She's) Lovely is both a love song and a self-love song, suggesting sweetly what fools these mortals be.
I had an additional and unexpected reason to enjoy these antics directed by Missy Barnes with the assistance of Joe Falocco. I have finally finished loading the new CTX Live Theatre web platform with all the reviews published since it began as a simple blog in June of 2008. The first review I wrote, never suspecting all the art that was awaiting me, was of Don Toner's staging of A Funny Thing Happened on the Way to the Forum at the former location of Austin Playhouse. And this piece appreciating the City Theatre production of the same work is the 600th review I've written about Central Texas live narrative theatre.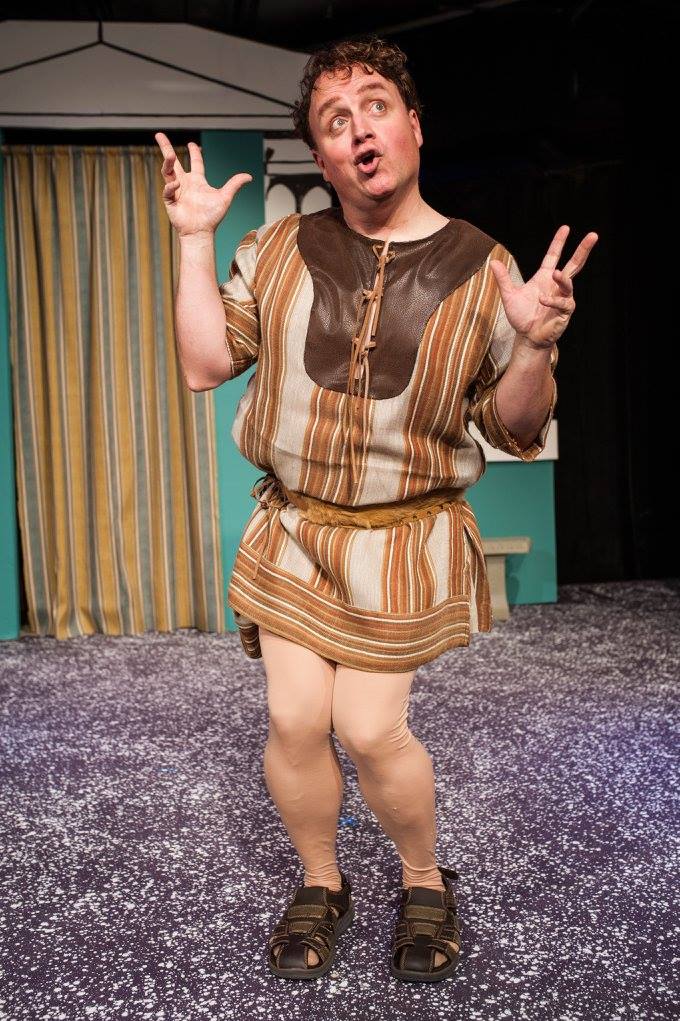 Now if that's not sufficient reason for a toga party of celebration, I don't know what is!
EXTRA
Click to view the program of City Theatre's production of A Funny Thing Happened on the Way to the Forum
---
A Funny Thing Happened on the Way to the Forum
by Steven Sondheim, Burt Shevelove, Larry Gelbart
City Theatre Company
Thursdays-Sundays,
August 28 - September 20, 2015
Thursdays - Saturdays at 8 p.m., Sundays at 5:30, August 28 - September 20, 2015
Tickets $20 - 35 plus service fees via