Review: A Delicate Balance by The City Theatre Company
by David Glen Robinson
City Theatre has taken on the challenge of producing Edward Albee's A Delicate Balance in this their eighth production season. Andy Berkovsky and his production team are gaining a reputation for boldness in taking on such challenges. Albee fans will flock to City's shopping center theatre on the east side to see this one and they will be pleased with the results.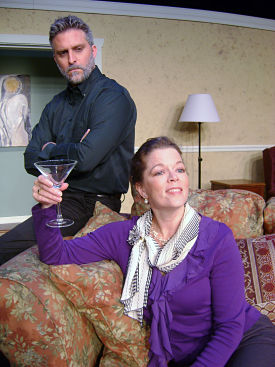 In his program notes guest director Fritz Ketchum points out the mysteriousness of Albee's dense language, a quality that heightens the appeal of a play for audience members who'd not ordinarily be interested in distressed, up-scale, heavy dialogue plays about alcoholic families. The term balance in the title may be something of a red herring, for everything and everyone in this play is out of balance.
The mysterious appeal of the work lies not just in the words but also in the imagery. Most of the family members give speeches, tell stories, and relate dreams. Almost all these word pictures depict the horror of the failed family of a successful businessman, Mr. Everyman (Tobias, played by Scott Kelly Galbreath). We hear about imagined mass murders, graphic symptoms of advanced cirrhosis, sexual dysfunction and a vague social terror spreading through this up-scale neighborhood and everywhere.
Claire, sister of Toby's wife Agnes, is the tippling self-invited long-term family guest who contrasts with the family's overall uptightness with her outspoken honesty, fueled by steady inhibition-relieving doses of alcohol. Suzanne Balling plays Claire as a blend of juices, including most prominently concentrate of shrew, virago, and termagant. She is valuable to the play for penetrating the outer protective layers every family keeps in place. This driving quality forces public introspection; but I suspect no real family would tolerate Claire for more than five minutes. Balling's Claire provides a mouthful of jabs, thrusts, and parries but complements these with a vast array of physical gestures and movement qualities. Balling is the complete actor. A special treat is her accordion playing -- musically Claire is quite good but she uses that accordian as an acoustic blunt instrument intentionally to irritate the other characters.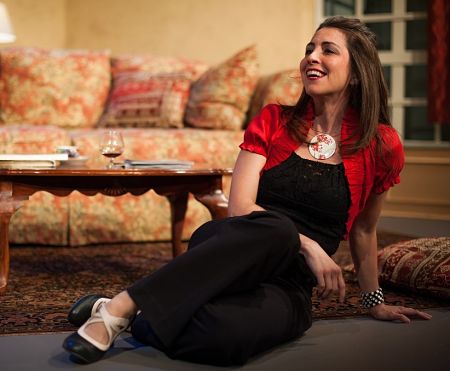 Suzanne Balling doesn't get to have all the fun. The others in the cast destroy each other on cue. Tracy Hurd as wife Agnes is the wheel horse of the play; she's the sharp-tongued wife, mother, and sister to three other characters. Scott Kelly Galbreath plays Tobias, patriarch of the crumbling family and successful businessman. Galbreath plays the Dad a little too nobly and Zeus-like for this reviewer's taste. Corporate America is somewhat too hurly-burly to produce agonized philosophers. Tobias tries to rise to Olympus but descends into confusion (I recommend losing the Athenian hoplite beard for starters). Albee may or may not have been going for the Theban cycle, but either way he didn't make it, so let's get on with our lives.
Kristin Chiles plays Tobias's daughter Julia, who, upon returning home after the tanking of her fourth marriage, is offered a drink, unrelenting mockery, and scorn. In her breakdown scene she menaces the entire family and friends, providing the frisson of horror we all love.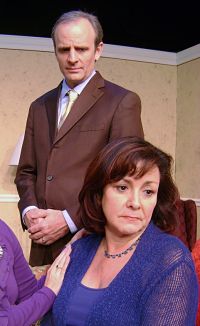 The aspect of keenest insight in this play is the highly contrastive pair of best friends, the couple Edna and Harry. Edna is played by Lynne Gellman and Harry by David Lee Hess. They show up to move in with the family after being struck by the nameless terror, sheer fear that afflicts many in the neighborhood. They simply could not stay in their home. This circumstance gives a strong surreal overtone to the play. The actors convey beautifully this powerful anxiety. A couple of stiff belts cannot bring these two characters down from high shiver. Ms Gellman is nevertheless especially vicious at ridiculing her goddaughter Julia for having been giving four strikes at marriage and whiffing them all.
The set gives generous play and bar space to a fairly large cast and is up to the generally "who cares?" standards of City Theatre. The lighting design is expressive. The now regularly ghosting and flickering instruments give visual background to the atmosphere of quivering anxiety inherent in the play. So that's a net plus for set and lighting design.
A special credit should go to the unnamed production assistant who washes the glassware every performance night; there is really a lot of drinking in this play. And this points to an unsettling quality of the production. The play takes place over a weekend, and characters typically down three cognacs in one scene, three martinis in the next scene and keep going in that fashion. By Sunday morning there should have been, with even well conditioned livers, a few artful staggers, slurring of nonessential lines, and hangovers that pixilate reality. The cast showed none of these effects. Instead, they turn a few gags about drinking before 7 am on Sunday. In fairness, alcohol side effects and their performance may have been viewed by director Ketchum as niceties to be avoided so as to keep from muddling the message and to prevent overburdening even this capable cast.
City Theatre's production of Edward Albee's A Delicate Balance correctly and wisely keeps the focus on Albee's language, dialogues and stories. Other production aspects are pushed to the background to focus on this bizarre and abstract family. Theatregoers who care for other than dialogue-heavy plays may nevertheless enjoy lively character performances. Albee fans will want to put this edition of the play in their collection.
Regardless of one's preferences, A Delicate Balance is an important play. It was written in 1966 and was awarded a Pulitzer Prize in 1967. Although it reflects and explores the dystopian past of the 1960s, it remains surprisingly current. Perhaps for Albee's insight that anxiety and despair live with us always; in our homes, in our families, and with our friends.
---
A Delicate Balance
by Edward Albee
City Theatre Company
May 2 - 25, 2014, Thursdays - Saturdays at 8 p.m., Sundays at 5:30 p.m.