Review: A Christmas Carol: A Rockin' Musical by Zach Theatre
by Michael Meigs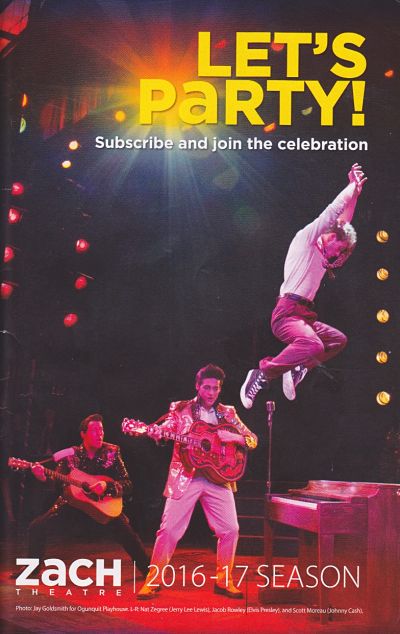 That glossy Zach Theatre program produced by PAPI is emblazoned with a leapin' rock 'n' roll picture and the bright legend LET'S PARTY! It reflects precisely director Dave Steakley's creative aim with this third iteration of A Christmas Carol. It no longer carries the explanatory gloss A Rockin' Musical, but that's exactly what it is -- more than two hours of lively entertainment, offering covers of pop music and swift-moving stage choreography to amplify the story of Ebenezer Scrooge.
You never quite know what's going to pop out of those spectral surprise boxes, but the superb quality of the vocals and the lavish imaginings of Dallas-based scenic designer Bob Lavallee assure that you'll be bedazzled. Steakley and the theatre may have saved a penny or two by dispensing with live music, but they put many a dollar into the talent and decoration.
This rousing production has roughly the same relation to Dickens' modest Christmas novella as Austin Halloween celebrations have to dying and the Beyond: the holiday is an invitation to party on down. The dancing-in-the-aisles atmosphere is intensified post-intermission after the good-hearted charitable gentlemen and ladies of the audience have contributed to theatre education programs by purchasing bouncy flashy light-sticks to wave. Folks happily gave themselves to be swept away by immediately recognizable pop music. I was no exception. Even though I heard one unpardonable asshole seated behind me who was persistently singing full throated along with the lead, not holding back for the mere chorus.
There is a risk, not entirely resolved, that with this gladness and energy the basic story and its simple appeal will be submerged if not entirely swept away. This is, after all, the intimate story of the conversion of a curmudgeon and the saving of his soul -- both in this world and in the next. Austin favorite Harvey Guion portrayed Scrooge in 2014 and 2015; for this year's staging Steakley turned to Jaston Williams.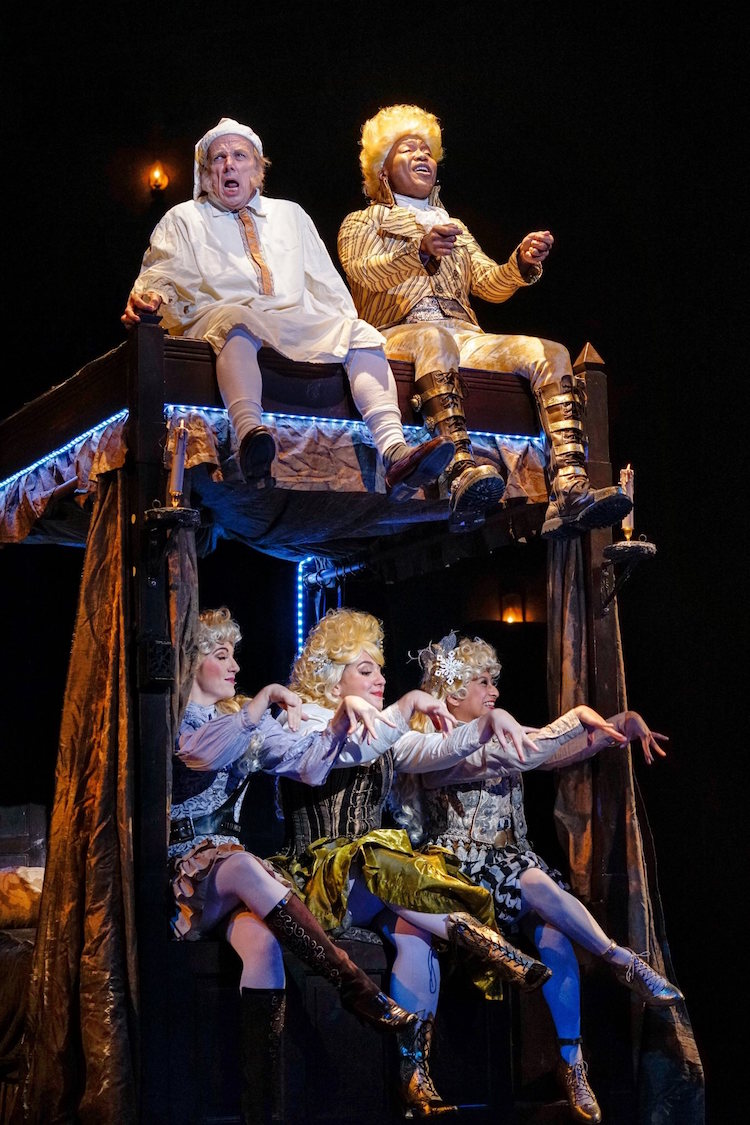 Both a gifted actor and a celebrity, Williams the resident of Lockhart is an almost-local boy, so his acceptance of the non-singing lead in the musical gives it a further boost. Dialogue is virtually verbatim from Dickens' tale. Williams knows how to do both dour and grandfatherly, both ends of Scrooge's character. With his first appearance he stamps this characterization unmistakeably as his own with a striking and clever reading of Ebenezer's signature comment "Bah, humbug!"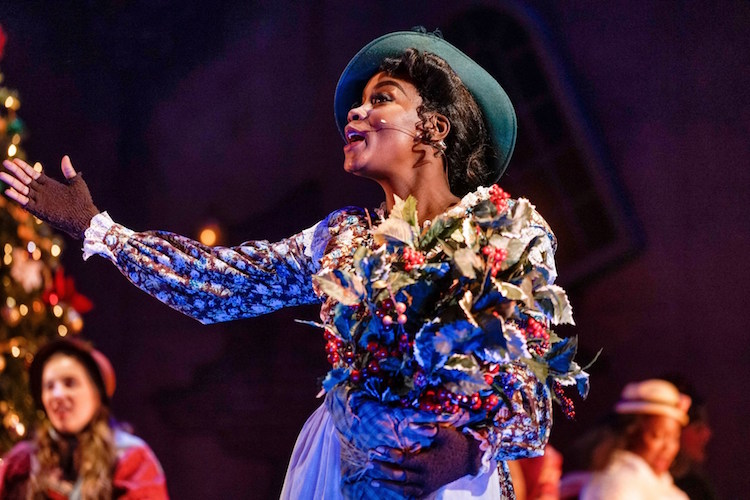 Musical numbers aren't listed in the program. The director has chosen them from across the late twentieth century, so the odds are that you've enjoyed them on your car radio, at the disco or at a gospel brunch. They're almost all up-tempo. I don't recall a single Christmas-muzak moment. There were in fact few strictly Christmas moments at all. Steakley's choices at times stretch the story but with these performers they never break it. And the emotional color of the evening always comes back to celebration.
And how about those voices! Steakley serves up a production with more elegant delights than a mail-order fruitcake from Neiman Marcus. Michael Valentine as dapper Nephew Fred; big booming Roderick Sanford as Marley, Fezziwig and the nameless genial pastor of the Ebenezer Baptist Church; Kenny Williams as the golden-wigged and deliriously comic Ghost of Christmas Past; Chanel Haynes-Schwartz strutting her rhythm-and-blues as the Ghost of Christmas Present -- each of them is a performer around whom you could build a whole ecstatic show.
And others ambush the audience with standout numbers -- Marianel Marquez with a soaring aria from the Crachit hearth, for example, and Tyler Jones, who shows that even white boys can master the joy of hip hop. The culmination is Bob Crachit's virtual apotheosis when Paul Sanchez at center stage embraces and delivers a profoundly moving operatic version of O, Holy Night. The audience leaped to its feet in a prolonged ovation.
This level of action and energy is a challenge for any cast. Sara Burke was out that Friday evening; Paul Sanchez had to yield his numbers for the Sunday matinee because of illness. Substitutions by understudies and swings are announced, however, and they're fully capable of making sure that the show goes on.
These performers will be hard at it from now through the end of December. A check of the Zach Theatre website reveals that houses are very nearly sold out already; your best shot might be Tuesdays or Wednesdays late in the run.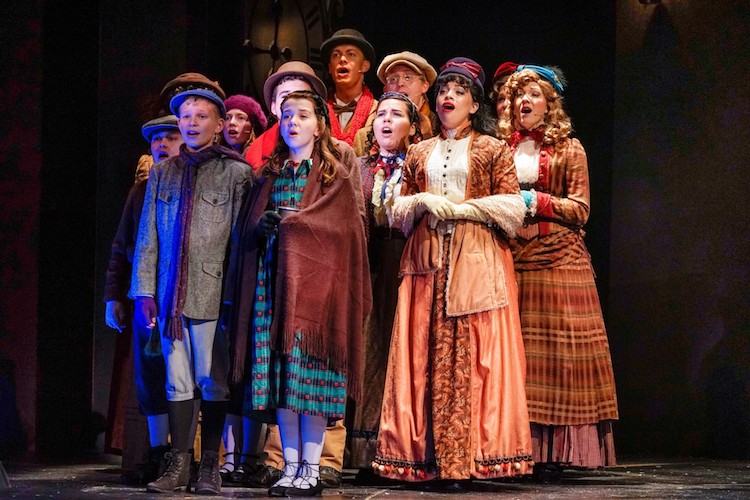 One particular and intended pleasure of this staging is the emphasis on diversity. Of musical genre, of course, and certainly of race and color. The assembly of Crachit foster children offers an emblem of charity and acceptance. A similar principle must have applied in the selection of ensemble members, for these dancers and singers are not the Barbie-and-Ken types typical of national touring produtions. In the course of this busy two hours upon the Topfer stage you'll be picking out and following favorites among the followers: Kim Stacy, boisterous as Mrs Fezziwig and the larcenous laundress, Vincent Hooper the charitable gentleman, the tall and graceful straight arrow Boyce Templin, perhaps, or any of the crowd of gifted young folk from Zach's pre-professional programs.
One thing you can bet on: this rockin' Christmas Carol will be back next year.
EXTRA
Click to view excerpts from the Zach Theatre program for A Christmas Carol.
---
A Christmas Carol (Zach Theatre)
by Dave Steakley, adapting Charles DIckens
Zach Theatre
Wednesdays-Sundays,
November 23 - December 31, 2016
Click to view a feature at www.SoulCiti.com, December 5, 2016
Tickets start at $25 and are available online at www.zachtheatre.org, by phone at 512-476-0541 ext. 1, or in person at the ZACH Theatre Box Office, in the Topfer Theatre, 202 South Lamar Blvd. (corner of Riverside Drive and South Lamar Blvd.) Monday through Saturday, 12 noon – 5 p.m. ZACH Theatre is wheelchair accessible. Discounts are available for groups of 8 or more. Student Rush Tickets are $18 one hour before show time (with valid ID). Wednesdayevenings and Saturday matinees feature arts industry professional pricing.