Review: 1000 Forest Gorillas in Kansas by Salvage Vanguard Theater
by Michael Meigs
This short evening with Heloise Gold and Natalie George was an Easter egg basket of surprises. You'd hardly have expected less, given advance word that these two clever collaborators holed up in Kansas for four days with former Austinites Josh Meyer and Matt Hislope of the Rubber Repertory.
Unpredictable and sometimes puzzling, the scenes that popped out of those notional Easter eggs may or may not have constituted an explicit story but they were tied by several themes: the safe comfort of a home kitchen, agile miming of the primates of the title, a near-primal obsession with near-language, overflowing emotion, the capture and conquest of spectators through vivid presence, the actor-dancers' discovery of the expressive possibilities of body, posture and movement.
1000 Gorillas in Kansas began drive-in-movie-style with enigmatic projections of unidentified hands jotting cryptic messages about writing in cursive, projected on a wide screen just a few feet from the front row of seats. Two markedly different scripts flowed from the writing instruments. After that short non-introduction the screen was whisked away and we saw what appeared to be a suburban kitchen in the far depths of the SVT black box.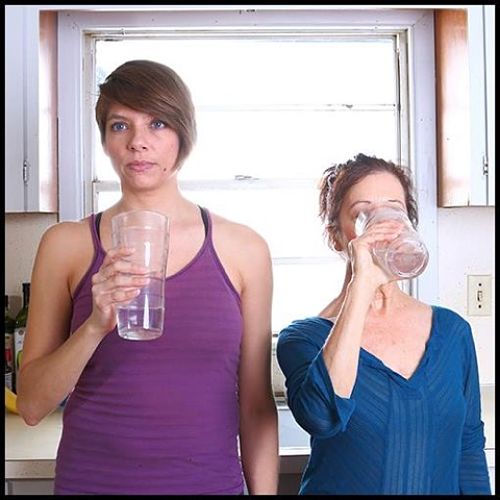 They're a striking pair from the first moment they appear: George the sturdy, graceful caramel blonde and slim, quick,Gold, a head shorter and a number of years more senior. In an opening series of movement exercises, they worked at first as a pair, moving intently through matched movements, and then singly, each yielding the space and watching thoughtfully the evolutions of the the other.
The spectating partner retired to that plain kitchen set and eagerly sipped water from one of the tall red plastic cylinders that stood on the island counter. Most of this was carried out in deep silence. Unaccountably, a screen set in the kitchen window was tallying the number of sips of water.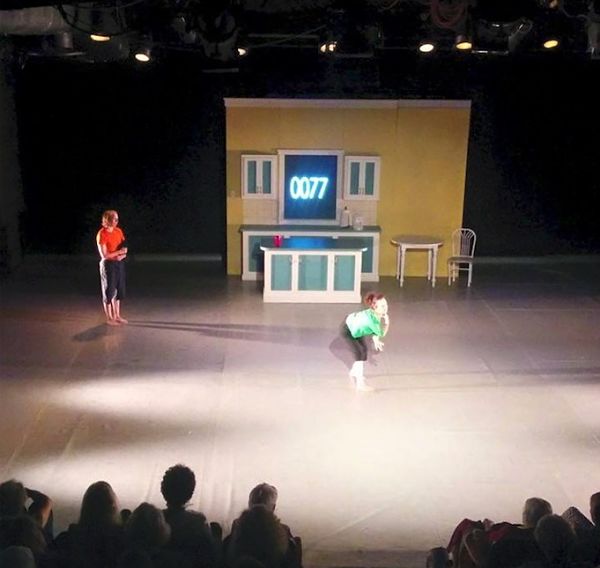 Tim Mateer noisily entered the theatre from the swinging doors behind the audience stand, stepped into the playing area and stopped, apparently nonplussed. Ignored and perhaps invisible to the others enraptured in their movements, he made his way to the kitchen, watching them intently, and he, too, partook of the water. Mateer would appear several times later, usually as that mute and baffled spectator watching from the apparent safety of the kitchen space.
As Gold and George swayed intently at center stage in graceful dipping movements resembling actors' acknowledgements of the audience at a curtain call, Jason Phelps appeared from deep stage left. He enthusiastically beckoned others from the wings, pointing at the oblivious pair at the center. He expression was half delighted but half scoffing. Without a look backward Gold and George rapidly cast a spell on the seven watching company members, and soon all were joined in those same metronomic bows.
Scenes, initiatives, exercises in mime and acting followed, mostly without musical accompaniment. The stage regularly emptied between scenes. Gold and George were generally in the heart of the action but they weren't always there. The company was remarkably diverse of aspect and physique, suggesting that this was more a Pied Piper troupe than a ballet workshop. The assortment of male actors reinforced that impression -- we got to appreciate the very distinct physical styles of tallish Jason Phelps,of lithe and lean Justin Scalise, of Noel Gaulin's contained ecstatic intensity. I hadn't seen previous stage work by women in the supporting cast -- Ellen Bartel, Elaine Dove, Mari Akita and Randi Leigh Turkin -- but each one had flair and concentration.
The gorillas? They appeared early in solo mime representations by Gold and by George, startlingly evocative of those big passive self-absorbed great apes you've probably seen behind stout glass or bars in a zoo somewhere. And the gorillas became progressively more present in the succession of scenes, as other company members absorbed those attitudes and gestures.
That progress wasn't foreshadowed, for these folks came up with plenty of non-simian, occasionally absurdist numbers: laying down a long carpet of plastic wrap and serenely parading along it on large tricycles, for example, or undertaking a curious facing and foot-to-foot rowing exercise from the wings on one side to those on the other. Those were the only times that dialogue was heard: there was a discussion of sandwiches at Whole Foods, talk about the diminishing numbers of gorillas in the wilds ("only 700"), and finally, Phelps and Gold in a grunted and shrieked absurdist ping-pong recital of types of food.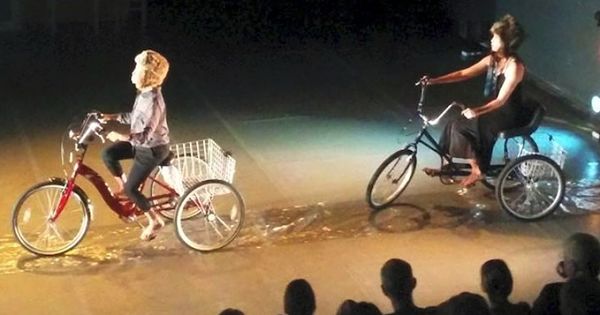 If there was a narrative and dénouement it was embodied mutely in the last, extended scene, in which all of the company members except the baffled Mateer pantomimed gorillas. They lolled, interacted, ignored one another, jumped about -- and gradually congregated on that simple kitchen set. They sat, hung or hunkered there, apparently serene, all around the clueless Mateer, as the lights slowly faded to black.
This intriguing evening brought one close to the process of creating movement and mime. The near-workshop structure almost tempted one at some points to abandon the spectator's distance mirrored by Mateer and simply to roll out into that bright and puzzling world. CTX Live Theatre is dedicated to narrative theatre and the interpretation of text, but the latent story of 1000 Forest Gorillas in Kansas is presented keenly, with wit and without polemics.
The gorillas were with us in Austin only for that one long weekend at the Salvage Vanguard. But George and Gold and their invited companions may be expected to be hanging around this forest for quite a while. Watch for them. It'll be worth the wait.
EXTRA
Click to view the program leaflet for 1000 Forest Gorillas in Kansas.
---
1000 Forest Gorillas in Kansas
by Heloise Gold and Natalie George
Salvage Vanguard Theater
Thursday-Sunday,
March 26 - March 29, 2015
The four performances take place March 26-29, Thursday through Saturday at 8:00 pm and Sunday at 2:00 pm at Salvage Vanguard Theatre. Tickets range from $18-35, and may be purchased via BrownPaperTickets