Review: George Gershwin Alone by Hershey Felder, on tour at Zach Theatre, Austin
by Brian Paul Scipione
Was he happy?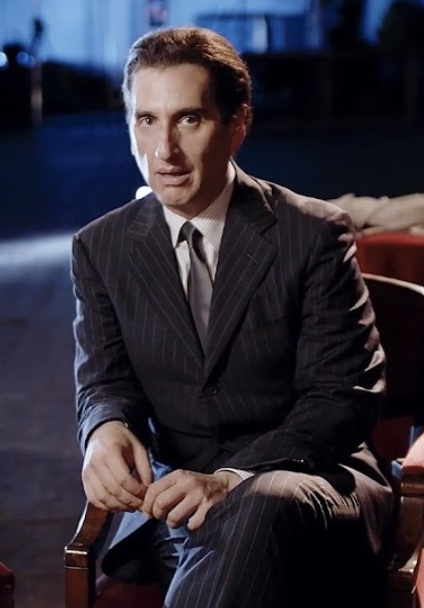 This inspired question seemed to come out of nowhere, as if plucked from the stratosphere, in order to formulate in words, the thought the whole audience was unknowingly thinking. It was asked during the question-and-answer session that immediately followed Hershey Felder's unquestionably brilliant performance as George Gershwin. This one-person show is equal parts musical and historical biopic as well aas equal parts comedy and tragedy. Well maybe not quite equal.
Today, Gershwin is synonymous with great American composer but in his short life (he passed at 38) his fortunes rose and waned as with any groundbreaking artist. Felder's play provides an intimate look at George Gershwin's life journey and pays the appropriate amount of attention paid to Gershwin's piano playing. And by "appropriate amount," I mean loving, manic, technically virtuosotic attention.
TheQ&A after the show revealed the ardent passion Felder brings to this and all his roles (the audience was also treated to a sneak peak of his upcoming Monsieur Chopin). It is not enough for him to be a great actor, he is insistent on being an accomplished singer, and an absolutely incredible piano player. Yet, this is an ironic, almost jarring reality because his execution of the character was so seamless it didn't feel like a performance.
Felder is simply one of the most naturalistic actors working today. He delivered his lines in the nasal-inflected accent of the period without being over-the-top or cartoon-like to any degree. He attacked the piano with a ferocity so visceral that he seemed to be channeling the spirit of Gershwin with all of his personal ambitions and frustrations. The crescendo piano performance at the end was the most moving —not only because of its flawless execution but also because it simultaneously served as the play's denouement and exclamation point. It was a fitting crown/coxcomb on Gershwin's personal journey.
George Gershwin's journey begins like so many. As the son of immigrant parents, he makes his way on the rough-and-tumble streets of lower Manhattan. He discovers his love of music almost by accident while playing stick ball but becomes so enthralled that by the age of fifteen he has dropped out of school to work full time playing piano on Tin Pan Alley. He publishes his first song at seventeen and not long after had his first international hit with made famous by Al Jolson. He continued to succeed and in his late twenties composed Rhapsody in Blue, one of his most famous works, still revered today.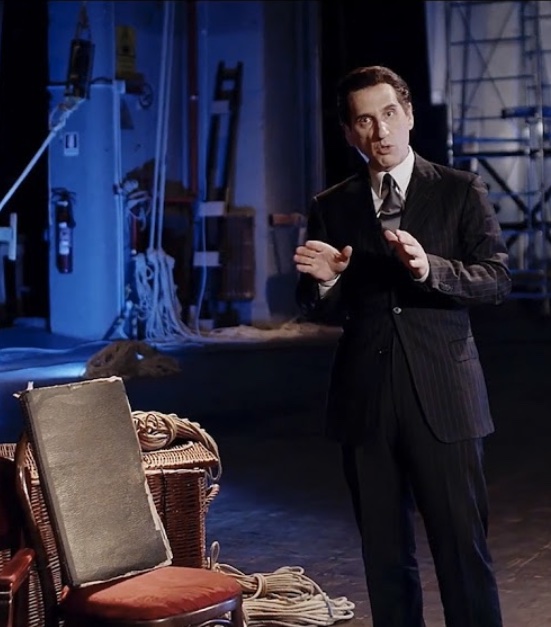 Throughout this time, Gershwin is unable to impress his parents or gain the respect of his peers but he is bolstered by a dynamic working relationship with his brother and lyricist Ira Gershwin. Felder describes them as "two parts of one brain." George is lucky and unlucky in love but ominously, he is plagued by ever increasing migraines. He is also lucky and unlucky in business. At one point he quotes Ira's quip: in song writing it's not important whether the lyrics or the melodies come first; what's important is that the contract come first.
A master raconteur speaking in the first-person, Felder reveals the story of Gershwin's life from the perspective of one with a celestial ability to look back at the facts with clarity but also with the artist's inability to separate true feelings and heart-felt emotions from the his life's trials. Felder regales us with the tales with such a lucid authenticitythat we feel Gershwin's fate is inevitable. As the saying goes, as if he has lived a life of quiet desperation.
However, every time Felder returns to the piano, we see Gershwin shaking his fist at the fates, resisting any gentle passage, and melodically raging at the dying of the light.
So, was he happy?
Felder answered the query with a subtle and tempered reply. He pointed out that Gershwin was both an artist and a genius. His very nature doomed him to be alone, even when surrounded by friends, family and the elite musicians of his day. Alone, but with many moments of happiness.
---
George Gershwin Alone
by Hershy Felder
touring company
Wednesdays-Sundays,
September 14 - October 01, 2023
September 14 - October 1, 2023
Wednesdays through Saturdays at 7:30 pm
Saturdays & Sundays at 2:30pm
*Additional performances added on Thursday 9/28 at 2:30pm, and Sunday 10/1 at 7:30pm
The Topfer at ZACH Theatre
202 S Lamar Blvd Austin, TX 78704
Tickets $28 - $110
Score up to 20% off tickets and fees when you gather 8+ friends for the same show. Don't miss the chance to immerse yourself in Gershwin's melodies and make unforgettable memories. Book your seats today!
Reserve Your Group:

CALL 512-476-0541 x245

EMAIL groupsales@zachtheatre.org

Best Group Pricing and Availability:
Pride Night: Thurs, Sept 14, 7:30 PM
Fri, Sept 15, 7:30 PM
Sat, Sept 16, 7:30 PM
Sun, Sept 17, 2:00 PM
Wed, Sept 20, 7:30 PM