Review: Who's Afraid of Virginia Woolf? by City Theatre Company
by Brian Paul Scipione
One of the commonplace declarations about the perpetually popular plays of Shakespeare is that his subjects are timeless. Another view, less often proposed, is the simple observation that they are really good (despite sometimes being something of a slog for modern audiences).
Edward Albee's Who's Afraid of Virginia Woolf? is exactly that.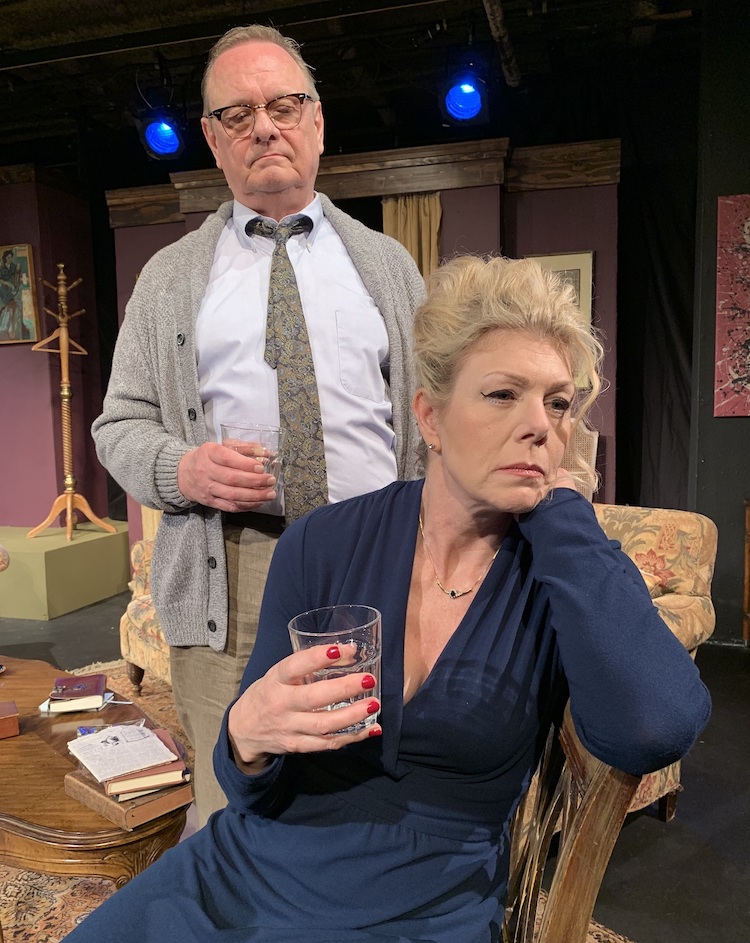 Describe the play as you will—wonderful, exceedingly clever, intellectually moving, disturbing, daunting, outright scary—but at its core it is very high quality. It is also timeless, but no one really wants to talk about that, at least not yet.
The quantity of emotional abuse doled out over the course of the plot is nothing short of devastating. The relationship between the principal characters of George and Martha is no mere reality show/daytime Jerry Springer-esque talk show meltdown. Instead, it's a full-scale actualization of the complete dysfunction of the modern American institution of marriage. Albee's 1962 attack on society was thinly disguised as Theater of the Absurd, perhaps to reassure the viewer it was mere parody. For today's audience, inundated by the dirty laundry of their neighbors, their employers, the celebrity world, and themselves (if addicted to social media), the relationship between George and Martha, while still having teeth, has a less resounding bite. At least on the surface.
A theatre of the absurd interpretation stresses existentialism, broken communications, and a cyclical plot structure that at the end of the play leaves the characters at the end of the play essentially where they were at the beginning. Who's Afraid of Virginia Woolf certainly has those qualities, but witnessing the extreme verbal violence, one becomes desperate to find an explanation or excuse to prove this was not all for nothing. Critic Martin Esslin wrote in his book Absurd Drama,
The Theatre of the Absurd attacks the comfortable certainties of religious or political orthodoxy. It aims to shock its audience out of complacency, to bring it face to face with the harsh facts of the human situation as these writers see it. But the challenge behind this message is anything but one of despair. It is a challenge to accept the human condition as it is..."
But is this, in fact, the feeling the audience takes away from the theater? When people are standing around the water cooler discussing the slap at this year's Oscars, are they contemplating the underlying philosophical causes?
The City Theatre Company wasn't afraid to look for that type of answers with this production. Director Karen Sneed creates excellent productions from challenging plays, including Glengarry, Glen Ross, Waiting for Godot, The Seafarer, Twelve Angry Men, The Miser, Medea, Crimes of the Heart, and The Imaginary Invalid. She asks a lot of herself, her cast, and her audience, presenting this play complete with three acts and two intermissions. However, this production did not feel overlong in the slightest. That's a feat lesser directors cannot match with shows of half this length.
The cast was Rick Smith as George the frustrated academic, Meredith O'Brien as his wife Martha, Carl Kraines as junior faculty member Nick, and Chiara McCarty as his wife Honey. The action was riveting. O'Brien and Smith's performances cemented the production with a tug of war of emotion, making the viewer alternately adore, despise, pity, and pull for them.
The play itself is a classic and needs only to be done justice to be watchable, but this production approached sublime. One didn't feel like like a mere spectator, for the audience is violently yanked into all the ugly happenings before them. That evening felt closer to rubber-necking a highway accident than to watching a car chase on TV.
The two lead actors were such runaway trains that they unintentionally demoted Kraines and McCarty to spectator status for much of the play. Kraines later burst to life when Nick's masculinity was called into question, while McCarty stole the spotlight for some much-needed comic relief when Honey became intoxicated.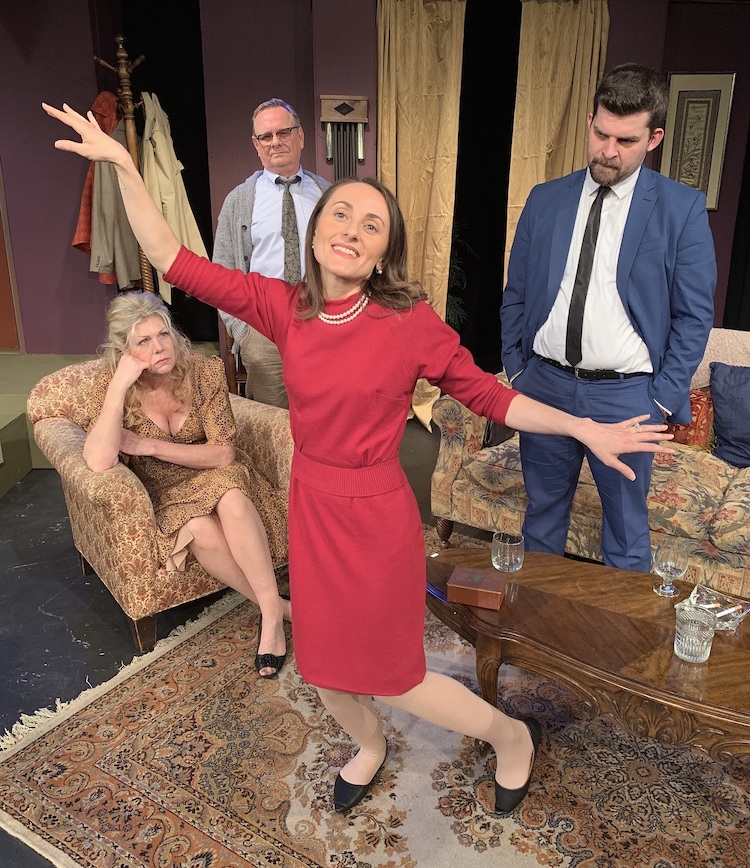 Every time I see or read this play, I wonder if Albee is suggesting that this particular night of mayhem is a once-in-a lifetime experience of if Martha and George play this routine every chance they get. The fact that it's the son's birthday seems implies the former, but the very unreality of the son suggests that there's no reason for this night to be special. Any day could be his birthday.
After this performance, I can say I hope beyond hope that the evening was a one-time occurrence, a parlor game that took on intergalactic social dimensions with a tantamount amount of emotional investment.
Hope is one thing and reality is another. Will they play this game again? I can't say for sure, but I now know that I, for one, am afraid of Virginia Woolf.
---
Who's Afraid of Virginia Woolf?
by Edward Albee
City Theatre Company
Thursdays-Sundays,
April 15 - May 01, 2022
Trinity Street Players
Black Box Theatre, 4th floor, First Baptist Church
901 Trinity Street
Austin, TX, 78701
April 15 – May 1, 2022 Thursdays – Saturdays 7:30 pm. Sundays 3:00 pm.
Trinity Street Playhouse. 901 Trinity Street. Austin, TX 78701
General Seating $15. Center Reserved $20-25. Group and student discounts.
All current COVID safety protocol to be followed at showtime.
Tkts 512-470-1100 or info@citytheatreaustin.org. www.citytheatreaustin.org