Review: Who's Afraid of Virginia Woolf? by City Theatre Company
by David Glen Robinson
Who's Afraid of Virginia Woolf? is Edward Albee's 1962 mind-bending and reality-warping play about the nasty interiors of marriages when pretense falls away and somebody, anybody, takes a wrench to the machinery that just sits there smoking. If it explodes, it will scar your retinas. That's the effect the actors strive for, anyway. Albee plays are always good for that.
Wear shades.
The play is canonical of the twentieth century Age of Anxiety period, an era that hasn't gotten much better in the twenty-first. Who's Afraid of Virginia Woolf? Won the Tony Award for Best Play in 1963, and the later film version with Elizabeth Taylor and Richard Burton took away a steamer trunk full of Oscars. Clearly, Albee, raw and ugly as his plays are, was always in touch with the the zeitgeist and the mind of America. That kind of writing like that takes courage, and many feel that his career-long cri de coeur is theirs.He should be sainted and buried in the same grave as Beckett. Who's Afraid of Virginia Woolf? may be his most exemplary work.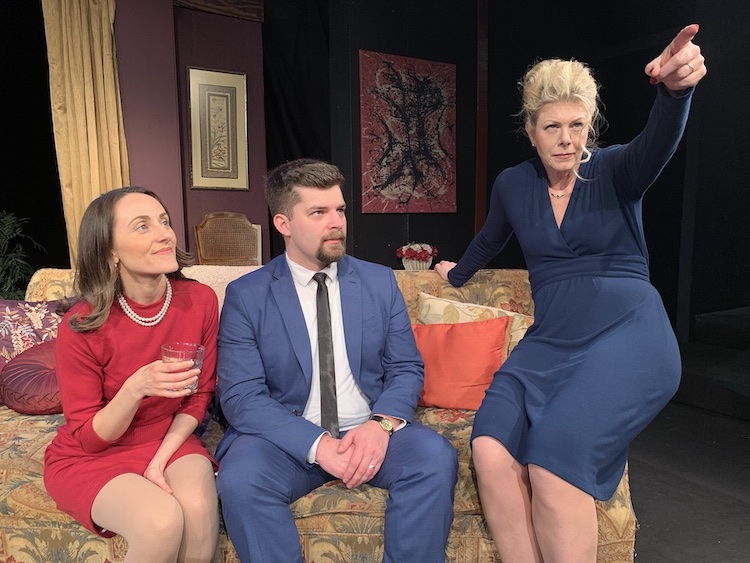 The storyline is well known. Four characters, two couples, hold an afterparty of drinks and more drinks after a faculty reception at a private college in the East. Martha and George are married, as are Nick and Honey. Conflict, marital discontent, moral lapses, abuse, anger, and hate haunt the play from beginning to end. The form of the literary plot has a single trajectory: things always get worse. Albee is a master of driving the tone lower and lower through three long acts.
The first credit here is to the four actors who hang on adroitly to this roller coaster in free-fall to the Abyss, a deranged anagram for Albee.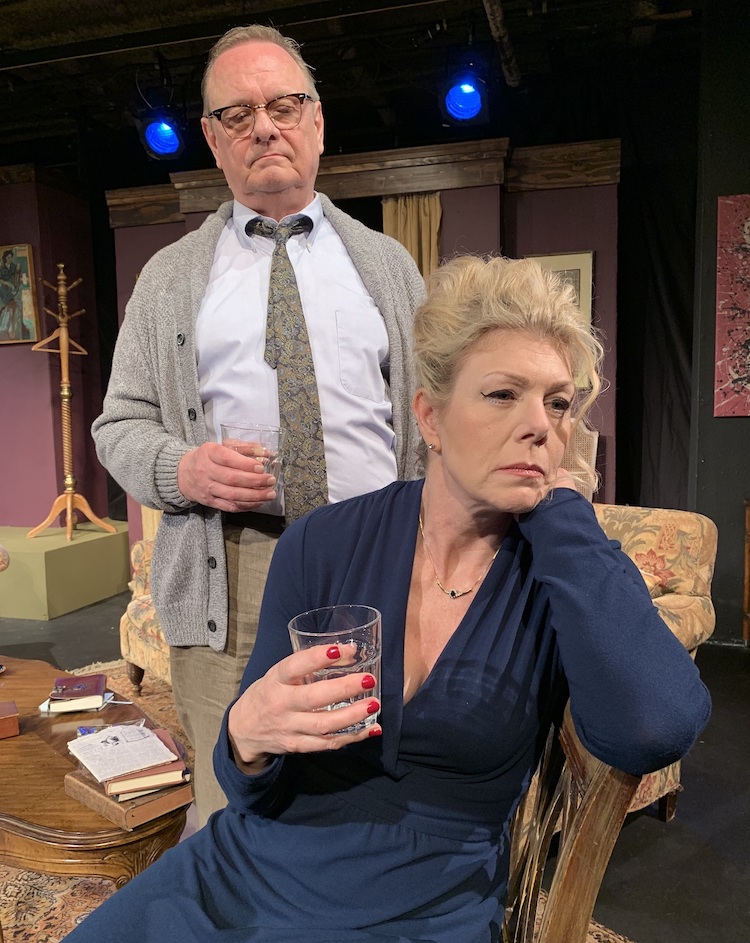 This is not Days of Wine and Roses. Alcohol is not a theme in this play. The characters use drink as an excuse, but they wouldn't need it at all to claw each other to shreds. Alcohol is a medium of interaction, not the fuel. Nor is cursing. The play achieves no more than second-level cursing, nowhere near the level-four billingsgate of today. The term "screw," which pitched the 1960's movie producers into controversy, has been demoted to a mere noun.
City Theatre's producion opens with actors chanting and singing the title line to the tune of "Who's Afraid of the Big, Bad Wolf?" and hopping around like cartoon characters; this is a master stroke of absurdism. The song was familiar from animated cartoons of the time, and Albee's suggestion that the characters therefore are cartoon characters is proved false not much farther into Act I. The segment, brilliantly, is an absurdist red herring that casts a partial frame around the play. Albee would develop his absurdism more fully in later plays such as The Play About the Baby, and The Goat, or Who is Sylvia?
Director Karen Sneed performed admirable work on this play, finding opportunities to vary the pace of the show, especially giving space to the characters to exit to find more bottles of hooch and (thank you!) to vomit off-stage. The returning actors had no difficulties rocketing back up to speed in the emotional confrontations. Director Sneed had an easy, confident touch with the cast, the needs of the play, and the story arc.
The talented cast was well up to the challenges of the play. They were Meredith O'Brien as Martha, Rick Smith as George, Carl Kraines as Nick, and Chiara McCarty as Honey.
Kraines and McCarty as the younger couple were chunks of meat thrown into George and Martha's pen. It is a difficult challenge, well accomplished by the two talents, to play characters who lack understanding, who don't get it but serve as foils to the more highly colored and raging characters. McCarty as young faculty wife Honey was bizarrely endearing when, in her soft tinkly voice, she tossed out drunken non-sequiturs into the combat swirling around her. Her nonsense provided slashes of comic relief at seemingly inappropriate moments. Of course, that was Albee texture. Kudos to Kraines and McCarty for exceptional work.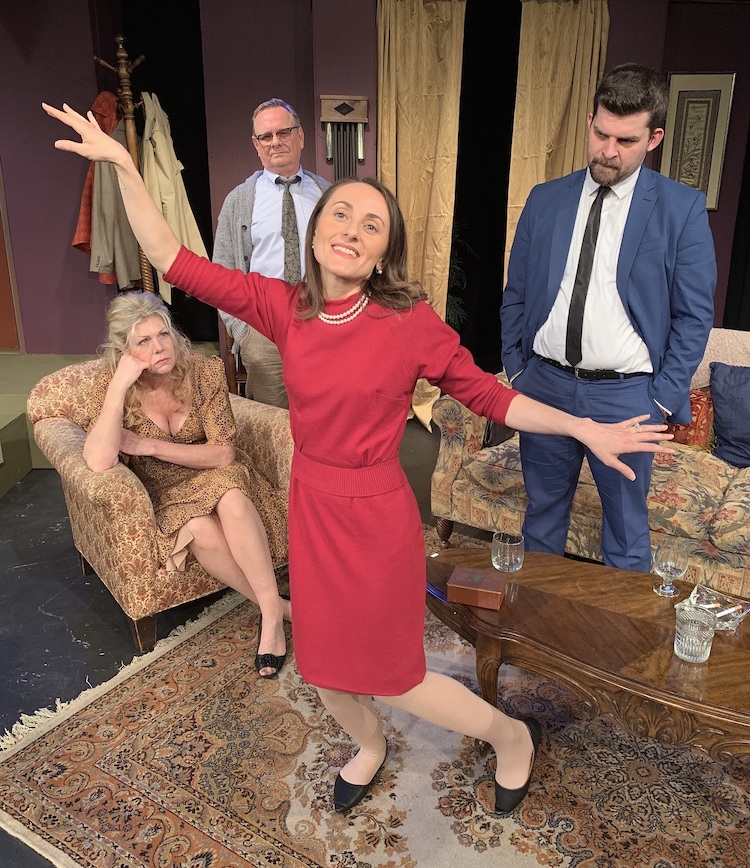 The focal characters, Martha and George, both of them heavily armored and deeply wounded, fought and fought, in well-worn trenches but also in erosive and ultimately destructive finality.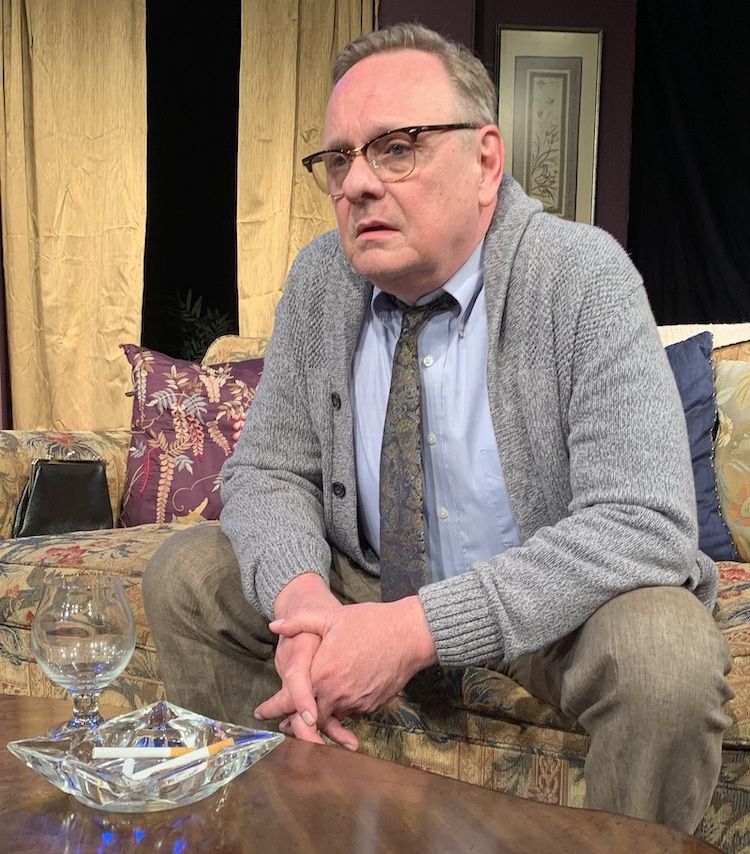 The redoubtable Rick Smith as George added another high credit to his bio, after perhaps playing on every stage in Austin and quite a few in LA. He is known for his facility in comedy, as in City Theatre's The Odd Couple, but he has nuance and variety in drama as well. The clouds of George's darkness billowed out of his stillnesses, delivering messages not easy to convey. Smith became Albee's flawed, corrupted, and mediocre Everyman.
Meredith O'Brien was going for something more. Shrewish Martha's violent struggles were made plain, but O'Brien strove for more. She brought out those tiny gems of humanity that cause many, while watching a highly overprivileged, intellectual, alcoholic, to say mentally, "That's me." The small points were many, as when, without lines, Martha showed softened motherliness to the violently nauseous Honey. Thosee moments always passed when Martha locked eyes once more with George.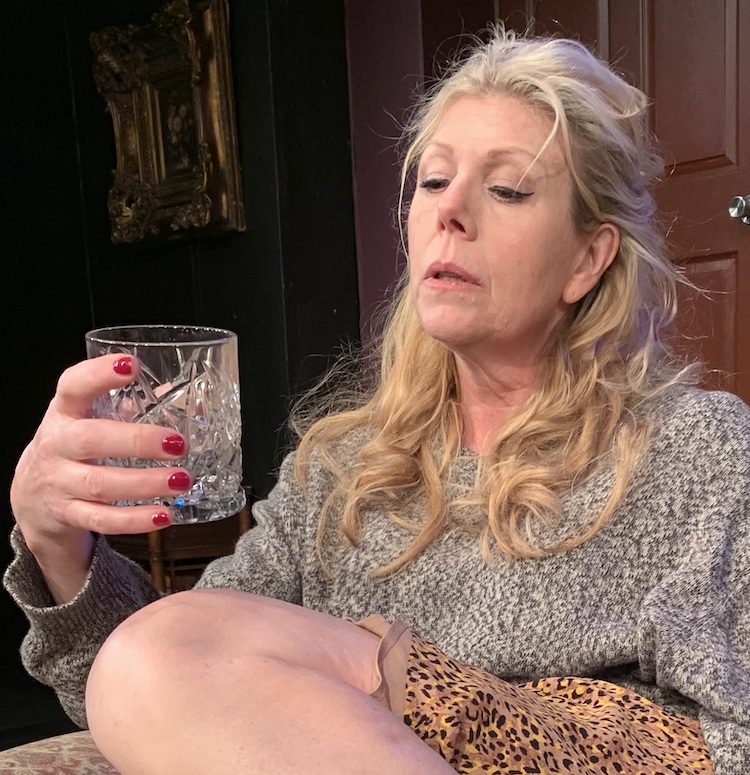 Martha's stormy journeys downstage center stopped with her eyes elevated to the upper middle distance. She was questing, not seeking to draw the audience. No, Martha was looking for us, at times to warn us, at other times to plead for release from her cage. At these and other times, too., O'Brien's quick, flickering emotionality throughout the drama signaled and led her through the story, her superb vehicle. At the end, her Martha showed us, without a doubt, that the final murders had been committed years before.
City Theatre's production of Who's Afraid of Virginia Woolf? was well matched to the theatre space, the play, and its production values and budget. The confines of the black box, the single living room set, and the cast of only four concentrated the performance of Albee's world-class play.
Artistic Director Andy Berkovsky and his major designers and managers, Lynn Beaver, Carl Zeigler, Gene Berry, and Rosalie Oliveri have polished a shining gem of modernist theatre.
City Theatre's Who's Afraid of Virginia Woolf? by Edward Albee plays at Trinity Street Playhouse until May 1, 2022.
---
Who's Afraid of Virginia Woolf?
by Edward Albee
City Theatre Company
Thursdays-Sundays,
April 15 - May 01, 2022
Trinity Street Players
Black Box Theatre, 4th floor, First Baptist Church
901 Trinity Street
Austin, TX, 78701
April 15 – May 1, 2022 Thursdays – Saturdays 7:30 pm. Sundays 3:00 pm.
Trinity Street Playhouse. 901 Trinity Street. Austin, TX 78701
General Seating $15. Center Reserved $20-25. Group and student discounts.
All current COVID safety protocol to be followed at showtime.
Tkts 512-470-1100 or info@citytheatreaustin.org. www.citytheatreaustin.org