Review: Human Resources - the Musical by Mallory Schlossberg and Alexandra Smith
by Michael Meigs
These pandemic times have driven us all a little mad; they've also driven directors, performers, and musicians into new digital realms. For what is more personal than theatre performance? Artistic creators can't simply choke off their sources, and performers must perform, or else they begin to die inside. New skill sets needed? Okay, acquire them or invent them.
Mallory Schlossberg was at work on the concept and music for the appropriately mad musical Human Resources when the pandemic hit. Austin stages collapsed like houses of cards, and Austin audiences disappeared. Schlossberg began collaboration with Alexandra Smith, another Austin artist plugged into the improv scene. Pretty soon the musical outgrew both of them, a bit like Audrey the killer plant in Little Shop of Horrors, and demanded its day of glory. Schlossberg and Smith figured out how to deliver. They recruited talent sequestered across the nation and turned to Austin improv performer, software engineer, and musician Tosin Awofeso and stream designer Braden Baumbach to prerecord and mix the songs and integrate them into realtime video performances on a Zoom-like platform. Schlossberg described the process in an uncredited Austin Chronicle feature published on the show's December 4 opening day. The work streamed on three consecutive Fridays and Saturdays; judging from the December 12 mid-run performance, the farflung company did a bang-up job of performing in their new chosen format.
Human Resources, crafted in the familiar two-act American musical theatre format, has a lot more of South Park than Little Shop to it; it's far more sardonic than playful. Mind you, Matt Stone and Trey Parker were happily shooting fish in a barrel with The Book of Mormon, but at least they were parodying familiar stereotypes, both Mormon and foreign, and the LDS church was game enough to take out inviting ads in the playbills. The targets of Human Resources are a lot murkier and the concept actually focuses on twenty- and thirty-something angst.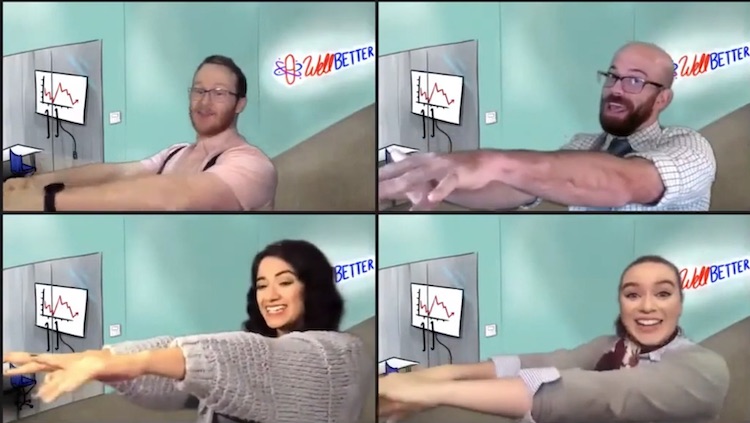 The first ensemble scene is a musical exuberance in which employees sing with glee while anticipating the announcement of the next employee to be laid off. Emily Silverberg (played by Megan Rabuse) is the victim. We soon learn that Emily and her schlub of an unemployed husband Max (Nathan Clemenson) desperately need health coverage to pursue their rapidly fading hope of overcoming Emily's infertility. Emily describes the dream of becoming "a Park Slope mom, a Park slope dad" as she rides the subway home. The number's a wistful solo that communicates a great deal about Emily, and she'll reprise it briefly both in Act I and Act II. Other musical compositions and performances in the piece are dizzy and ditzy, and most of the time the pursuit of satire works directly to prevent sympathy for the increasingly bizarre cast of characters.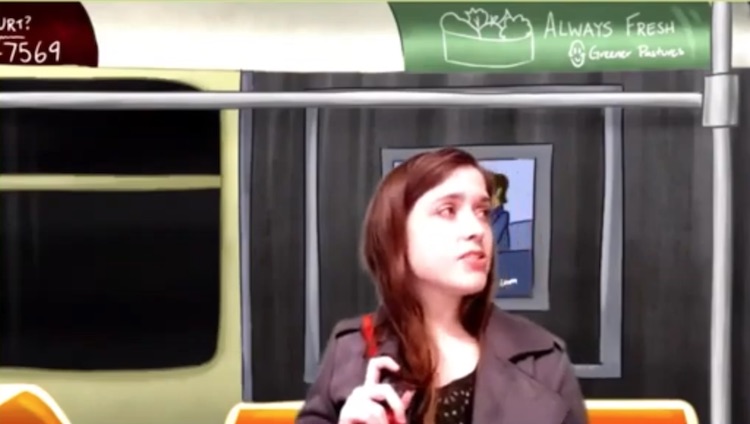 Out of the blue -- or perhaps out of the Big Brother surveillance practices of the megafirm Greener Pastures -- comes a call inviting suddenly unemployed Emily to join the corporation's marketing department. "We've been looking for someone just like you!" is the message from the mysterious recruiter played by Charissa Memrick, who teased us with a solo prologue promising something "Bigger than You." Because of that opening bit, Memrick is listed first in the playbill; her clever, personable presentation of the enigmatic but mercurial recruiter, packed with clever facial expressions and shifts of attitude, plants her as Rabuse's counterpart and foil, functions she fulfills right up to the catastrophe that ends the action.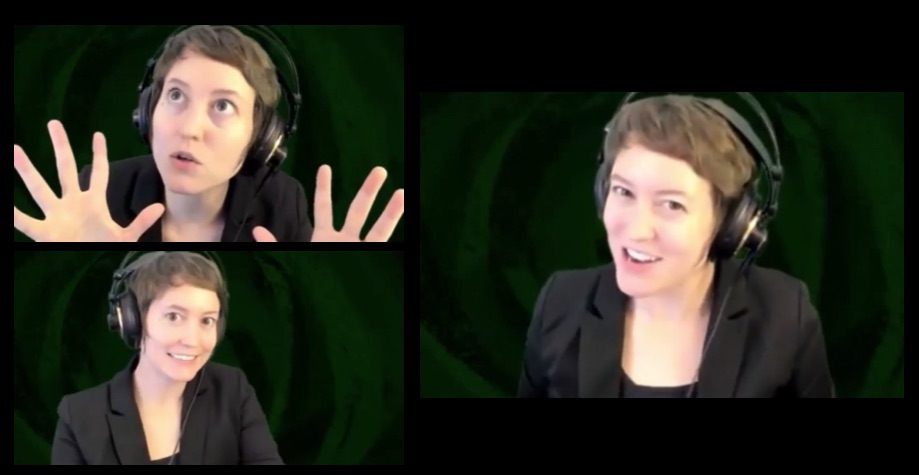 Emily is of course delighted to be taken aboard a huge but close-knit, caring and environmentally friendly company. She's initiated into her job by the loudly, perkily positive Isabelle (Robin Rothwell Taylor), who accentuates the positive with the skill of a life coach and the panache of a cabaret performer. Obligatory happy hours; idiotic marketing campaigns about citrus or sweet potatoes; a retreat for all employees where the Big Boss is essentially faceless, a frozen image on a screen; and eventually a joyful baby shower for an employee who abruptly disappears. Have we got a bad feeling about this, as Emily drinks the Koolaid?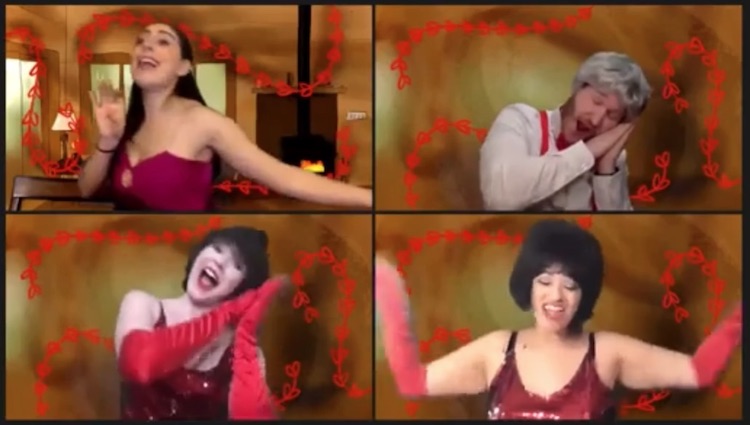 Male characters are feckless, earnestly vowing to support spouses who fade into the dark jungle of corporate evil. Women are energetic and vital but serve as prey to an absurdly evil capitalist empire. The authors collaborate with performer Margaret Hunsicker to create an almost unforgiveable character of a dumbshit pregnant Southerner; once freed of that character, Hunsicker appears in a purple wig and has a great time as a member of the chorus ensemble. Memrick as the recruiter rides mostly above the wickedness, herself a victim but clear-eyed about the dooms that are being parcelled out.
Special credit goes to choreographer Kelly Hasandras, director Schlossberg, and scenic designer and artist Hailey J. Strader for creating coherent action and backgrounds that come close to making us forget that these performers are not on the same stage together. There's an attractive whimsey to the backgroiund sketches that fill in performers' green screens, always carefully coordinated. And there's lots of ingenuity in miming the transfer of objects from hand to hand and in lending creedence to the violence of late scenes.
Music, lyrics, and scenarios created by Schlossberg and Smith are fluent in the language of contemporary Broadway. I'd like to see these two turn their attention away from grotesqueries and try to deal in more sustained fashion with smaller, more intimate stories . . . but perhaps I'm too far out of touch, in this age of polarization, stereotype, and Fake News.
Jason Robert Brown or Matt Stone and Trey Parker? Your choice—depending on what you want your entertainment to deliver!
EXTRAS
Click to view full playbill online
Click to see performance clips and background video pieces at YouTube
Video discussion of choreography by Kelly Hassandras
Video discussion of scenic design by Hailey J. Strader
---
Human Resources - the Musical
by Mallory Schlossberg, Alexandra Smith
Mallory Schlossberg
Fridays-Saturdays,
December 04 - December 19, 2020
Streaming
via internet
Everywhere, TX, 78700
Virtual shows December 4, 5, 11, 12, 18, and 19 -- at 7:00 CST
** TWO PERFORMANCES ADDED! 12/18 and 12/19!**
This show is pay-what-you-can, but we encourage you to support the artists involved. All ticket sales will go directly to the cast and crew.
HOW DIGITAL TICKETING WORKS: YOU WILL RECEIVE A LINK TO A LIVESTREAM ROUGHLY 48 HOURS BEFORE THE PERFORMANCE. Make sure you opt in to receive emails from Eventbrite in order to get your livestream link.
If you purchase a ticket within the 48 hour window, you will receive a link 10 minutes before the show. That means if you purchase tickets too close to or after that window, you will not be able to receive that evening's link (though we'll gladly provide you with another night's).
You will also receive a digital playbill (along with the livestream link again!) about one hour before the show.
This show contains profanity and simulated violence. It would probably get an R rating.
IMPORTANT: TICKET SALES FOR EACH NIGHT END ABOUT 15 MINUTES BEFORE THE SHOW. DO NOT PURCHASE TICKETS AFTER 6:45 CT/7:45 ET ON THE NIGHT OF THE PERFORMANCE; YOU WILL NOT GET A LIVESTREAM LINK. THE FINAL LIVESTREAM LINK GOES OUT 10 MINUTES BEFORE THE SHOW. BE SURE TO OPT IN TO EVENTBRITE EMAILS TO RECEIVE THESE LINKS.
Shows will be recorded and the cast's favorite will air in the weekends to follow.