Review: A Christmas Memory by Alchemy Theatre Company
by Brian Paul Scipione
American novelist, playwright, and actor Truman Capote is best known for Breakfast at Tiffany's and In Cold Blood. Many of his works are considered American literary classics and were adapted for film and television, which helped give him a wide and admiring audience. Yet Capote's origins were remarkably humbler, even Dickensian. His youth was beset by familial issues including divorce, an absentee mother, and a transient lifestyle.
He began to deal with these troubles very early on by turning to writing and was successfully publishing by the age of twenty-one. His parents' divorce led him to live with his mother's family in Alabama, where he formed a close bond with a distant older cousin. This friendship would become the basis for his beloved short story A Christmas Memory. This Christmas classic went on to be adapted for radio, television, the stage, and even served as the basis for both an opera and a musical. This largely autobiographical tale captures the serious nature of young Truman and the whimsical nature of his older cousin, Souk. In a topsy-turvy twist, Souk provides the gaiety of the holidays and the youthful mischief to their friendship.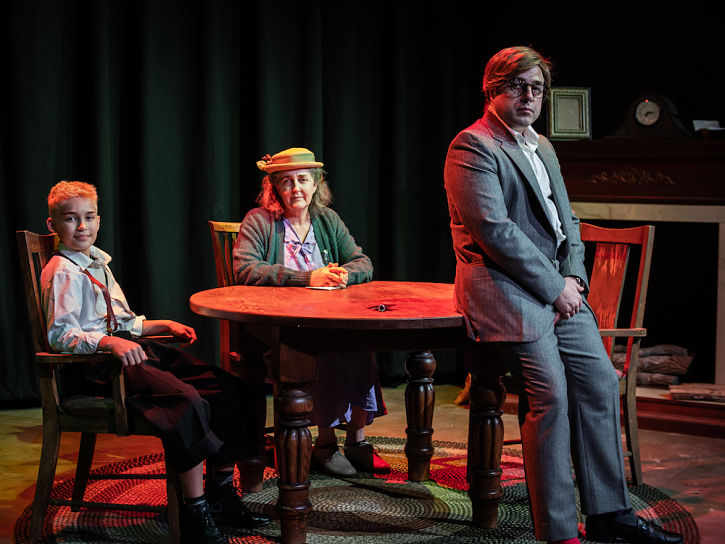 The Alchemy Theatre company presents this tale as their third production of the year, following the acclaimed shows of Mary Page Marlowe and The Waverly Gallery, all at the Mastrogeorge Theatre. Multi-talented actor and teacher Carol Hickey is Cousin Souk. Hickey's portrayal is mesmerizing. One moment she's ambling good naturedly across the stage pontificating on the wonders of life; the next moment she bursts into a gleeful espousal of the delights of Christmas. She is both righteous and naughty, brimming with love, superstitions, and child-like wonder. She owns the stage with carefully crafted movements that embody the spirit of youth trapped in a slowly deteriorating body.
It was almost inevitable that the real Truman Capote would take on many of her mannerisms. The play strikingly draws this parallel as the two other characters are young Truman, as remembered, and older Capote, who narrates the story with doting reminiscence.
Luke Hill plays the mature Capote, floating about the stage like a ghost from the future and telling the story of his youth as it plays out before his eyes. Hill's imitation is almost eerily accurate. I discovered his performance was spot on when I listened to a recording of Capote reading A Christmas Memory, available on the internet.
It's intriguing that the two Capote characters seem to be able to see each other throughout the play. Perhaps this is a comment on the fact that Buddy always believed so strongly that he was going to be a writer. His future was much more than a manifestation, it was an inevitability. Zak Meisenhelter plays young Capote, called Buddy at this juncture of his life. Meisenhelter does an excellent job imbuing emotion into his completely silent role with a wide range of facial expressions and crafted movements that express excitement, hesitation, and wonder. And there's a distinct sense of nervousness that's fitting, considering his surroundings.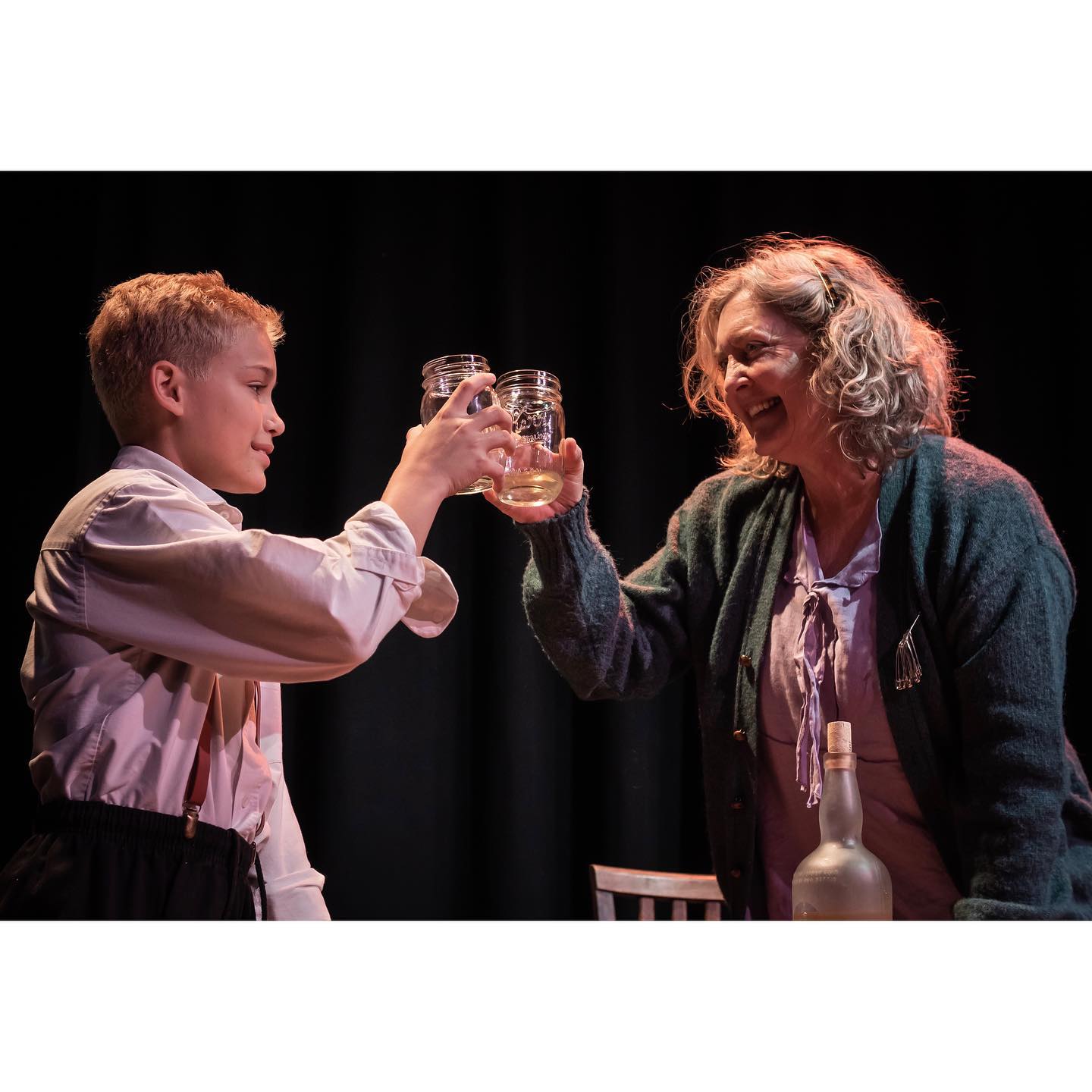 Souk is Buddy's only lifeline to happiness in the harsh environs of his relative's home. It's made clear that he worries she goes too far from time to time. Buddy knows that the Damocles' sword of military school is always dangling over his head. He learns from Souk's expansive humanity that the world is essentially good and that the yearly ritual of giving fruitcakes to friends and strangers alike is not a duty but a pleasure.
This is a wonderful Christmas tale, and I was fortunate my first exposure to it was this seamless, adoring production. The space was utterly transformed to another place and time, and the audience was rapt from beginning to end. I loved that the set even appealed to the olfactory senses — after all, the holidays are irrevocably associated with wonderful aromas and seasonal scents. I wouldn't be surprised to see this production go on to become an Austin Christmas tradition. It's a memory one will want to relive again and again.
---
A Christmas Memory
by Truman Capote
Alchemy Theatre Company
December 06 - December 22, 2019
Fridays and Saturdays at 8 p.m., Sundays at 2 p.m.
Tickets $25 general admission, $35 VIP, plus service fees via

.