Review #2 of 2: Dracula: Mina's Quest (adapted by Dietz) by Zach Theatre
by Michael Meigs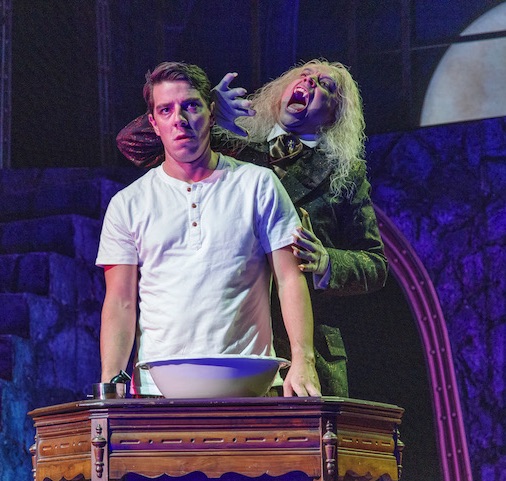 We looked at one another at the intermission and had to decide if we were just going to walk out on this one. Steven Dietz's reworked Dracula at the Zach Theatre is a loud, over-the-top version played out on a set that looks more appropriate for Cartoon Network or The Addams Family. And to tell the truth, we found it really boring.
Dietz, brought to UT some years ago from Seattle to teach playwriting, is a successful contemporary craftsman, and this isn't the first work he's premiered with the Zach Theatre. And it isn't his first Dracula either. His 1996 version of Bram Stoker's 1897 epistolary novel, drawing on the rich subsequent cinema tradition, is one of his most produced works, and it may well bring in more royalties than his considerable number of original drama scripts. Like playwright Jeffrey Hatcher, Dietz is a dab hand at translating into dramatic form works of popular fiction that have attained mythic familiarity. The 2015 production of his earlier Dracula by Different Stages under the direction of Melissa Vogt was memorable. I wrote at the time that it "stirs the ancient fears in a sticky stew of death, sexuality and malevolence. Dietz's rendition is no place of comedy, and there wasn't a single giggle or titter amongst the full house all evening long."
So what goes so colossally wrong in the Zach Theatre production of Dietz's rewrite, where he refocuses the action, gives the protagonist's role to a woman instead of a world-weary Dutch professor, and lets the Zach designers rip?
I've always understood Dracula as a Victorian take on sexuality, a work that hints at the intimate horrors of male domination, sexual subjugation of women, and the nasty, sticky realities of intercourse. Stoker's novel, its epistolary form distancing the action, never admits as much, and in fact the notorious Count Dracula appears only late in the narrative and then third hand in reported narrative. The focus is on ailing, bedridden Lucy, victim of the invisible count, who eventually dies despite transfusions from loss of blood. The thrilling horror, deliberately obscured, is that Lucy has in effect been raped repeatedly (via her carotid artery rather than her vagina), she doesn't know it, and she's in thrall to the incarnation of evil. This is a story of intimate horror, even in the cinema versions with Bela Lugosi and others that came to dominate the popular imagination.
In 2015 Different Stages seized the audience's imagination in an intimate space; there's nothing intimate about the Zach Theatre production. In 2019 the Zach Theatre gives us a towering set of distorted perspective, sound design that's somewhere between a gypsy band and a circus orchestra, and an acting style that's two notches over the top. This Dracula is a treat for audiences left jaded by The Walking Dead and a steady diet of crummy horror flicks.
Dracula: Mina's Quest is a big, gaudy, purple low-rider with longhorns on the hood, a vehicle only for show. Granted, it's driven by the vitality of Sarah Kimberley Becker, and the reform of a spooky tale drenched with hidden sexuality to feature a female protagonist is entirely congruent with today's non-19th-century political correctness.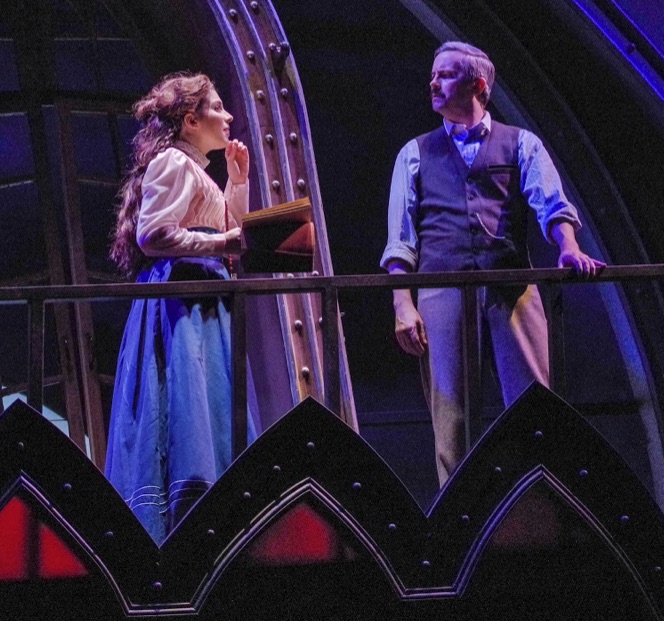 Jeff Mills as the earnest, dim director of the lunatic asylum Dr. Seward, is a good choice, for he's spot on with the Millsian irony we've enjoyed elsewhere. Instead of applying it with the deft, almost invisible flourish that he uses with the Rude Mechs, the delicate touch of a makeup brush, he flourishes applies it with the energy and bite of a chainsaw.
Worse is the arrant waste of two fine Austin actors. Joseph Garlock, Shakespearean, leading man, and fight coordinator, is reduced to the stunned Jonathan Harker, sidelined early in the action; and Kacey Samiee, a woman whose still, delicate, vigilant presence won our hearts last year in the Vortex's premiere of Heartland by Gabriel Jason Dean and in Theatre en Bloc's Severe Weather Warning, is reduced to an anonymous cavorting minion that could have been played by any fifteen-year-old in the Zach's theatre eduation programs.
EXTRA
Click to view excerpts from the Zach Theatre program for DRACULA: MINA'S QUEST
---
Dracula (adapted by Dietz)
by Steven Dietz, adapted from Bram Stoker's novel
Zach Theatre
Wednesdays-Sundays,
September 25 - November 03, 2019
Dracula plays The Topfer at ZACH, September 25–November 3, 2019, under the direction of playwright Steven Dietz.
Wednesdays - Saturdays at 7:30 p.m., Sundays at 2:30 p.m.
Special Events in Celebration of Dracula:
Pride Night with catering by Juliet – Thursday, September 26, 2019
Wednesday Post-Show Discussion – Wednesday, October 2, 2019
ASL Interpreted, Open Captioned, and Audio Described – Wednesday, October 2, 2019
"Halloween Costume Party" with DJ, Costumes, Food and more – Thursday, October 31, 2019
Tickets start at $25 and are available online at zachtheatre.org, by phone at 512-476-0541, or in person at the ZACH Theatre Box Office, in the Topfer, 202 South Lamar Boulevard (corner of Riverside Drive and South Lamar) Monday through Saturday, 12 – 5p.m. ZACH Theatre is wheelchair accessible. Groups of 8 or more may request reservations by calling 512-476-0594 x.245 or by emailing groupsales@zachtheatre.org.