Review: The Mamalogues by Color Arc Productions
by David Glen Robinson
Playright Lisa B. Thompson has a commitment and an almost uncanny gift for describing, embodying, and sharing her lived Black experience with all other ethnicities and cultures. Whatever the source, her writing is very good at showing the world life lived in the Black community. Fo example, her award-winning Monroe gave an almost ethnographic description of a Black community surviving in Jim Crow times, and how one character used pie-baking as an instrument of resistance and survival.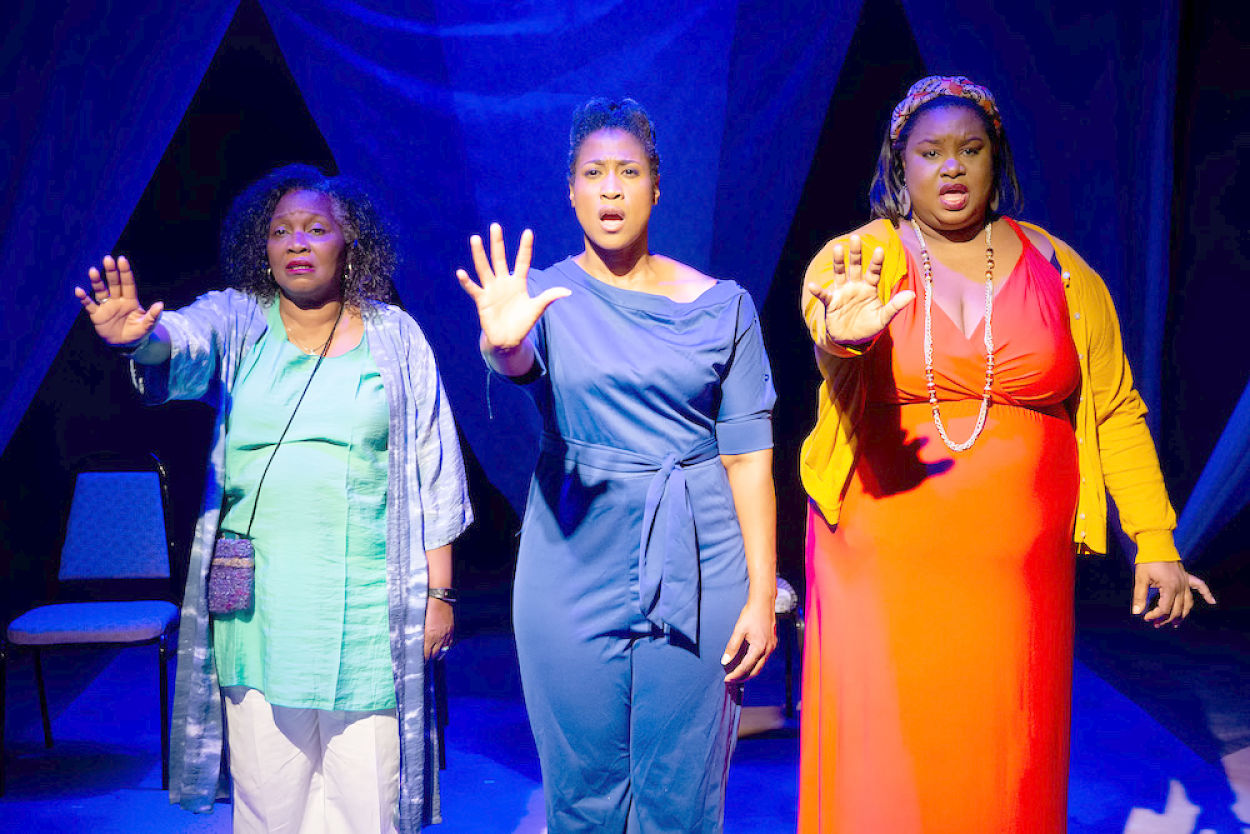 But The Mamalogues is very much about the now, and how we of all colors are participants in it. Many have driven along residential streets and seen a Black woman walking along with one or more children. How does she see herself? Does she worry about her plight, if indeed she considers her situation a plight? Or is she reveling in the joys of her children? Lisa B. Thompson takes on the many worlds of Single Black Mothers (SBM) in The Mamalogues, with a powerful assist from three exceptional actors, Yvonne Oaks, Valoneccia Tolbert, and Melody Ann Fullylove.
scenario, their world, is the meeting of a support group for SBMs. It is large, the Vortex audience is the membership, and there are snacks and ice water on the sideboard. Did someone bring a pecan pie? Terrific. Pass out the survey and answer this week's questions. Soon, we are in that world, led by the moderators. Sooner still, the scenario dissolves into the vivid imagery created by the actors in dialogues and sketch performance. The actors create many characters, from Kunta Kinté to your grandmother, many imaginary parents, and various pastors in town.

They start—where else?—with childbirth, in a collective, rhythmic-breathing dance of labor pains. That went on a bit too long for this reviewer's enjoyment, but it definitely shifted one's perspective.It was also the start of SBMs telling of their own feelings about childbirth, as when one mother spoke of her feelings of failure at having a caesarian section in order to complete the process. Later in the show the actors covered the issue of abortion and the risks of eclampsia and its heightened threat to mothers who can't get proper care in pregnancy.
In these issues and others, The Mamalogues points out the pains and joys of all mothers regardless of color. The commonalities, the shared experiences, are highlighted. Doing so heightens the contrast with those things White mothers and women of other colors of skin do not experience. The case in point is the discussion about how you teach your child about the n-word and how to respond the first time it is used. And there certainly will be a first time. But you will never know the last time. Similarly, other mothers don't have to teach their sons the details of interactions with law enforcement. But Black mothers have to, for their sons' lives depend on it. Do not forget the desperation-tinged orders never to reach into your pocket in front of an officer. Never, never do that.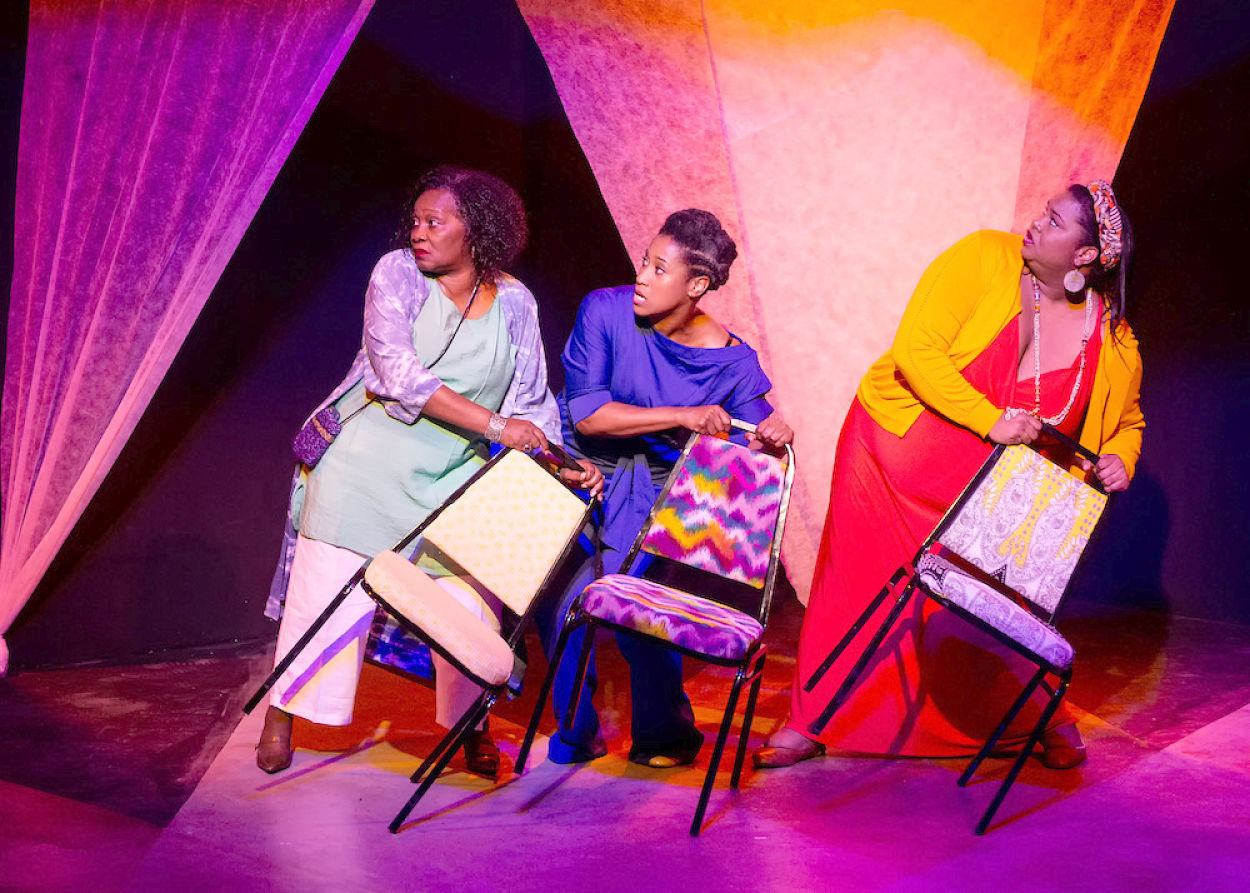 Rudy Ramirez did a smooth, crisp job of directing The Mamalogues, supported by the efficient VORTEX Theatre staff. Megan Kemp, especially, created a simple but striking set with ample open playing space for creating dozens of imaginative scenes. Patrick Anthony isolated many of the same breakout scenes with his own creative lighting sets.
So who brought the pecan pie? Oh, please—Lisa B. Thompson brought the pecan pie! And the flavors of it live in memory still. They will come back every time I see a joyous SBM walking down the street.
The Mamalogues plays until September 7, 2019 at The VORTEX on Manor Road in east Austin.
---
The Mamalogues
by Lisa B. Thompson
Color Arc Productions
Wednesdays-Sundays,
August 23 - September 07, 2019
Thursdays - Sundays at 8 pm., August 23 - September 7, 2019
One Wednesday night performance 9/4/19
Tickets $15 - $35 (VIP priority admission) plus service fee, available online HERE
2-for-1 admission: with donation of 2 cans for SAFE Austin on Thursdays and Sundays. (Leave a comment at check out that you're bringing canned goods and we'll secure your free ticket.)
Blue Star Theatre: Discounts for Military, Veterans, and their families.
Radical Rush Free Tickets: Limited free tickets for each performance in the spirit of sustainability, accessibility, and the gift economy. Radical Rush tickets released at 7pm each night-in-person only.
The Butterfly Bar @ The VORTEX is open nightly 4pm - Midnight, 1am on Saturdays.
Full bar with handcrafted specialty cocktails, local beers, and our famous sangria.
butterflybaraustin.com
Patrizi's @ The VORTEX is open nightly 5pm-11pm. Italian food truck offering exceptional handmade pasta, homemade soup, fresh salads, sandwiches, and daily specials. Austin's best Italian food. If you are eating dinner at Patrizi's before the show, please arrive at least 90 minutes in advance of showtime.
http://www.patrizis.com/
Bus Route #20.
Free Parking is available in front of The VORTEX.
Additional parking is available at Home Steam Cleaners after 6:30pm.
Limited street parking is also available near The VORTEX.