Review #2 of 2: ANN, by Zach Theatre
by Brian Paul Scipione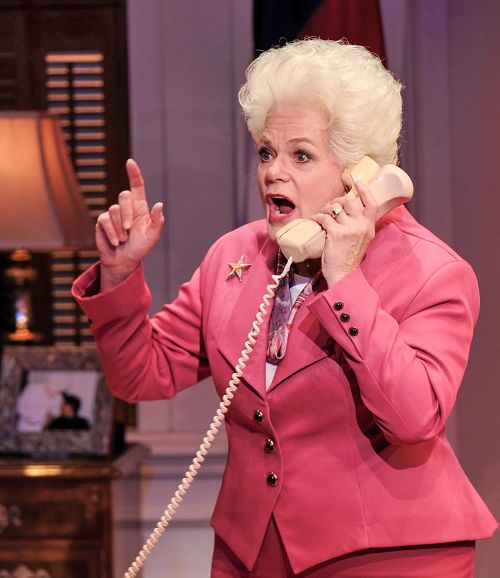 There was never any doubt Libby Villari could hold the audience entranced with her snappy accent, comically vitriolic outbursts, clever banter, and engaging storytelling, but this production of Holland Taylor's Ann is well paired with a great set and spot on lighting design. Lghting designer Sarah EC Maines emphasized the three-act arc of the story -- pre-Governor, Governor, and post-Governor-- with a subtle but deft shi the lightfts between lighting schemes. They evojke the moody but optimistic days of the housewife, the brilliantly vivid action of the Governor's office, and the dour tones of a later life that cannot be accurately described as retired or even non-political but still had an air of restraint.
Benjamin Endsley Klein, who directed the play for Broadway, succeeded in recreating on the Austin stage all the drama and laughs of the original production.
This one-woman show is the story of Ann Richards, the most recent Democrat Governor of Texas but not the first woman to be Governor, as the character herself points out in the beginning of the play. That honor went to Miriam A. "Ma" Ferguson. Interesting to note, considering current trends, there have actually been only 7 Republican governors of Texas since the inception of the office in 1845, compared to 39 Democrats. Yet Ann who left office in 1995 and died in 2006, is still very much in the local hearts and consciousness.
It seems Libby Villari was born to play Ann , and many writers have used that exact expressionb. Villari had a recurring role as Mayor Lucy Rodell on Friday Night Lights and has been active in both Texas theatre and film in this state. . Like Ann, Libby has lived in both Texas and California. Villari'sistinctively Texan projects include the television series Walker, Texas Ranger and Richard Linklater's Boyhood. Offstage Libby has been noted for her political activism.
Who better to play the 45th Governor of Texas?
Just as Ann Richards took the capital by storm, Libby erupts on the stage of the Topfer Theatre after a brief film about Richards in the background. She warns us she has a lot of opinions and then quips "Could you imagine if I was your mother in law?" And we are off into the hilarious and nerve-rracking story of her life which she addresses with a frank, sometimes expletive-filled, exuberance.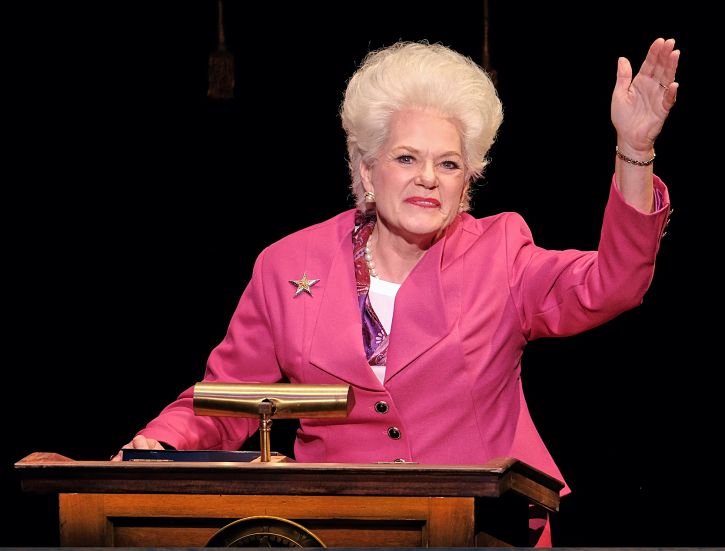 The character makes it clear when she cannot stand things like racism or wrongful death, but at the same time admits it wasn't always easy for her. Originally thinking she was content to be a housewife and mother, she found the sad turn of events in her life, including divorce and alcoholism, led her to re-adjust her priorities.
By the time Ann is in office the play is at a fever pitch. The President is calling, the kids are calling, the Texas flag needs to be mended, a controversial execution is around the corner, and someone still has to make the pies for the upcoming reunion!
Libby Villari was firing away on all cylinders during the entire sequence. She created the feeling of a southern revival that night in the Topfer Theatre. The audience was laughing, pumped up, and not afraid to call out to her with applause and shouts of approval.
---
Ann
by Holland Taylor
Zach Theatre
Wednesdays-Sundays,
July 31 - September 08, 2019
Performances begin Wednesday, July 31, 2019
Press Night, Saturday, August 3
Champagne Opening, Thursday, August 8
Limited run through Sunday, September 8
Special Events in Celebration of ANN:
Wednesday Post-Show Discussion – Wednesday, August 7, 2019
ASL Interpreted, Open Captioned, and Audio Described – Wednesday, September 4, 2019
Tickets start at $25 and are available online at zachtheatre.org, by phone at 512-476-0541, or in person at the ZACH Theatre Box Office, in the Topfer Theatre, 202 South Lamar Boulevard (corner of Riverside Drive and South Lamar) Monday through Saturday, 12–5p.m. ZACH Theatre is wheelchair accessible. Student Rush Tickets are $20 one hour before show time (with valid ID). A limited amount of Pay–What–You–Will tickets are available the day–of for Mainstage preview performances only. Groups of 8 or more may request reservations by calling 512-476-0594 x.245 or by emailing groupsales@zachtheatre.org.