Review #1 of 2: ANN by Zach Theatre
by David Glen Robinson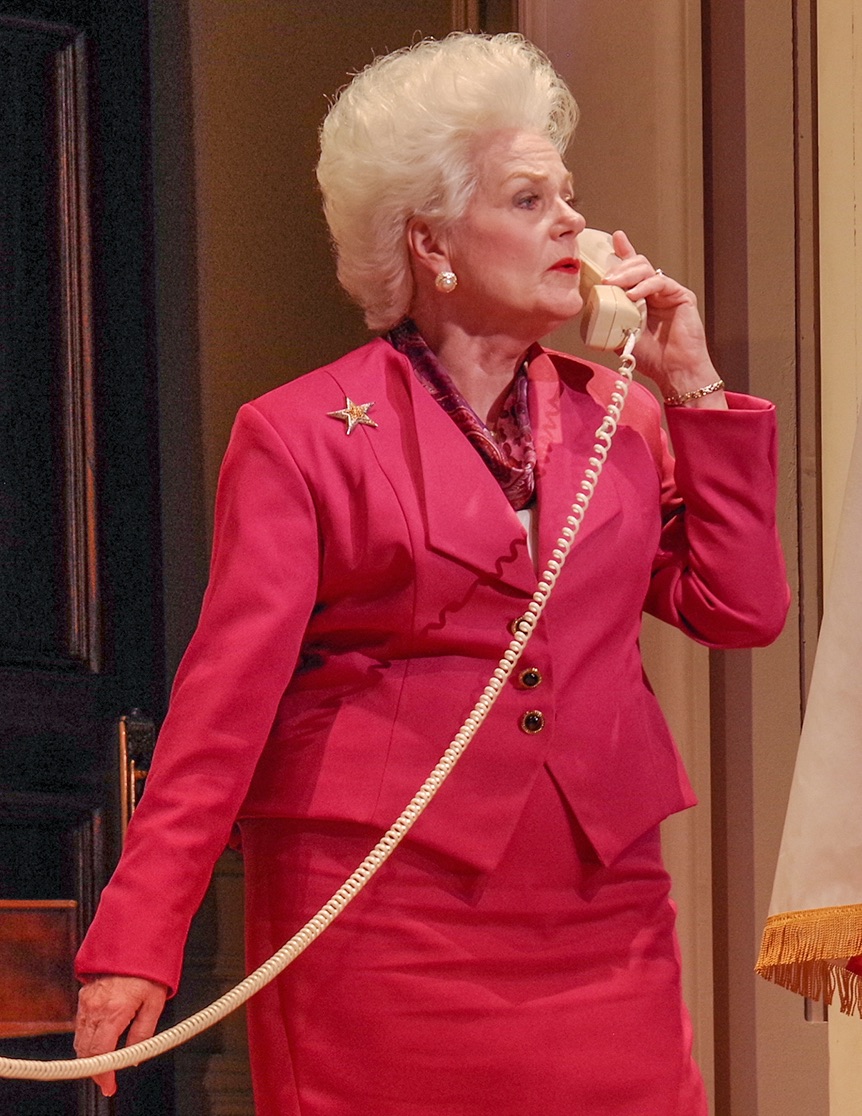 Ann Richards would have been proud to be called First Hometown Girl of Texas. That much is clear in Act I of Ann, the new play by Holland Taylor currently up on Zach Theatre's Topfer stage. Also clear in Act I, Richards was explicitly proud to claim the title of Second Female Governor of Texas (after Ma Ferguson).
Benjamin Endsley Klein directs this gem as an extended encomium to Governor Ann Richards of Texas. The scenario of the play is an inspiring and reflective graduation speech by Richards at the commencement of an imaginary college. This is followed by an illuminating day in Richards' governor's office, circa 1993. The short of all this is that Ann Richards comes alive on the Topfer stage.
Libby Villari portrays Governor Richards with a huge commitment to embodying the second female governor of Texas. Success in detail is essential in this production, having as it does a potential audience of millions of Texans who lived through the Richards administration with her. This reviewer's eye- and ear-witness testimony is that Villari comes very close to Richards' voice, inflections, and laughter. Multiple line bobbles on Saturday night of the first weekend detracted little from Villari's development of Richards' character. Holland Taylor's script takes us the rest of the way to a kind of theatrical resurrection of Richards.
Some of the production choices in this 100X magnification level of scrutiny of Gov. Richards are almost mysterious. The Villari costume outfit was a pink two-piece set with slightly off-tone jacket and skirt and non-matching black pumps. Richards was well known for white outfits, and a Pinterest search will show white, turquoise, and blue apparel, but very little pink. Villari's tugging adjustments of the ill-fitting jacket were in character, at least.
Ann depicts Richards as a politician of, by, and for the people, careful to avoid the appearance and substance of corruption. She seemed constantly mindful of her rural Waco area parents and their deep country wisdom that she took with her into her political life. It was all measured out in alliance-building, policies, anecdotes, and a few gamy jokes here and there. Taylor's script seems not to be too sharply political, probably to avoid having the play be taken as a political screed. But gone are the Republican-skewering bon mots that secured Richards' national reputation: "Poor George, he was born with a silver foot in his mouth," and "stick a fork in him, turn him over, he's done."
Taylor's script also takes a softer approach to Richards' legacy. Richards built an edifice for women's rights, still growing. People who knew Richards, many living in Austin, said she was loyal to her friends and rightfully appointed competent campaign advisors to heads of departments, commissions, and bureaus. But Richards was not above drawing back from them in times of crisis, leaving some allies hanging out to dry. These were the political pragmatics that kept messes out of the governor's office.
The play portrays Richards' fretting and concern over staying a prison execution. But the play leaves out one of her most pragmatic policy initiatives, that of building substantially more prison space and advocating longer prison sentences. This approach in Texas in the 90s succeeded in removing criminals from the streets and lowering the crime rate. These results were applauded by many moderates and conservatives.
Missing, too, from the play was any address of the protracted Waco standoff and massacre during her tenure as governor. Richards was apparently willing to let the standoff play itself out in the federal government's ball court, to disastrous effect, but without serious repercussions for Texas state government.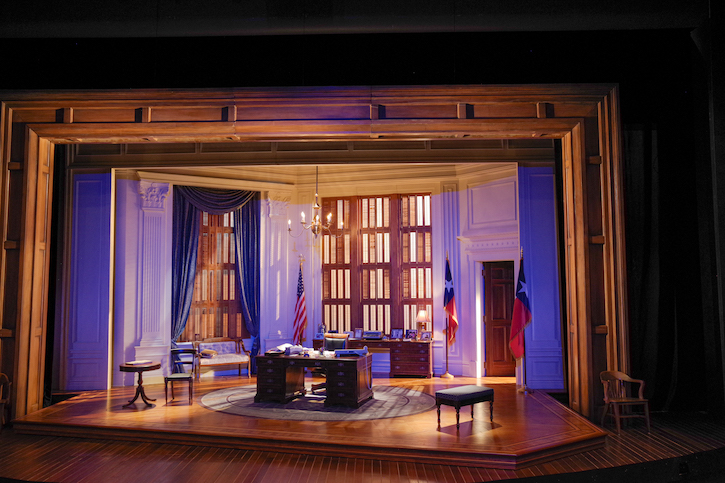 Zach's production of Ann returns the front-rank resources of the Topfer to the service of imaginative, spectacular theatre. The lighting design, video, and photo projections seemed to follow Villari's speeches as the thoughts and dreams behind her words. But the capstone of the production was the breathtaking, articulating replica set of the governor's office, including a very close copy of the high antique louvered shutters for which the office is famous. Daylight through the shutters progressed naturally to indicate the passage of time through the day. Bold technical visions are what the Topfer is good for, and Zach's audiences want to see more integration of the technical and the theatrical.
The artistic team is well deserving of credit, but the audience ran into problems with the program. Six of the artistic team members received no biographical notes in the program. Why? Pages 44 and 45 were blank where the designers' bios should have run. There were several other blank pages in the program booklet as well, mostly where glossy paid advertisements usually sit. Zach Theatre is proud to list its overhires in carpentry, electric, and stage operations, but it can't seem to shake loose the coin for program copy editors. Zach should definitely demand its money back from its program contractor.
The play's the thing. Ann is highly recommended for all audiences. It runs until September 8 in the Topfer theatre at Zach Theatre.
---
Ann
by Holland Taylor
Zach Theatre
Wednesdays-Sundays,
July 31 - September 08, 2019
Performances begin Wednesday, July 31, 2019
Press Night, Saturday, August 3
Champagne Opening, Thursday, August 8
Limited run through Sunday, September 8
Special Events in Celebration of ANN:
Wednesday Post-Show Discussion – Wednesday, August 7, 2019
ASL Interpreted, Open Captioned, and Audio Described – Wednesday, September 4, 2019
Tickets start at $25 and are available online at zachtheatre.org, by phone at 512-476-0541, or in person at the ZACH Theatre Box Office, in the Topfer Theatre, 202 South Lamar Boulevard (corner of Riverside Drive and South Lamar) Monday through Saturday, 12–5p.m. ZACH Theatre is wheelchair accessible. Student Rush Tickets are $20 one hour before show time (with valid ID). A limited amount of Pay–What–You–Will tickets are available the day–of for Mainstage preview performances only. Groups of 8 or more may request reservations by calling 512-476-0594 x.245 or by emailing groupsales@zachtheatre.org.