Review: Immortal Longings by Zach Theatre
by Brian Paul Scipione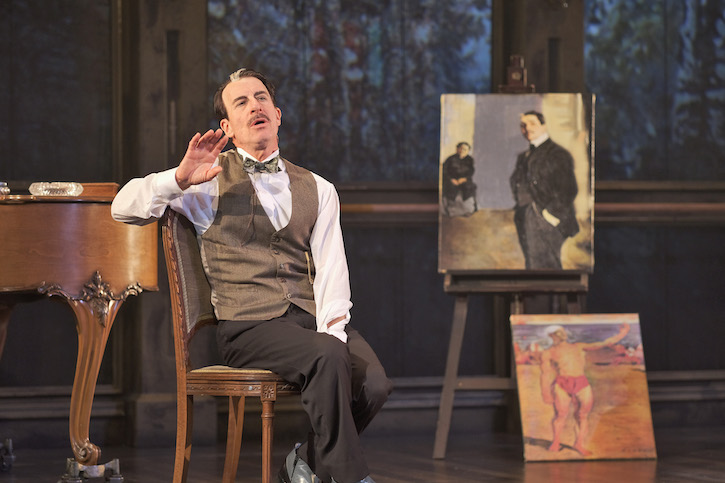 Terrence McNally was born in the 1930s and has had a distinguished career spanning multiple decades, which include four Tony Awards, an Emmy Award, four Drama Desk Awards, and two Obie Awards, only to mention a few. It is no surprise he was inducted into the American Theater Hall of Fame in the 90's, and yet he's still producing great work. McNally is famedfor his plays and librettos including Love! Valour! Compassion!, Master Class, Kiss of the Spider Woman, Ragtime, and Anastasia, which recently played at the Bass Concert Hall. Austin is fortunate to be home to his newest world premiere, Immortal Longings. The play is a reworking of a previous piece titled Fire and Air, produced off-Broadway in 2018 by the Classic Stage Company. The present production is directed by Peter Rothstein. Kelli Foster Warder does the choreography, and Michael Hoover is the scenic designer. Susan Branch Towne designed costumes, and Serret Jensen did hair and makeup design.
Sergei Pavlovich Diaghilev was born in the 1870's and had a distinguished career as a critic, impresario, and founder of the Ballets Russes. The Ballets Russes (French for "Russian Ballet") was a Paris-based touring company active in Europe and the Americas between 1909 and 1929. Ironically and despite the company name, they never performed in Russia, since the revolution and subsequent social unrest did not make it feasible. In the play the Bolshevik forces drive Diaghilev and the devotees of New Art to Paris. The Ballets Russes became known for fostering many famous artists, including Nijinsky, Stravinsky, Debussy, Kandinsky, Matisse, and Picasso. Many consider the Ballets Russes the preeminent dance company of the 20thcentury, due to its willingness to break boundaries and challenge social conceptions. The company drew upon music and stories from Russian folklore and presented them with innovative combinations of performance, musical, and visual art.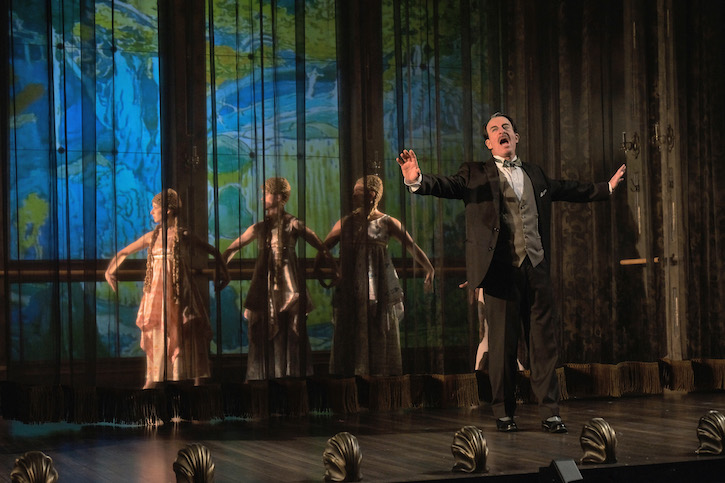 McNally tells the story of Diaghilev's life both internally and externally. While the play's action churns steadily on, the focus switches seamlessly from Sergei's external dialogue to his inner turmoil. This includes some fantastical elements as people from his past appear in the present and interact with him in a specter-like fashion. The people and passions of his past live on in his mind and heart. The play is in effect a character study of a man beset by his never-flinching desires to achieve artistically and be loved. Yet, there may be self-sabotaging in that very quest for love. Diaghilev's relationships all seem to have a power-balance that reminds one of early Woody Allen films in which the older character attempts to mentor and improve their partner whiling loving them.
Sergei's manic-depressive personality will brook no argument with either his friends or lovers. He takes care of those around him, while he in turn is taken care of by Dunya, the nurse from his childhood. He is prone to rants and his bottomless yearning for perfection fuels his outbursts: one may safely use the words megalomaniacal, prima donna, or vainglorious when depicting to him. At one point he states, "I don't demand I expect, there is a big difference."
Throughout out the play Diaghilev inflicts pain on others and yet recognizes (and proclaims to all listening) only his own suffering. Yet none of this detracts from the charisma and power of his personality: this character manages to remain sympathetic despite the fact that he continuously demands sympathy. McNally has created a character larger than life character but inherently believable, a modern-day King Lear who bends like a birch but never breaks.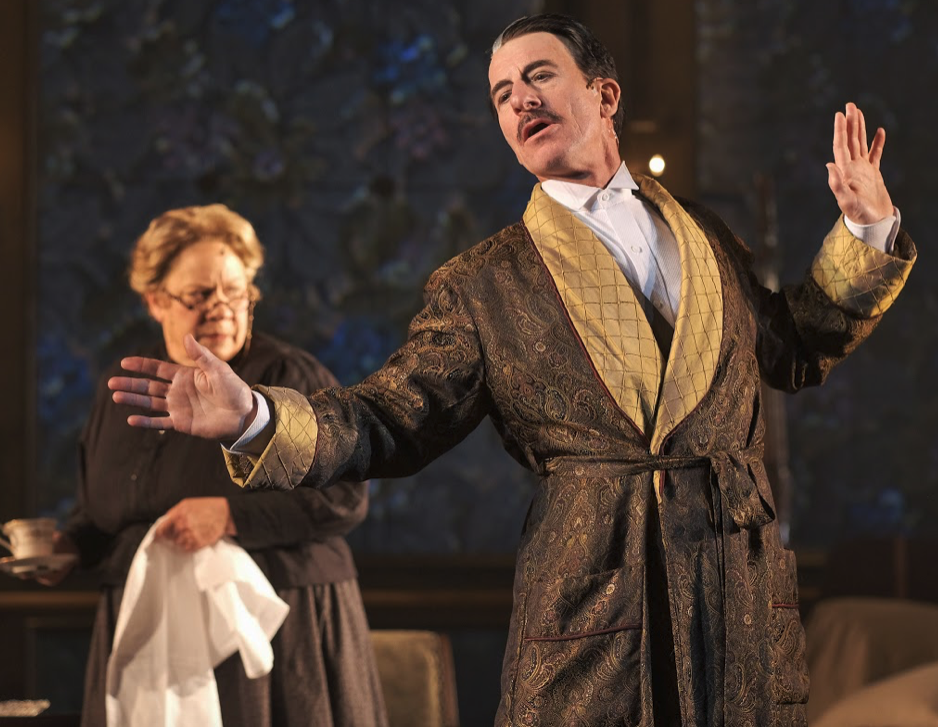 Fortunately for the audience, the virtuoso performance required for a role like this is delivered by Steven Epp. This is Epp's Zach Theatre debut, and he brings years of Off-Broadway experience with him. His Sergei is unrelenting, explosive, and -- one imagines -- exhausting , for he is on stage nearly the whole time. He embodies the grace of a ballet instructor and yet there is a mischievous streak that enlivens his performance.
Epp's fire is cooled by Suzanne Warmanen as Sergei's nurse Dunya. Warmanen's hilarious comic relief is delivered in a variety of ways: deadpan, sly, sardonic, and over-the-top exasperated. If Sergei is passion, Dunya is patience personified.
The music, set, and costumes are all on point, and this production takes the audience on a tour of 20th-century Europe. The ballet was lovely and brilliantly used to break the tension of the storyline while engrossing the audience.
This production is a must-see. I predict that future academics will compare passages of itto the final speeches of Prospero in the second half of The Tempest. Sergei Diaghilev would certainly agree that "we are such stuff that dreams are made on."
EXTRAS
Promo videos from the Zach Theatre:
---
Immortal Longings
by Terrence McNally
Zach Theatre
Wednesdays-Sundays,
June 12 - July 14, 2019
Previews begin June 12, 2019 with an opening date of June 20. The production will run through July 14 in The Topfer at ZACH.
Tickets start at $25 and are available online at zachtheatre.org, by phone at 512-476-0541, or in person at the ZACH Theatre Box Office, in the Topfer Theatre, 202 South Lamar Boulevard (corner of Riverside Drive and South Lamar) Monday through Saturday, 12–5p.m.
ZACH Theatre is wheelchair accessible.
Student Rush Tickets are $20 one hour before show time (with valid ID). A limited number of Pay–What–You–Will tickets are available the day–of for mainstage preview performances only.
Groups of 8 or more may request reservations by calling 512-476-0594 x.245 or by emailing groupsales@zachtheatre.org.
Special Events in Celebration of Immortal Longings:
Pride Night – Thursday, June 13, 2019
Wednesday Post-Show Discussion – Wednesday, June 19, 2019
ASL Interpreted, Open Captioned, and Audio Described – Wednesday, June 19, 2019
Champagne Opening and Press Night – Thursday, June 20, 2019