Review #2 of 2: Iolanthe by Gilbert & Sullivan Austin
by David Glen Robinson
The people of Gilbert & Sullivan Austin take their G&S very seriously. So it may seem surprising that GSA would present Iolanthe (eye-oh-LAN-thee), the acme of silliness and illogic, as the peak of their season. But after attending the performance, one finds, curiously, that the combination of deadly serious high quality production and fairy-dusted, droll English high jinks, time-warped out of the nineteenth century, becomes a welcome antidote to a crowded Austin theatre season and a flowery late spring gradually turning into a crisped, sultry summer.
GSA earnestly desires that you believe in fairies from the title git-go. Iolanthe, a star-crossed fairy (Shelby Schisler), is blighted by love of a mortal, whom she married and with whom she produced a demi (Holton Johnson). He is fairy from the top to the waist and mortal from the waist down. But the marital situation violates all Fay bans, and Iolanthe is condemned to exist at the bottom of a frog pond.
But that's all prologue, and the Act I action starts with the galloping band of female fairies, all tulle and gossamer fabrics, brandishing glittering fairy wands. A special program credit went to Pam Fowler for the wands, and the credit was well deserved. They looked like staffs with fireworks sparklers firing off constantly from their upper ends. Nothing says magic like sparklers.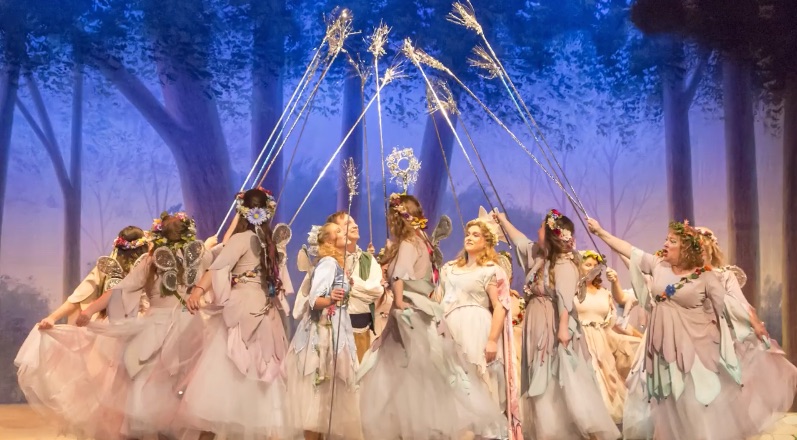 But enough of the serious stuff. Act II opened on a fantastic night-time set of the front of the Houses of Parliament, with Big Ben showing a lighted face. An even brighter full moon floated above. This is one of Ann Marie Gordon's best sets ever, and that's saying a lot. Her set constructors were Elaine Jacobs, Meghan Kemp, and Chris Hjeil. A guard house stood stage right, and in front of it a bearskin cap-wearing Guardsman, Private Willis, played by none other than Austin Art Treasure Russell Gregory. Striking in voice and visage, Gregory sang a solo, "When All Night Long," to open Act II. At the end of every verse he drew tumultuous applause. Truly, his performance was a surprise in excess of the more constructed and scripted surprises elsewhere in Act II.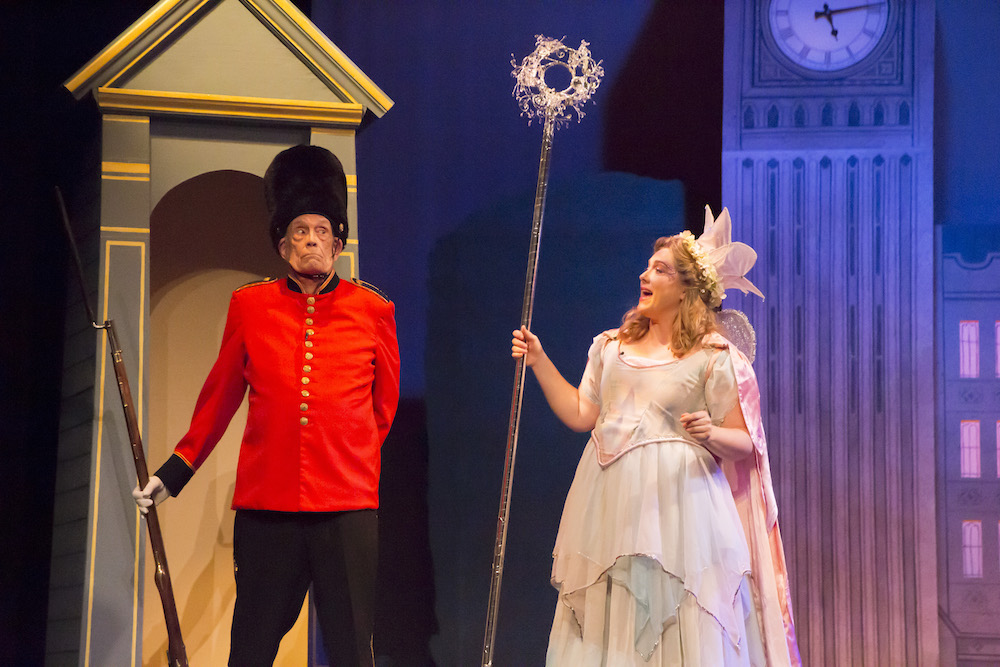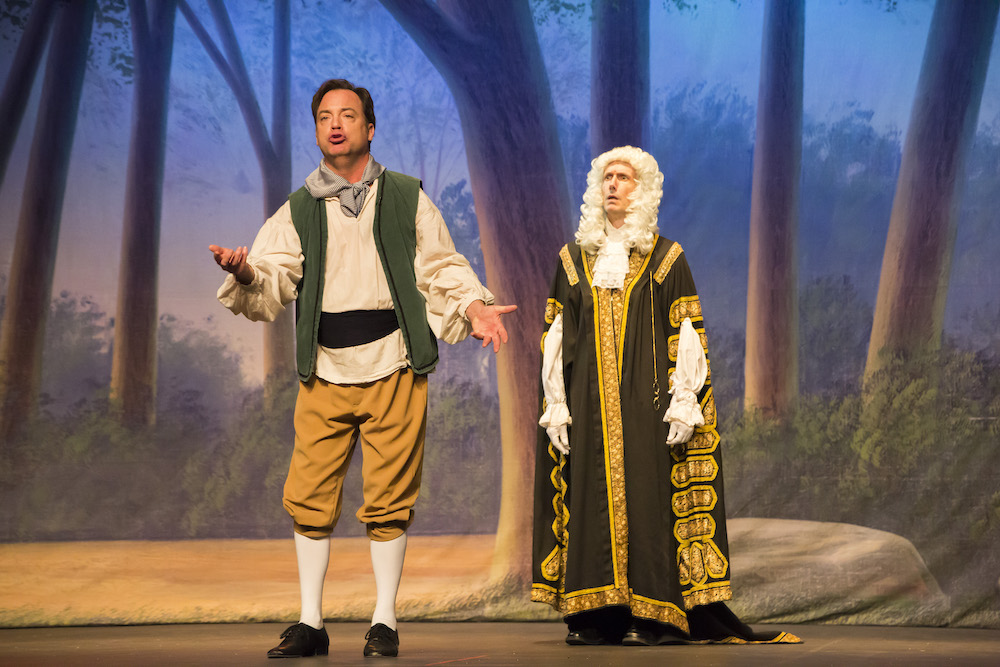 The rest of the principal cast was also up to GSA standards. Holton Johnson was back on stage as Strephon, the demi-immortal son of Iolanthe. He had major discursive singing duties as the male romantic lead, and he discharged them admirably. Exquisite voice. Arthur DiBianca as the Lord Chancellor, Sam Johnson as Earl of Mountararat, and Dalton Flake as Earl Tolloller performed goofy lords well up to Gilbert's and Sullivan's standards. Johnson's large and confident presence seems to anchor all his scenes and songs without unduly pulling all the audience's focus. There's subtlety there, well appreciated.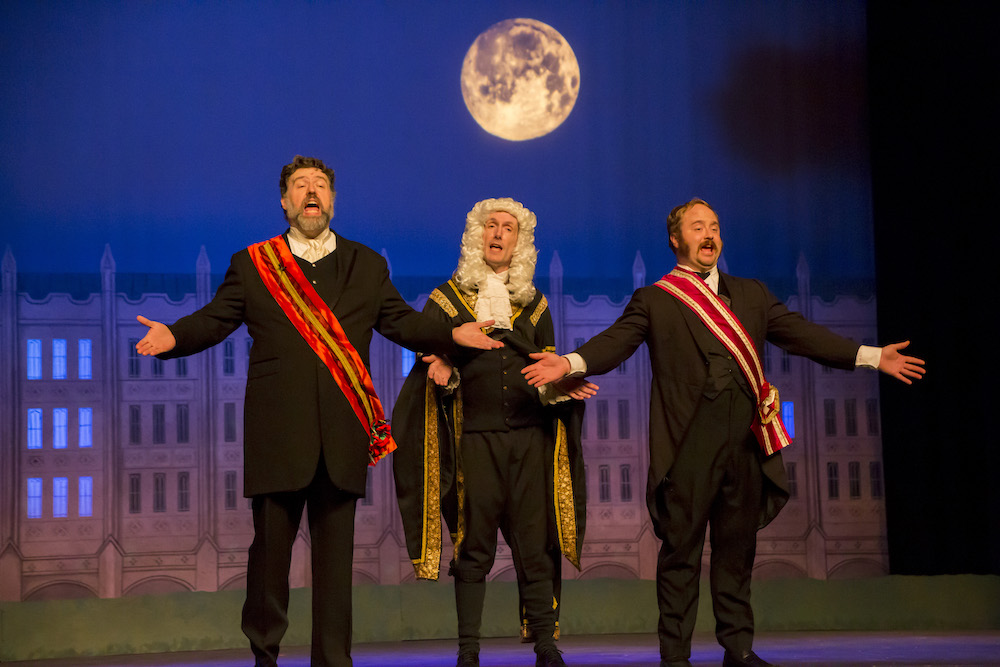 The female voices were well represented by Bethany Ammon as the Queen of the Fairies, Shelby Schisler as the titular fairy, and Angela Irving as Phyllis, a ward in chancery and Strephon's love interest. Young Royanne Kelly as the Lord Chancellor's Train Bearer continues on her pathway to total domination of the Austin musical theatre scene.
This year's GSA grand production lives well up to its own standards, including recognizing, developing, and showcasing talent in the musical theatre domain. The Gilbert and Sullivan material is fit for all audiences, especially those fascinated with British history and arts. Iolanthe runs until June 23rd, 2019 at the the phenomenally accommodating Worley Barton Theatre at the Brentwood Christian School, 'way north Austin (north of Braker Lane off North Lamar).
---
Iolanthe
by W.S. Gilbert and Arthur Sullivan
Gilbert & Sullivan Austin
Thursdays-Sundays,
June 13 - June 23, 2019
Thursdays - Saturdays at 7:30 p.m., 2 p.m. matinees on Sundays and on second Saturday, June 22
Worley Barton Theatre at Brentwood Christian School